Romwe brands itself as a "one stop shop" for all your fashion essentials. What initially sounds convenient and appealing has a darker side, and it's up to us to ask the hard questions about the reality behind their business.
Is Romwe fast fashion?
Much like SHEIN and Boohoo, Romwe is an ultra fast fashion brand–a red flag for sustainability and ethical practices.
Romwe releases new lines of clothing constantly, which may seem great from a trendsetter point of view, but it's terrible for the planet. The biggest problem with ultra fast fashion is that when you combine ultra high sales volumes with rock bottom prices it's a recipe for wasteful consumption, clothes ending up in landfills, people devaluing their clothes, and it is resource intensive to boot.
Did we mention the $500-$1000 Romwe hauls you see on YouTube and TikTok?
Are Romwe and SHEIN the same?
Romwe and SHEIN have a lot more in common than just their styles, prices, and business models. Romwe was acquired by SHEIN in 2014.
How ethical is Romwe?
Romwe is incredibly secretive about their business practices. With little to no transparency there's really not a lot to analyze and we can only assume the worst about their ethics and sustainability.
There's a reason Transparency is one of the main pillars of our research and why Fashion Revolution has emphasized its importance. When fashion brands lack transparency they are notoriously hiding unethical labor practices in their supply chains as well as poor environmental practices.
What do we know about Romwe's sustainability?
Romwe has almost no traceability, little effort when it comes to sustainable manufacturing or sustainable fabrics, and they certainly do not have a closed loop production model. There is also virtually no evidence of their concern for or commitment to their employees and to their clothing makers.
Don't even get us started on their greenwashing practices. If you visit Romwe's Social Responsibility page you'll be hit with a bunch of fluffy, feel good statements that lack in substance.
For example, they talk about being in compliance with standards "like SA8000" but they never mention being SA8000 certified or how many of their factories have such certifications. They also claim that "we are among the first few fashion brands taking steps to mitigate our environmental impact" and yet provide no evidence to support this claim.

Where are Romwe's sustainability goals? Where is the data to show that they know their energy, CO2, water, and chemical usage? And what are their goals to reduce those numbers?
Romwe also says things like "we guarantee all of our employees living wages" which is problematic on multiple fronts. First, when they say "employees" they don't mean their clothing makers. Second, they provide no evidence, no actual wages, and no certifications to support such a bold claim.
Many ultra fast fashion brands use greenwashing techniques in order to trick their consumers into believing that they are doing right by the environment, when, in reality, they are doing the exact opposite. Ultra fast fashion is the antithesis of sustainability.
TL;DR: Romwe is an ultra fast fashion brand on par with SHEIN and has almost no evidence or effort of transparency, fair labor, or sustainability.
10 Ethical Alternatives to Romwe
Want great style but without the constant trend chasing, wasteful consumption, and toll on the planet?
Looking at Romwe, our Eco-Stylist team put together a list of sustainable and ethical brands that make high quality clothes of similar styles. We have vetted and verified these brands through research so you can feel good supporting them!
Without further adieu, here are 10 sustainable swaps to Romwe.
Wolven–Looking for the perfect eco-friendly athleisure set?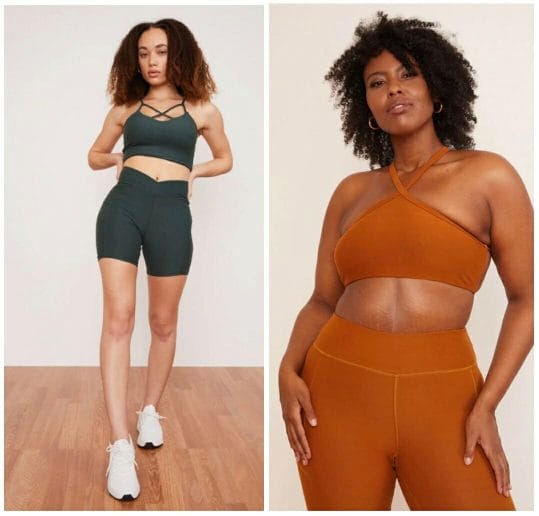 These crossover style biker shorts and amazing matching sets are all the rage in activewear and street style right now! What's even better? Wolven is committed to sustainability, diversity, and body positivity. Their garments are made for everyone and made to last.
Check out our brand page to shop or learn more.
Colorful Standard–Bold colors and ethics good for any closet!
Oversized sweatshirts and quarter zips are a necessity for any trendy closet. Pair them with jeans or sweatpants for a casual look, or try layering them with a button down to dress your look up. Colorful Standard never fails to impress us—they use organic cotton on all of their products, saving millions of gallons of water each year while keeping your closet looking fresh!
Check out our brand rating for more!
Nisolo–The ethical monotone sneaker for any fashion forward moment!
Classic clean sneakers are always in, from Converse Allstars to Nike Air Forces–everyone is wearing them. Nisolo does an adult sneaker right by making them from natural and recycled materials, and by paying their shoe makers fair wages.
See our Certification to shop or learn more!
Girlfriend Collective–Looking for little tops to take on the town?
These versatile bra tops are another pinnacle in women's fashion right now. Whether you're wearing one on a first date with a pair of high waisted jeans or with a pair of leggings to run errands, there's no doubt you'll be stunning with your style. Girlfriend Collective strives to be as transparent as possible while making high quality clothing.
See our brand page for more!
Outerknown–Jeans with a better environmental story!
Jeans have always and will always be a staple in everyday fashion. These relaxed fit men's jeans from Outerknown are the perfect addition to your closet. Not only are they versatile for your everyday life, but Outerknown's products are made from 90% recycled materials!
See our brand rating to learn more.
Ten Thousand Villages–Accessories aren't everything…Or are they?
Accessorizing your sustainable basics takes any outfit to the next level. From statement rings to slouchy bags, Ten Thousand Villages has every accessory under the sun. They're a fair trade business, meaning they put people and the planet first.
See our brand rating to learn more!
Boyish Jeans–Classic silhouettes for classic people.
Boyish Jeans is a women's denim company centered around vintage silhouettes with a modern spin. Basically, you get the best of both worlds!! These jeans are produced with sustainable fabrics and made to make you feel your best.
Check out our brand rating for more!
Vustra–Shop the perfect button down!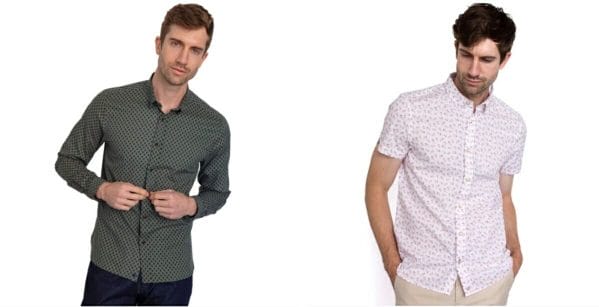 Vustra creates trendy patterns with 100% organic fibers and low-impact dyes. Their shirts range from fun polka dots to classic stripes, all while keeping up with their sustainability efforts!
See our brand rating to learn more or shop!
Thousand Fell–Circular sneakers with a pop of color!
Thousand Fell simultaneously creates the hottest shoes while keeping a closed loop on their production. They even have a program that allows consumers to recycle/up-cycle their old shoes! These sneakers come in a variety of colors and are a must-have for anyone's closet.
Check out our brand rating for more info!
Pact–Easy going styles that can be dressed up or down!
Pact is a pioneer in creating top styles out of organic materials, saving millions of gallons of water each year while creating amazing looks to add to your closet. These twill pants and jacket are a great addition to your personal style! Each one can be dressed up or down, depending on the look you're going for.
Check out our brand rating for more.
Wondering about the sustainability practices of other clothing brands?
As a resource for sustainable fashion we spend a lot time researching brands and writing about them. For great brands to support scroll down and read about our brand directory.
For the juicy stuff: brand teardowns, greenwashers, and sustainable fashion wannabes, we've got a whole section of our blog dedicated to that topic! Check out Brands to Avoid to read more.
To get started we recommend checking out our analyses of these brands:
Check out our Brand Directory for more alternatives to fast fashion brands
At Eco-Stylist, we know that fast fashion brands can be tempting and seem more convenient for consumers, especially if you don't have time to research sustainable alternatives. That's why we're here–we do the research so you don't have to.
Check out our brand guide to discover the most ethical and sustainable brands on earth.

Catherine McCourt is a content writer at Eco-Stylist. She studies English, Creative Writing, and Philosophy at the University of Iowa. When she's not writing about sustainability in fashion, Catherine enjoys painting, journaling, and much needed downtime.