"Influencer" may be the buzzword of our generation. They are ubiquitous – especially on social media.
Social media platforms have created a space where anyone could become an influencer, and chances are you follow a few of them. Maybe you like their style, their personality, or you think they're funny.
So what grants someone influencer status? The simple answer … we do. We create influencers by giving them our attention and praise, especially in the form of social media likes and follows.
And the catch? Their influence over us benefits them. Did you know? You are much more likely to buy a product if it's promoted by an influencer you like.
How influencers make money
When a brand or company sees someone has a platform, they approach said influencer with a deal: Promote our products, sell our products, bring customers to us, and we'll give you something in return.
The average style influencer can make anywhere from $30,000 to $100,000 a year promoting products on Instagram. Now there's nothing inherently wrong with this; being an influencer is a new gig and one with many benefits.
However, influencers also hold a lot of power (via their following), and as they said in Spiderman: "with great power comes great responsibility."
"With great power comes great responsibility."
When influencers have no criteria for who they will partner with it means their followers are basically for sale. And when we say "their followers" we are talking about you.
An influencer who will partner with anyone for cash will promote brands that are unethical, big polluters, fast fashion, and you guessed it, greenwashing. Greenwashing is when a brand lies about or exaggerates their environmental efforts, usually for the purpose of selling more products.
Influencers and the rise of fast fashion
Think COVID was the death of fast fashion and the rise of sustainable fashion? Well, part of that is true.
While sustainable fashion is definitely on the rise, fast fashion is also continuing to grow. Did you know? America is the biggest market for one of the least sustainable fast fashion brands: Shein.
Part of the reason fast fashion is growing: influencers. Influencers on platforms like Instagram have played a huge role in the growth of fast fashion. Just look around to see Cardi B collaborate with Fashion Nova, or men's style influencers promoting Zara on the regular.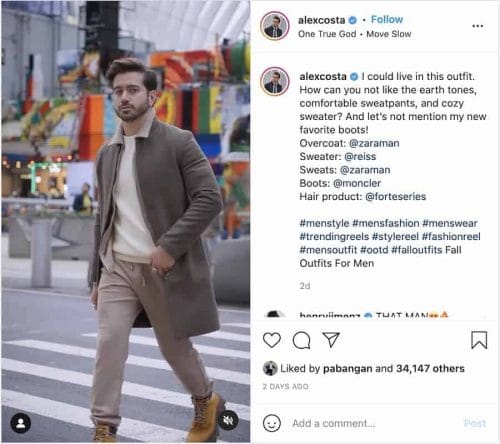 Don't take our word for it though: research by Fashion Retail Academy found that 54% of people surveyed believed influencers are at least partially responsible for the rise of fast fashion.
"54% of people surveyed believed influencers are at least partially responsible for the rise of fast fashion."
Influencers and greenwashing
Ok-so influencers have contributed to the explosive growth of fast fashion, but what does that have to do with greenwashing? There's 2 main ways this happens:
The influencer promotes a sustainable collection built on greenwashing, such as H&M's Conscious Line
The influencer promotes brands that greenwash, thereby building trust in a brand that's actively lying to and misleading its customers
As an example, let's look at H&M's partnership with former Game of Thrones actress, Maisie Williams. Maisie Williams is described by H&M as a symbol for her generation and a vital voice within female empowerment, sustainability, and diversity.
Maisie Williams explains the partnership, "I will be working closely with experts within H&M to drive sustainability initiatives … The long-term goal is to use 100 percent recycled or other sustainably sourced materials for textiles across all H&M Group brands by 2030."
Here's why this collaboration is greenwashing:
While the Loop machine is really inspiring, when will it be available worldwide? Conveniently H&M doesn't provide this information so they're basically capitalizing on inventing a machine that as of today, hardly anyone can use
The loop machine takes 5-8 hours to recycle one garment, and at that speed it's not exactly going to change the world anytime soon
While it's nice to see H&M commit to sustainable fabrics by 2030, we don't know if H&M will even be in business in 2030, and there are brands that use 100% sustainable fabrics right now, in 2021
Even with these initiatives, the biggest problem with fast fashion is their business model that promotes rapid and repeated consumption. This will never be sustainable and none of their initiatives matter if they don't slow down their rate of production (which has an enormous environmental footprint)
Despite all this greenwashing, with Maisie Williams behind them they're sure to convince many people that yes, they are really doing good. And this is exactly how influencers betray our trust.
"This is exactly how influencers betray our trust."
A prominent influencer such as Maisie Williams with a following of 10.4 million makes in the range of 28 to 56 thousand dollars per post. That much money can encourage some less than stellar decisions.
Let's look at some more examples. Know of any influencers promoting ASOS, Zara, Urban Outfitters, Amazon Essentials, Uniqlo, or Banana Republic for their sustainability efforts? These brands all fail our sustainable brand criteria, meaning they're not all that sustainable.
What about style influencers?
Let's say an influencer isn't promising to make a brand more sustainable, just promoting their products. We see this often with style influencers. Style influencers have a platform strictly because we want to dress like them.
They don't care how sustainable an item of clothing is (although, they really should). Their goal is to make you believe you'll look good (like them!) wearing it. This is irresponsible influencing behavior.
Style is not all that matters, the same way looking good is not all that matters. Promoting unsustainable and unethical clothes in 2021… well, there's really no excuse for it. The information is out there so unless you're wearing a blindfold, you know fast fashion is bad.
Here's some examples of prominent style influencers promoting fast fashion: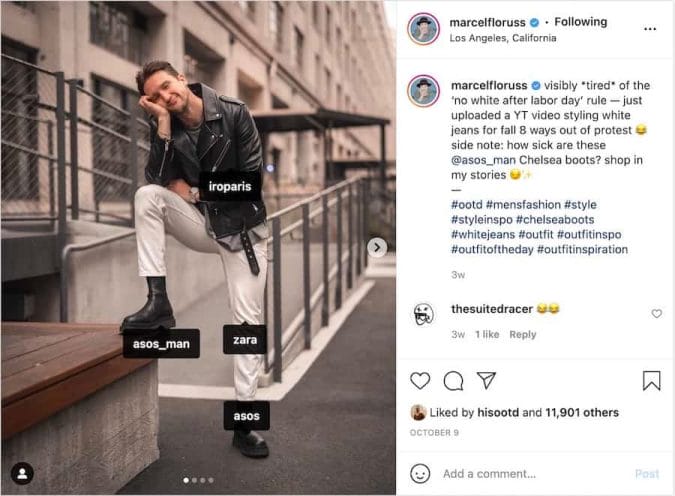 Is it all bad?
Obviously, all influencers are not partaking in greenwashing. It is possible to be an influencer, have sustainable values, and only promote products and brands that align with those values.
Let's address the elephant in the room: as an influencer will you take a pay cut to stand by your values? Probably. A new sustainable brand may not have the $50k to shell out for a campaign that Zara or H&M has.
But what we should be asking is: are your values for sale? And if so, do you deserve your followers? One thing is for sure: your followers deserve better.
"Are your values for sale? And if so, do you deserve your followers? One thing is for sure: your followers deserve better."
Looking for ethical influencers?
For influencers who stand by their values check out our guide to 7 people to follow in sustainable fashion. Here's a few more:
If you're an ethical influencer looking to work with good brands, or you're a brand looking for ethical influencers, we highly recommend Ethical Influencers. It's a community connecting good brands to influencers who give a damn.
What can be done about the greenwashing?
If an influencer promotes fast fashion and greenwashing, do we need to cancel them?
No, there are other options. Here's some approaches we recommend:
Comment on their posts and tell them why you wish they wouldn't work with fast fashion brands
DM them to let them know why it's important to you to not support fast fashion, and express your wish that they didn't promote it
Remember they are people too, so when choosing your words imagine you're asking your best friend to stop smoking
Keep the pressure up
Finally, if that doesn't work, it might be time to click that unfollow button
Take action
While influencers are great at giving us inspiration and helping us discover new favorite products and brands, it's important we are cautious consumers. By considering why an influencer is pushing a product on us or announcing a partnership, we can identify those guilty of greenwashing and cease supporting influencers who don't share our values.
Want to skip out on greenwashing influencers all together? Shop from our brand directory for brands that make you look good without sacrificing your values.
More resources to check out
*Article updated 4/11/22.
Emma is a writer at Eco-Stylist. She studies journalism and mass communications at the University of Iowa. Emma's love for sustainable fashion was sparked by thrifting with her mom throughout her childhood.