It's week 4 of our 5 week blog mini-series: #fiveweeksoffails. We're digging into some of the biggest names in fast fashion, helping you sort out what's real progress and what's meant to greenwash away consumer guilt.
Following our extensive sustainable brand criteria, powered by Remake, each brand will receive scores for transparency, maker well-being, environmental sustainability, material sustainability, and leadership. In order for a brand to be considered sustainable, they need to score at least 50 points out of 100.
We'll go over the good, the bad, and where there is room for improvement. For our fourth brand it's time to dive into Uniqlo.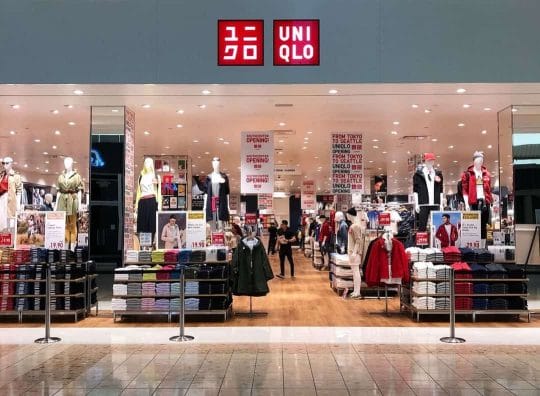 Uniqlo is a massive global retailer, with more than 1000 stores around the world. They offer an array of minimalist pieces for an inexpensive price.
Recently, Uniqlo has expanded into the "sustainability" space with a new style of producing jeans and a few recycled plastic t-shirts. But are these new steps enough to make them a sustainable brand?
Let's get into it.
THE RESULTS
Transparency: 9/15
When it comes to transparency, Uniqlo was much more open than many other fast fashion brands. Although their sustainability page is sparse, the links to their parent company's website were very helpful. Fast Retailing, the owner of Uniqlo, has detailed lists of factories, public audit information, and a process for assessing the safety of subcontracting.
If Uniqlo wants to improve its transparency score, we have a few suggestions. First, Uniqlo could create a clear link between the people who make their products, and the products themselves.
This could mean having makers stitch their names into tags, or doing features on their factory workers. Actions like this put a face and a name to the clothes being produced and can help consumers connect with makers.
Second, they could provide more information about sustainability on their main page. That way consumers could easily access their sustainability data without having to dig through the Fast Retailing website.
Maker Well-being: 11/33
Uniqlo's code of conduct complies with the Fair Labor Standard. Their regular audits allow them to assess and improve working conditions within their factories and their subcontractors' factories. Subcontractors are only authorized to work with Uniqlo if they sign on to Uniqlo's code of conduct.
On a small scale, Uniqlo is taking steps to improve the well-being of workers. They've partnered with UN Women to offer job training.
However, to pass the Remake standard, the company needs to be implementing wellness programs such as the aforementioned training at a minimum of 50% of its facilities. From the information provided, Uniqlo simply isn't there yet.
Environmental Sustainability: 14/33
If you read through the "respecting the environment" page on Fast Retailing's website, you'll find that they do a pretty good job of assessing and publicizing their resource consumption. Reports include energy use, water consumption, waste management, and CO2 emissions.
Uniqlo's big issue is not pushing far enough. Much of the data they provide is only for several specific store/factory locations. To get full credit in this section they need to prove they are implementing these programs at 50% of all locations, with plans to expand.
Sustainable Raw Materials: 2/14
Materials are an essential part of a company's sustainability. Uniqlo already has a great policy when it comes to protecting animal welfare. They're also a part of the Better Cotton Initiative (BCI), an organization that strives to make more sustainable cotton.
On the flip side, the company appears to obtain the majority of its raw materials from unsustainable sources. A partnership with the BCI means they are financial supporters, not that they live up to the BCI certification standards. With the 1000 stores worldwide, these sourcing practices can have a huge environmental impact.
Leadership 0/5
This is a difficult category to score points in. Even many of our most sustainable brands struggle to get full credit. That being said, it appears Uniqlo's policies are still primarily meant to increase profit, which means they encourage more and more consumption.
Overall: 36/100
Uniqlo failed to meet our standard for sustainability. While they are taking some great steps when it comes to transparency and small-scale environmental projects there's a lot of room for them to grow.
We hope that Uniqlo will use this feedback for good and expand its sustainability initiatives. Until then, Uniqlo fails.
Want to see more brand reviews? Check out our other brands of #fiveweeksoffails: J Crew, Express and Zara.

Lily Rosen Marvin studies English and Creative Writing at the University of Iowa. When she's not writing about sustainable fashion, Lily can be found hiking, reading outside, or binge-watching 30 Rock.