Chances are you've heard of Boohoo, the UK-based fast fashion retailer that first opened its (virtual) doors in 2006. If you haven't, maybe you've heard of Nasty Gal, PrettyLittleThing, or MissPap … just a few Boohoo-owned brands known for collaborating with popular social media and reality TV stars, including Paris Hilton, the Kardashians, and Amber Mae from Love Island.
While Boohoo offers a wide range of affordable, on-trend styles, there's a huge downside to shopping with them–and no, we're not talking about their cheap quality materials, inconsistent sizing, or reviews of negative customer service experiences.
Is Boohoo Ultra Fast Fashion?
The biggest downside to shopping with Boohoo is that they're an ultra-fast fashion brand. While this fact contributes to the issues listed above, even more importantly, their products negatively impact physical and social environments in a major way.
What is ultra fast fashion? Ultra fashion fashion brands like Boohoo and SHEIN take the already resource intensive model of fast fashion and accelerate it to pump out new clothes and trends even faster.
Brands to Avoid: Boohoo
In 2019, Boohoo was named one of the least sustainable fashion brands in the UK by the Environmental Audit Committee (EAC) for promoting overconsumption and making no effort to reduce their carbon footprint. They also received a meager 5 points when evaluated by Remake, attaining low scores in all categories of Remake's sustainability criteria: Transparency and Traceability, Maker Well-being, Environmental Sustainability, Sustainable Raw Materials, and Leadership, Diversity, and Inclusion.
As recently as 2020, Boohoo faced controversy when an undercover investigation revealed their factory workers were being paid as little as £3.50 ($4.40) per hour and were made to work without protection from Covid-19 at the height of the pandemic.
Surprise, surprise–a fast fashion brand valuing profit over the life and wellbeing of their workers. We wish this news were shocking, but it simply isn't. This is exactly what we expect from fast fashion.
On finding ethical and sustainable alternatives to Boohoo…
While ethical practice is not a concern of Boohoo's, it is a concern of ours at Eco-Stylist. We're willing to bet it's a concern of yours, too. This is why we've put together a list of five sustainable alternatives to Boohoo you'll feel good wearing and even better supporting.
If you want high-quality basics in a wide range of colors, try Colorful Standard.
Colorful Standard only uses Oeko-Tex Certified dyes that have been thoroughly tested for harmful chemicals, meaning the pop of color they'll bring to your wardrobe is absolutely safe to wear. Their zero-waste initiative ensures they only produce as much as they sell, and they use recycled materials for their packaging.
See our brand rating to learn more.
If you're looking for the perfect casual or event-ready dress, shop Outerknown.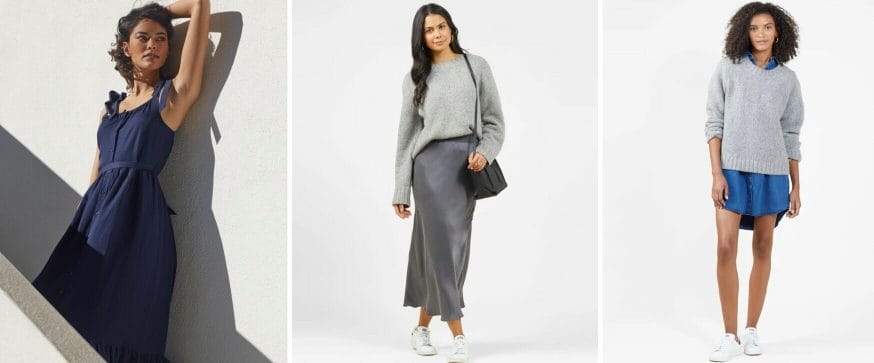 Outerknown has been leading in sustainable fashion with a full supplier list, Bluesign partners, and working with Fair Trade factories. Their lifetime guarantee on their jeans and commitment to sustainable fabrics are impressive. Check out Outerknown for casual and business casual-ish attire.
See our brand rating to learn more.
If you're in search of swimwear in a variety of cuts, prints, and patterns, check out Wolven.
Wolven scores highly in sustainably made, ensuring the majority of their fabrics are sustainably sourced, using sustainable packaging during shipment, and re-selling pre-loved Wolven threads right on their website. They also invest in programs to offset their carbon emissions, supporting rainforest conservation and landfill methane-capture.
See our brand rating to learn more.
If you want to express yourself through a unique graphic tee, browse Tentree.
For every garment you purchase from Tentree, they plant ten trees in communities all over the world. Tentree doesn't use animal products, and they only source eco-friendly materials like organic cotton and hemp. They're also working to replace all single-use packaging with more sustainable options, with a goal of eliminating single-use packaging by 2023.
See our brand rating to learn more.
If you're looking for fun and stylish active and loungewear, take a look at Girlfriend Collective.
Girlfriend Collective is SA8000 certified, meaning their workers are guaranteed to pay a living wage, they provide transparency around the state of their factories, and they visit their factories regularly to ensure proper treatment of their workers. Even better–they use eco-friendly dyes and provide information about the traceability of their materials.
See our brand rating to learn more.
Notes on Making the Transition from Ultra Fast Fashion to Ethical Fashion
People are drawn to fast fashion because of its eye-catching styles and crazy low prices. Of course, these low prices come at an extremely high cost.
Fast fashion relies on a system that exploits the environment, exploits clothing makers, and depends on you buying often, creating excessive clothing waste. Boohoo is a part of this system.
Comparably, sustainable brands may seem expensive, especially in this current system, but it costs more to do things right: paying workers fairly and using higher-quality materials. While investing in sustainable pieces might cost more per piece, if we slow down and buy less, it doesn't need to be more expensive overall.
—>For the most affordable sustainable fashion options check out our guide.
Here are some tips for transitioning away from fast fashion:
Only buy what you need
Only buy what you love
Buy higher-quality items … but less often
Normalize outfit repeating
Supplement your wardrobe with thrift shopping and clothing swaps
In the end, your clothes will last longer, your wardrobe will be better curated, and you'll be able to feel good about how you've chosen to spend your money. It's a win for you, a win for the environment, and a win for the people who made your clothes.
Looking for more Sustainable Swaps for Boohoo?
Check out our directory of researched and vetted brands for even more sustainable alternatives!
Eco-Stylist is reader-supported. If you make a purchase using our links, we may earn a commission. We only feature fashion brands that pass our sustainable brand criteria. Learn more here.
*Cover image is a screenshot from Boohoo website dated 4/24/22.
Celia Wiseman studied Communication and Creative Writing at the University of Iowa, and her growing interest in sustainable living led her to Eco-Stylist. In her free time she enjoys reading, writing, and making videos, as well as any other activity that allows her to get creative.