Eco-Stylist is reader-supported. If you make a purchase using our links, we may earn a commission. We only feature fashion brands that pass our sustainable brand criteria. Learn more here.
We know how exciting it can be to find a package in the mail and start assembling new outfits with the pieces you got. We have also felt elated scrolling through new arrivals to find the perfect pair of pants and snag them for cheap. However, when we engage in these buying habits that ultra-fast fashion giants promote, we are buying into a culture of overconsumption and production that has dire consequences for people and the planet.
This is the case of SHEIN, the most visited website for fashion and clothing worldwide and the most downloaded shopping app, surpassing even Amazon. This online ultra-fast fashion retailer was founded in 2008, in Nanjing, Jiangsu, and it grew out of buying products from Guangzhou's Shisanhang Garment Wholesale Market and uploading its pictures. It was created by Xu Yangtian with only 10 employees but as of 2021 it already had a turnover of nearly $16 billion, tripling its numbers during the pandemic.
23 Sustainable and Ethical Alternatives to Shein
However, we do not have to keep giving SHEIN our hard-earned cash. We can find newness, joy, expression, and kinship in our clothes by supporting businesses working towards having a regenerative impact on our planet and achieving social justice and equity amongst people.
There are ethical brands that offer similar products in all the ranges SHEIN offers: from underwear to loungewear, all the way to accessories and homeware, there are forward-thinking companies across the US and the world that do not use sweatshops to produce their clothes. On the contrary, some brands offer slow fashion options made by expert artisans, from upcycled or certified fabrics, that support the uplifting of communities by their leaders. We have made a list of these ethically and sustainably made options that you can feel good about while looking good in.
Shein Alternative for Underwear: Knickey
Sure, you can order your undies on SHEIN, but they wouldn't be 'comfortable without compromise', the ones from Knickey are. Made with organic cotton that's breathable and does not carry toxic chemicals you'd want anywhere near your skin (or your privates), Knickey's clothes are not only body-loving (of every kind of body), but also responsibly made.
Their suppliers are GOTS and Fair Trade certified. This means the whole cotton value chain is certified organic, not just the crops: from seed to textile it is free from fungicides, insecticides, harmful chemicals, bleach, and heavy metals.
The underwear itself that the brand makes is crafted in Fair Trade-certified factories in Tirupur, India. Factories that carry that certification require producers and manufacturers to promote safe working conditions for their employees, pay a premium for their work, and have it invested in collectively decided initiatives for wellbeing.
Knickey also has a recycling program: you can send them your old bras, underwear, and socks, including the ones that are not from their brand. They'll turn them into insulation, carpet padding, and furniture batting. This ensures they do not end up in a landfill or incinerated, producing more greenhouse gas emissions.
Shein Alternative for Activewear: Organic Basics
Organic Basics is a B-Corp that produces durable activewear made from responsibly sourced materials and manufactured in ethical factories in Europe. 75.6% of their materials are plant-based such as organic cotton and Tencel Lyocell, 15.4% of their materials are recycled such as reclaimed wool, nylon, cotton cashmere, and polyester, and only 9.03% of their materials are virgin including wool, polyester, merino, cashmere, and elastane.
In terms of their suppliers, the brand works with ethical ones and measures their environmental impact as well. They track their CO2 emissions relative to their revenue to reduce, offset, regenerate, and educate about it. Their pieces are made in Portugal, Turkey, Italy, and Scotland. They have traced 100% of their manufacturers and up to 71% of their raw material producers.
As a 1% for the planet member, they donate 1% of their sales to three causes. Through the Regenerative Organic Cotton Pilot Project with WWF-Turkey, the brand is creating the first regenerative organic cotton farm in Turkey. They also contribute to Rewilding Europe, an organization that works for conservation by making Europe wilder and more biodiverse. Finally, they give back through Nordic Ocean Watch, a collective dedicated to taking care of our oceans by driving behavioral change through community educational initiatives and clean-ups.
Not only that, Organic Basics is a sustainable alternative that is also ultra-comfy, just what you need when you're gearing up for your morning workout or want to stay comfy for Sunday brunch.
Shein Alternative for Work Staples: Ministry of Supply
Founded by a friend duo, Gihan, and Aman from MIT, Ministry of Supply was born out of the need to hack clothing and build the most comfortable breathable dress shirts and socks. This eventually led to what it is today, a destination for worklesuire clothing that will make you look smart and feel good knowing that what you are wearing achieves sustainability through science. 
As engineers, they make sure that their products minimize environmental impact and are backed by rigorous data. Their production is done with an in-demand 3D printed knit technique that ensures zero waste, a rare departure from the global fashion industry which covers entire Chilean desserts with its textile waste. Ministry of Supply is also Climate Neutral Certified.
They have also developed fabrics that instead of producing more greenhouse gas emissions, capture carbon from the atmosphere, such as a corn-based alternative to polyester and an FSC-certified wood-based fabric. They also use recycled polyester textiles. And they have made sure that their clothes are water repellent without the toxic chemicals that are usually involved in the repelling process: PFAs. Additionally, all of their fabric mills are BlueSign partners and/or Oeko-Tex 100 certified (human-health certification for fabrics) and they use waterless dying, effectively saving 130,000 gallons of water every year.
When they say theirs is quality clothing, they mean it: their products undergo durability testing regarding "abrasion, pilling, shrinkage, colorfastness, seam strength, and wash cycling to ensure they exceed the industry standards", with them buying less truly means buying better. Finally, they donate gently worn work clothing to career counseling non-profits, give you access to certified second-hand inventory, and have developed "a revolutionary hybrid mechanical-and-chemical recycling process that can separate polyester fibers" to re-spin it back into yarn. This means you get to wear the first circular dress shirt.
Not only is Ministry of Supply earth conscious, but they also ensure their apparel is made under ethical conditions, by working with factories that are WRAP (Worldwide Responsible Accredited Production) and BSCI (Business Social Compliance Initiative) certified.
Shein Alternative for Basics: Colorful Standard
The company Colorful Standard was founded in 2017 by entrepreneur Tue Deleuran, it is the perfect alternative to get your basics with t-shirts, hoodies, sweat pants, socks, beanies, crewnecks, hats, and scarves, it has you covered. You can rest assured that their array of 40+ colors is done without any harmful chemicals, as all of their dyes are OEKO-TEX certified; and they are also garment dyed –instead of piece dyed– which reduces water and dye usage.
Additionally, the fabrics they use for their apparel are also sustainable: they use 100% organic cotton and 100% recycled merino wool. Moreover, they reduce waste to a minimum with laser cutting. Finally, they work with factories in Portugal under fair labor conditions and pay their employees living wages.
Shein Alternative for Winter & Outerwear: Cotopaxi & Naadam
If you are looking for an ethical and sustainable alternative for your favorite outerwear or raincoats, look no further. Cotopaxi is a B-Corp-certified brand that makes colorful outdoor apparel, bags, and accessories. The fact that they are B Corp certified means that their care for both people and the planet is a core part of their reason for existing, and part of their business model.
They give 1% of their annual profits to non-profits such as Escuela Nueva or Care Ecuador. And they also work hard to make sure their whole chain is fair and achieves a positive impact on our ecosystem: their line (Re)Purpose is made from leftovers fabrics from other fashion retailers that would otherwise end up in the trash can; other products, like the Teka jacket, are made from recycled fabrics; and the rest of their products are made from materials that are third-party certified like Fair Trade Certified™ or Global Organic Textile Standard.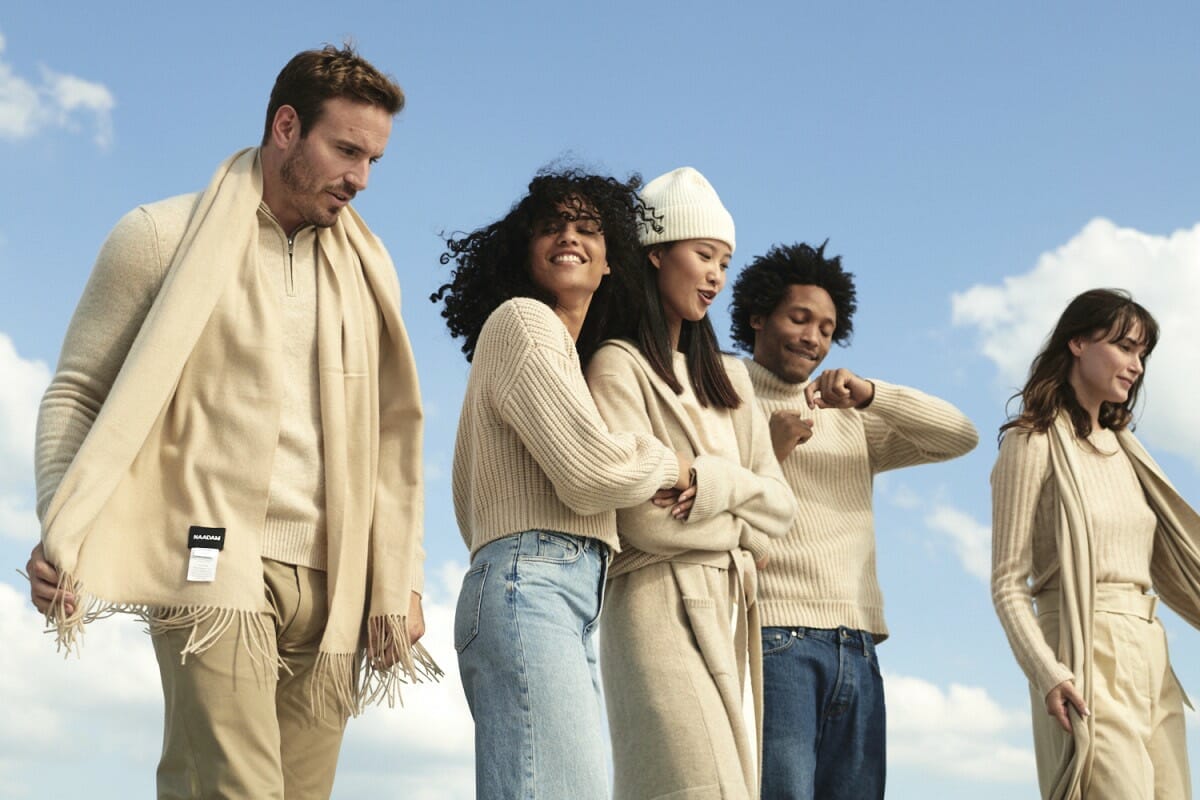 Naadam is on a mission to bring you the softest cashmere clothes you'll love and practically want to live in during winter, in a sustainable manner. Not only that, by eliminating the middleman, they ensure that these luxury products can be acquired for less, which allows them to pay the nomadic herders in the Gobi desert of Mongolia fairly for their work. Additionally, they make sure there isn't overgrazing of lands and that there are protected fenced areas for when food sources are low; as well as install animal welfare programs.
None of the goats responsible for their cashmere is sheared, instead, they are combed. Finally, they give back with non-profit work through the Gobi Revival Fund which has achieved a clean water source, a livestock insurance program, and a park for the local community. And donate a % of their profits to Naadam Bogd Fund to support Nomadic herding communities.
Shein Alternative for Size-Inclusive Fashion: Girlfriend Collective & Hernest Project
Girlfriend Collective believes that health and wellness should come in all shapes and sizes, it also believes that representation matters. This is why they show their comfortable and sexy activewear items to people from different backgrounds, body types, and silhouettes and they don't retouch their pictures.
Girlfriend Collective is the place to shop to look good whilst making your body feel good. It is a great alternative that makes clothes out of water bottles, fishing nets retrieved from the seas, fabric scraps, and other waste. Their recycled textile is also Standard 100 by Oeko-Tex certified for avoiding harmful chemicals. We know r-pet isn't the ultimate solution, but whilst we transition away from polyester, it at least helps keep it out of the landfill and gives it a second life. If you buy one of their items made from it, we recommend using a microfiber filter in your washer or even more accessible, buying a microfiber-catching laundry bag.
Hernest Project is a Canadian brand offering loungewear and sleepwear you can live in. Their clothes are sure to keep you comfy and more sustainable with all natural materials like TENCEL and organic cotton.
Hernest Project's clothes are ethically made in Portugal where the makers earn living wages. Their gorgeous product selection is a good alternative to SHEIN if you are looking for a fair wardrobe available in sizes leading up to 4XL.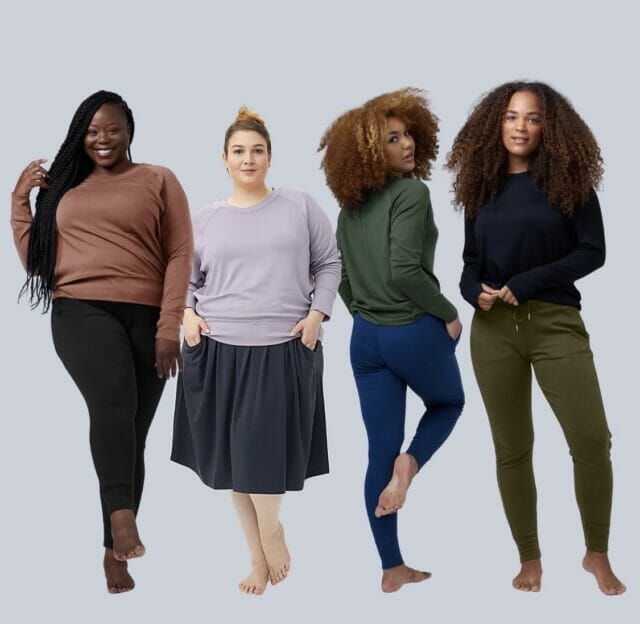 Shein Alternative for Sneakers & Dress Shoes: Thousand Fell, 8000Kicks, Adelante, and Nisolo
Thousand Fell is a great vegan alternative, approved by PETA if you are looking for leather-like white sneakers. Their recycled-PET uppers do not need microfiber shedding care, are coated with natural materials like quartz, and use rubber recycled from yoga mats. Their brand has been circular from the start: their products are truly made to be recycled at their end of life. Not only that, since they sell white sneakers, they made sure that they are water and stain resistant so that you do not discard them as quickly as you would other white options.
8000Kicks is another option if you like sneakers. They make theirs with hemp, coated with wax. And you do not have to worry about water and dust when you're strolling with them, since they are repellent to both. Their soles are also vegan and climate positive, made from an algae bloom. Hemp requires about a third of the amount of water it takes to grow organic cotton, it is naturally pest resistant and can sequester up to 22 tons of CO2 per hectare per year, according to Defra.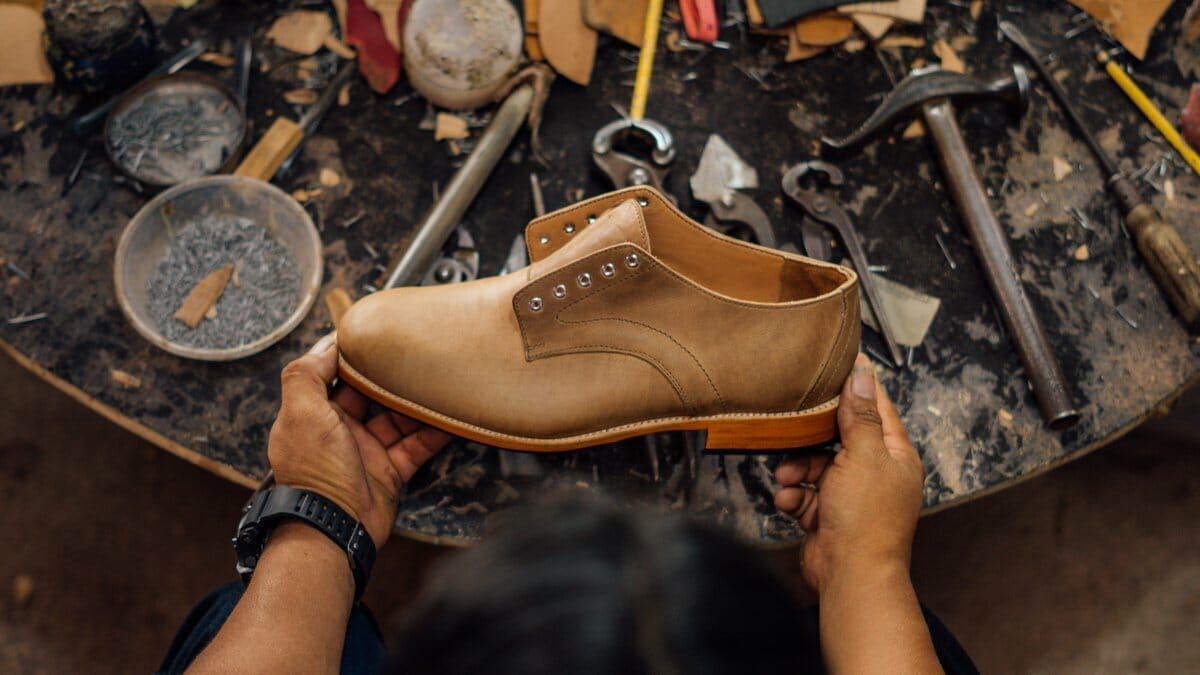 Adelante crafts dress shoes made-to-order and ethically. The brand pays its craftsmen partners a living wage and sources its leather from a vegetable tannery in México that uses solar power and a pellet system that ensures 40 to 50 percent less water is used and hides waste that is turned into collagen for the beauty industry. They also offer transparent pricing.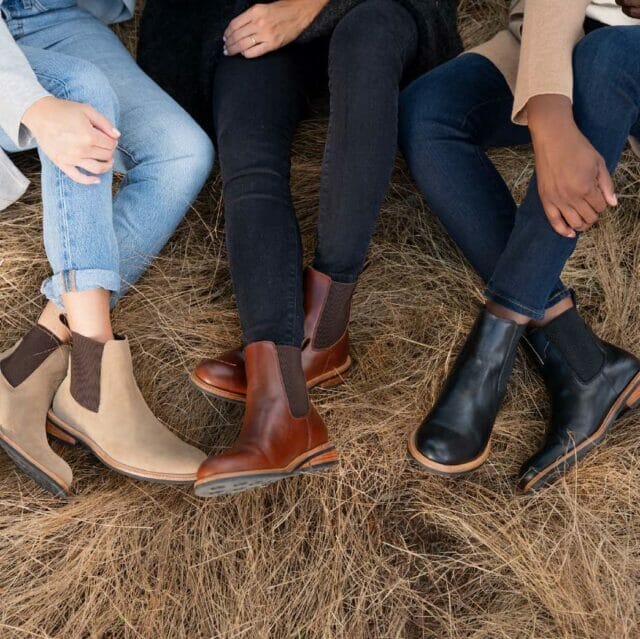 Nisolo is a B Corp-certified footwear brand that has a holistic sustainability approach: they consider people, planet, accountability, transparency, and collaboration. Theirs was the first integral brand "nutritional" facts label, which shows you the impact each product has across those categories.
They pay 100% Living Wages, ensure healthy and safe labor conditions, and are working towards gender equality. Their footwear is made from leather that is LWG certified which does not contribute to Amazon deforestation. Additionally, they offset their CO2 emissions with Ecosphere+ by investing in forest conservation in the Cordillera Azul of the Peruvian Amazon.
Shein Alternative for Party Looks: Fite Fashion
If you're wondering where you can get your party outfit next if you don't want to buy your outfit from ultra-fast fashion brand SHEIN, look no further, Fite has you covered. Every style they sell is made-to-order, designed, and crafted to be reworn.
They are truly US-based, they make every dress or separate piece in Philadelphia with the help of experts that are paid fairly. They also craft from fabrics that are made with clean dying techniques and non-exploitative labor. They only use higher impact items like leather, sequins, or any other synthetic if it is designer headstock, sourced from places like FABSCRAP or Etsy.
The lining of their party looks is made out of Cupro, a cotton seed by-product. These quality pieces are so stunning you might have them for decades, and even pass them down to your children.
Shein Alternative for Bold and Playful Patterns and Styles: Marimekko
Marimekko is a Finnish design house founded in 1951. Their mission is "to bring color and joy into lives and homes everywhere and encourage people to be happy as they are". So far, their designers have created 3,500 prints. Born out of one printed dress, it has become a staple for exceptional people everywhere. The brand inspires people to be happy just as they are, and as such is rooted in inclusivity. Their designs are made to be worn by anyone regardless of age, gender, and size. Their printing factory is located in Helsinki and the headquarters are built around it. Some of Marimekko's partners are the Better Cotton Initiative, and the amfori BSCI –which aims to improve the conditions of suppliers everywhere.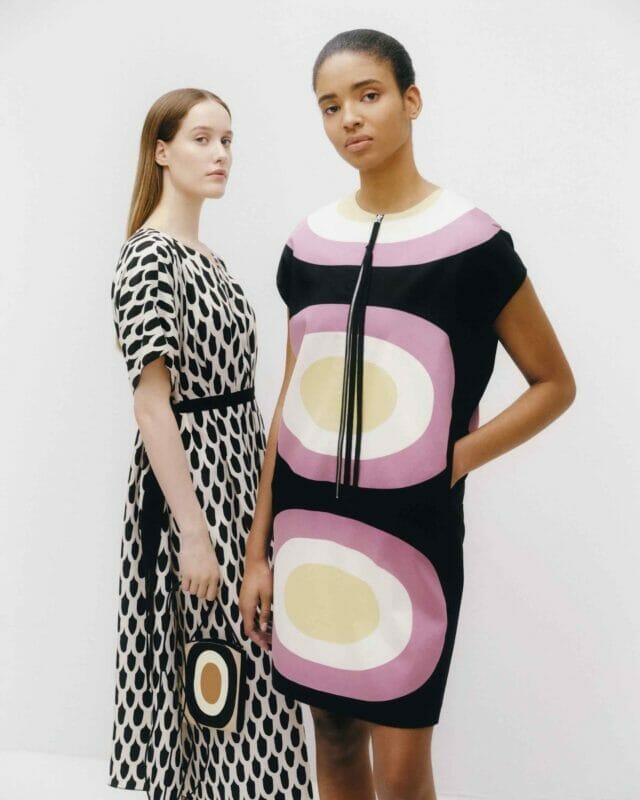 Shein Alternative for Casual and Loungewear: KOTN
If you are looking for curated loungewear, KOTN does the trick. They offer ethical clothing you can rest in and feel casual going out with. They are a B-Corp-certified brand that makes timeless designs that honor the people that make them.
Ben, Mackenzie, and Rami started Kotn to make the perfect T-shirt. The latter found the cotton farmers for KOTN on a trip to his familial home in Egypt where he found himself living in a cotton-farming community in the Nile Delta for six months. Building with the community was always at the core of KOTN's mission and today they work with 2,390 smallholder farmers in Egypt. They source their cotton directly from the farmers, which allows you to acquire their products without breaking the bank and pay the farmers a dignified wage.
Since cotton's price fluctuates, KOTN uses a pricing model that fills in the gaps in the market. They also provide the farmers with fertilizer or consultancy subsidies. Getting to know the farming communities over the years made them also understand the most substantial need was for quality education for their children, this prompted the ABCs project. A percentage of every KOTN purchase you make goes to fund or build primary schools in the Nile Delta and Faiyum, Egypt. So far they have funded 15 and built 10, 88% of the attending students are girls.
Even though the majority of the clothing KOTN produces is made from Egyptian cotton, they use other certified materials from certified complexes like the Better Cotton Initiative (BCI), The Global Organic Textile Standard (GOTS), the Responsible Wool Standard (RWS) and the Global Recycle Standard (GRS) or Lyocell. All of their dyes are non-toxic and certified by OEKO-TEX.
Shein Alternative for Jeans: Boyish Jeans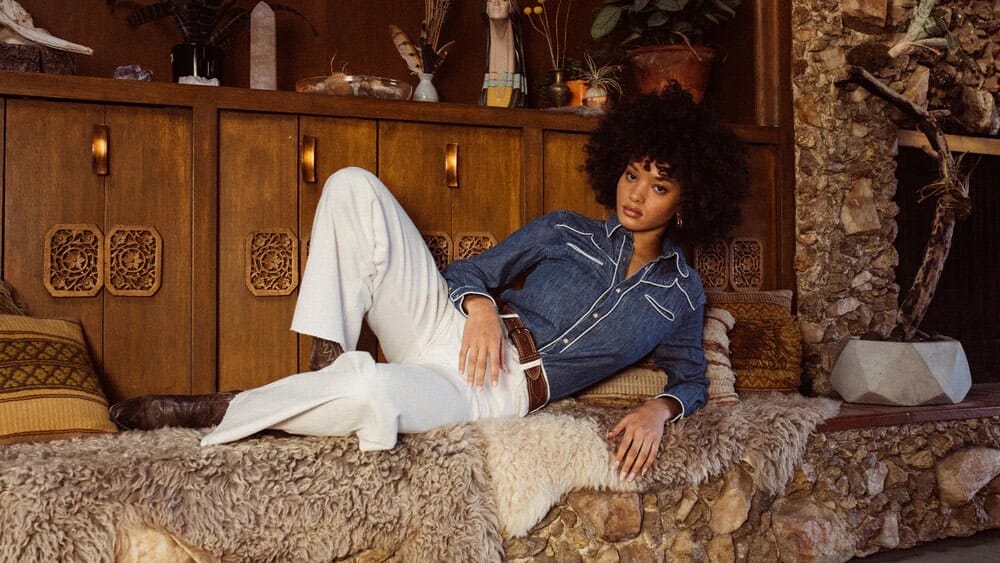 A pair of jeans is a staple of any wardrobe, getting ones that are comfortable and fit well is essential. The fact that you can do good while wearing them is just the cherry on top.
Jordan Nordase founded Boyish Jeans after working in Reformation's sustainability for a while. His mission was to make the most sustainable jeans with vintage-inspired styles. When you buy from them, you can be sure that what you wear was made in ethical factories with recycled fabrics and materials, using one-third of the amount of water usually needed to make a pair of jeans, and dyed with less harmful chemicals. They use indigo with 80% fewer sulfates, and natural plant-based dyes, and recycle water by working with fabric mills and factories that are a part of the ZDHC's program Roadmap to Zero. Aside from recycled cotton and deadstock fabrics, they use Tencel Lyocell and Tencel Refibra Lyocell.
Boyish is also a part of the Jeans Redesign Project from the Ellen MacArthur Foundation, which means that they follow circular design methods. To reduce washing's negative impacts, they instead use ozone washing, vapor washing, and laser finishing to achieve that vintage jean look we all love. The vapor technique uses nano baubles to cut down on harsh chemicals. Finally, they recycle their cuttings for fabric or industrial purposes and use recycled metal hardware.
Shein Alternative for Jewelry: SOKO and Astor & Orion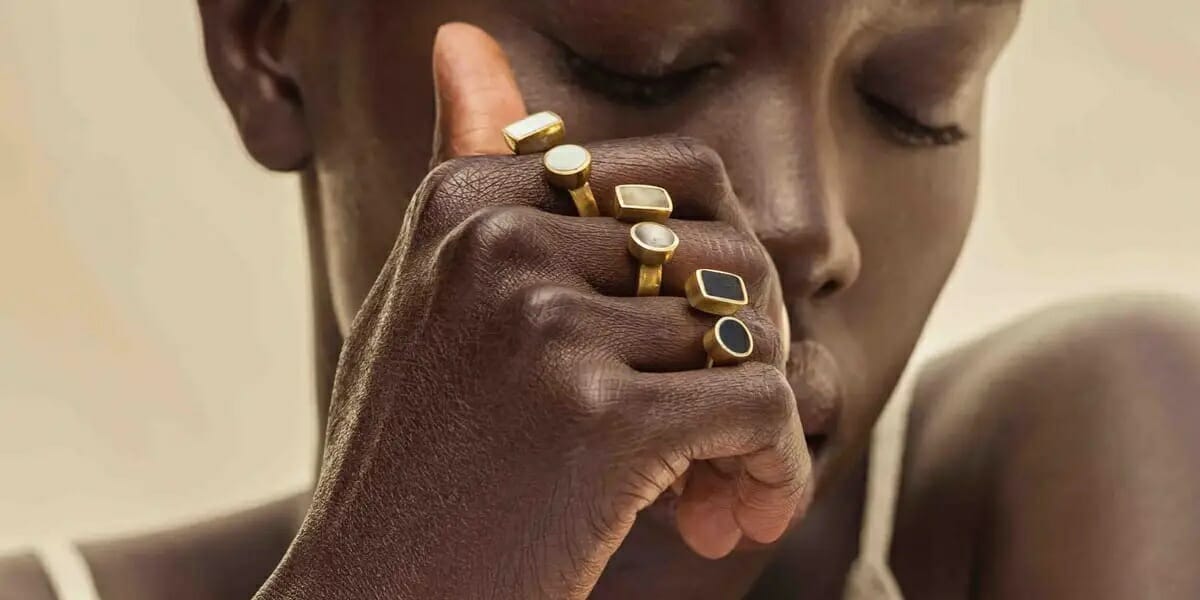 SOKO is a women-led ethical jewelry brand and technological brand born out of the need to connect expert Kenyan artisans to the global market. They are a certified B Corp that aims to build economic sovereignty in marginalized communities of Kenya by using mobile technology to create a transparent and working supply chain that ensures traceability. The artisans craft gorgeous gold-plated earrings, rings, and necklaces made to elevate your wardrobe.
Astor & Orion makes 3D sculpted jewelry from a technology used for VFX and gaming. They have a circular design process and 3rd party certifications so that you can look trendy with your accessories while knowing that they were made in a way that's socially and environmentally conscious. Their forward thinking circular design method means that any of their items can be recycled at their end of life. Their manufacturing facility has a host of third-party certifications for the fair treatment of people and ecological management like ISO, Carbon Offset, and SMETA.
Shein Alternative for Accessories: Parker Clay, Warby Parker, Topiku, and Conscious Step
Parker Clay is the place to go if you are looking for sophisticated leather accessories: from bags to cable holders, they offer classic, long-lasting pieces perfect for your wardrobe and your workspace. Parker Clay accessories are made with the thought of investing in communities by empowering women. The company not only provides the women crafters with living wages and good working conditions but also with the skills and tools to end the chain of dependency –like financial literacy and career advancement– so that it is they who transform their home in Ethiopia. Parker Clay exists to face challenges like the fact that "150,000 women in prostitution in Addis Ababa, 26% of women are unemployed in Addis Ababa, 4.6 million children are orphaned in Ethiopia".
If you require a pair of glasses, Warby Parker has been making direct-to-consumer eyewear since 2010. When you buy one pair, you give the gift of sight to another person. Over 10 million pairs of glasses have been distributed this way to marginalized communities. They also provide free vision screenings and eye exams through the Warby Parker Impact Foundation. Their work does not stop there, they also advocate for legislative changes at the local, state, national, and global levels to ensure access to vision services. They have an array of styles you can either try on digitally or try up to five styles via mail before making a purchase.
When it comes to getting a hat for your next hike or your summer river or beach adventures, Topiku is making upcycled ones that will not only protect you from the sun and make you look cool but also diverse waste from going to landfill in Indonesia. Topiku was founded in 2014 when Monty Hasan happened upon artisans that were making bags out of upcycled materials. They upcycle buckets into brims, leather scraps are collected and cut into patches, and straps and fabrics are directly upcycled from other manufacturers. Topiku works with at-home artisans in the village of Desa Rahayu in Cigondewah, West Java, Indonesia. They also buy certified carbon offsets to mitigate the emissions they cannot reduce.
Use code ECOSTYLIST10 for 10% off.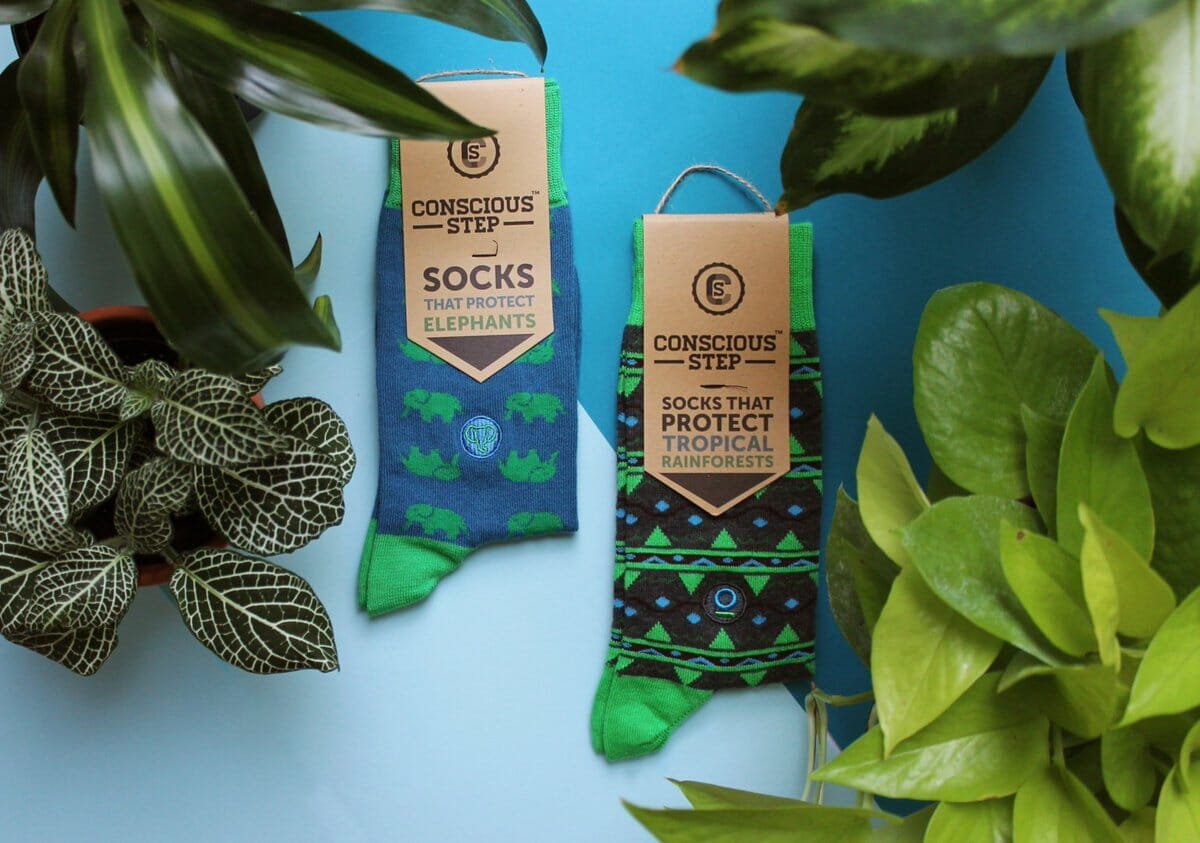 To warm up your feet, look no further than Conscious Step. Their colorful socks are made from organic cotton from India. Their materials are GOTS, Fairtrade, and certified vegan. Every purchase you make with them ensures you are helping with a partner non-profit, giving back with meals, books for kids, water, or tree protection, among other great causes. So far, Conscious Step has donated $811,655, with the help of its customers. They also offer candles and sweatshirts. Their candles are handmade in the US by a family-owned factory.
Shein Alternative for Homeware and Gifts: Ten Thousand Villages
Looking for a unique gift for your partner, friends, and family? There's nothing quite like being able to tell the story of a unique piece you'd been given, that has been artisanally handcrafted. This is why you'll like Ten Thousand Villages.
From rugs to stationary, to wall art, to low-waste lifestyle items, they have it all. Not only that, but they also offer kitchen, spa, and outdoor products: there's something for every personality on your loved one's list. The best thing? You know you are supporting a maker-to-market movement with your purchase that aggregates crafters from more than 10,000 villages.
The relationship Ten Thousand Villages build with their makers is a longstanding one, their average one with each village is usually 20 years, a span that allows them to truly co-create and witness the artisans thrive and transform their communities with their access to the market. They have had an impact so far in 20+ countries, 75+ partner artisan groups, and 20k+ makers, of which 60% are women.
How Sustainable is SHEIN?
The short answer: not very. SHEIN took the already unsustainable business model of fast fashion to an extreme. Whilst companies like Zara used to offer different styles weekly and were thought to be doing so at a rapid pace, SHEIN has surpassed that with a breakneck speed of 6000 new styles on their website daily. This ultrafast-fashion company manages to offer the trendiest products at insanely low prices by sitting on the backs of exploited garment workers, mostly BIPOC women, who are underpaid, harassed, and subjected to awful and unsafe labor conditions. They are forced to hand in orders in 3-6 days, which usually means overtime that they are rarely paid. Their business model is not only harmful to the workers, but also the environment. With orders being delivered in 3-6 days of lead time, overproduction and overconsumption have reached new heights. This means more natural resources are being unnecessarily used and harmful synthetics created, like polyester, fast fashion's favorite fabric.
SHEIN uses live trends to identify what to produce more of and targets consumers from an age as young as 9 with clever influencer marketing tactics in social networks like TikTok. Indeed, the hashtag SHEIN Haul, which refers to when a person shares their purchases and opinions on the items they bought from SHEIN, has amassed 4.5 billion views on Tik Tok. This encourages people to acquire an array of low-quality toxic clothes for $100, each of them usually priced at $12 or less.
This culture of overconsumption and overproduction is led by their manipulation of our desire to belong, to stay up to speed with what's "in", to express ourselves. All of this is proving increasingly difficult in a zeitgeist defined by micro trends that fizzle down in a matter of weeks. How can you find your true style and own your skin when you have to constantly play catch up with your look? You can't. And in trying to do so, you end up leaving a trail of textile cadavers that end up most likely in the Global South polluting the lands of traditionally pillaged countries and pushing small businesses in the territories used as waste grounds to their knees.
Moreover, SHEIN does not care about creators: whether they are local, artisanal, or indigenous artists. It has blatantly copied from emergent designers and communities such as the Mixteca population of Oaxaca.
And apparently, they don't care about their customers either. By constantly offering new styles, it takes advantage of our dopamine-responsive brains and has us seeking a short-term reward in the act of shopping. The result is that we are chronically unsatisfied and tantalized by the myriad of new trends offered by ultra-fast fashion brands. The cherry on top is the toxic chemicals that are transpiring into our system through our skin: lead, Phthalates, and forever chemicals are among some of the ones that Greenpeace found in SHEIN's new clothes.
For a deeper dive into SHEIN's unsustainable practices, check out our investigation.
Is SHEIN an Ethical Company?
No, it is not an ethical company. As we said before, it uses exploited labor to make its products. A Channel 4 investigation found people making clothes for SHEIN working 11 to 18 hours a day in sweatshop conditions with the threat of big pay cuts for making a single mistake. Its growth has also been achieved by other unethical practices such as tax loopholes that created the trade war between the US and China, which allows them to avoid taxes on their exports. In the US it also avoids import taxes, which means it can undercut its competitors by roughly 24%. Its corporate structure also makes use of tax havens in the British Virgin Islands, the British Cayman Islands, Delaware in the USA, and Dublin. It does not come as a surprise that it was featured in the Panama Papers as well.
Does SHEIN use Fast Fashion?
Not only is SHEIN a fast fashion brand, but they also do it at such a large scale that they exist in a new category of fast fashion known as ultra-fast fashion. SHEIN is the biggest and boldest evolution of fast fashion, and as such, it is responsible for a big chunk of the environmental and social impacts of the fashion industry.
Its consequences are far-reaching for the people involved in their clothing production and for our planet. Negative impacts include worker harassment, diseases due to toxic chemical use, poverty, wage theft, increased greenhouse gas emissions, biodiversity loss, and resource and soil depletion. If you want to know more about why fast fashion is bad, check out the article I wrote.
Where to Find More Ethical Brands
To avoid supporting the havoc SHEIN wrecks on our planet and our people, you can find sustainable fashion options in a myriad of brands. But since we know it can be confusing to split the greenwashers from the companies that make an impact, we made a directory of the best ethical and sustainable brands.
You can browse and filter by categories such as the type of product, the sizes, location, values, and our rating. We rate brands on a scale from Certified to Silver to Gold and consider their transparency, ethical labor practices, and ecological sustainability when we rate them.
You'll Also Like
Adela is a Colombian storyteller, content maker, strategy consultant, & event producer, specializing in sustainable fashion, mental health, and gender issues.