Did you know that 67% of consumers take the sustainability of their clothes into consideration when looking for something new?
If this number surprises you, you're not alone. Despite good intentions, ethical and sustainable shopping is still a small fraction of clothing purchases overall.
So what gives? Part of the reason for this mismatch is that finding sustainable clothes is not easy. One Google search and 20 tabs later, and you've found a bunch of brands you've never heard of without knowing who to trust.
That's exactly why Eco-Stylist thoroughly researches every brand we recommend to you with our sustainable brand criteria. You can rest easy knowing your clothes were made to minimize their environmental impact and by people paid living wages.
With fall being one of the biggest fashion seasons of the year, shopping increases for pieces like jeans, shirts, boots, and sweaters. So how can you get the clothes you need for fall while reducing your environmental impact?
Here are 10 staple menswear pieces for fall, all from sustainable brands with ethical labor practices. These staple pieces are versatile and built to last, so you can wear them this fall, next fall, and beyond.
1) Oversized Sweatshirt | Colorful Standard
A sweatshirt is a fall staple that's useful all year long. Perfect for those chilly nights on the beach, layering in winter, and all day on your fall hike. Throw it over a button-up for a business casual look or wear it with some jeans for a classic casual outfit.
The oversized sweatshirt from Colorful Standard is made from organic cotton so it's also a great way to be more eco-friendly. It's ethically made in Portugal by people who are paid living wages.
The start of your next conversation, this sweatshirt comes in over 40 different colors so you can pick a neutral tone or a pop of color! The oversized model is great for layering but they have a more fitted option as well.
Shop | $78
2) Dark Wash Jeans | Nudie Jeans
Dark wash jeans are a must-have that will last you years. Dress them up with a blazer and dress shoes, or dress them down with sneakers and a tee.
Nudie Jeans is a woman owned business based in Sweden with some of the most sustainable denim around. Chemical-free and made from 100% organic cotton is just the beginning for Nudie Jeans.

Nudie Jeans invests in circular fashion through their free repair services as well as their collection of second-hand Nudie jeans, which they repair & resell, or recycle. They are also a member of the Fair Wear Foundation, an independent nonprofit that improves working conditions in the textile industry.
Shop | $185
3) Kinetic Blazer | Ministry of Supply
The kinetic blazer is your go-to layering piece for fall into spring. Throw it over a tee for a more casual look or pair it with a button-up for that quick stop into the office.
Either way this layering piece will be your best friend from casual to dapper, elevating your look with style to match your values. Ministry of Supply is Climate Neutral certified, has a take back program to extend the life of your purchase, and factory certifications to protect human rights.
Shop | $328
4) Oxford Shirt | Asket
Button-up shirts are among the most versatile and useful pieces in any man's wardrobe. They look good in any situation and pair perfectly with sweaters, sweatshirts, or blazers.
This oxford shirt by Asket is especially handy for fall because the heavy organic cotton cloth will keep you warm while looking your best. With 7 colors to choose from, this will easily be a go-to piece you'll wear for years to come.
ASKET is a Swedish menswear startup with a mission to provide timeless staple that don't compromise on quality or your values. Forget the disposable fast fashion model; ASKET offers a single permanent collection you can wear year after year.
Shop | $145
5) Slim Chinos | Taylor Stitch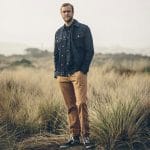 A solid pair of chinos belong in every man's closet. They're like jeans but even more versatile when it comes to dressing up or down.
Date night? Pair them with a button-up and some oxfords. Going for a walk? Throw them together with sneakers and a plain pocket tee.
The Taylor Stitch slim chinos are sustainably made from organic cotton. Taylor Stitch manufactures overseas but shows their commitment to living wages. They also invest in circularity with their new Restitch initiative, which is much like Patagonia's Worn Wear.
Shop | $125
6) Recycled Wool Sweater | Patagonia
A good sweater tells the world you know how to dress. With the sophistication of a well-educated lumberjack, this sweater is sure to carry you from fall into winter.
Patagonia's recycled wool sweater is sustainably made with 70% recycled wool, 26% recycled nylon, and 4% other fibers. Patagonia is one of the oldest sustainable fashion leaders.
They are a B Corporation, members of 1% for the planet, environmental film makers, environmental activists, and proponents of circular fashion through their repair services and Worn Wear initiatives.
Shop | $149
7) Autumn Shirts | Vustra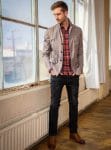 Vustra is changing the sustainable menswear game with their colorful patterned button-up shirts. Wear these button-ups with some jeans, under a sweater, or paired with a blazer.
These shirts have plenty of color already so wear them with all neutral colors for an easy look that'll be sure to get you some compliments. Vustra is made from organic cotton with natural dyes and in Fair Trade factories.
Shop | $90-120
8) Chelsea Boots | Adelante Shoe Co.
Chelsea boots have quickly secured their place in the menswear game. Slip them on with some blue jeans for an easy look that couldn't be more fall.
Adelante is changing the ethical manufacturing landscape with their commitment to living wages. Un-satisfied with the available metrics, they developed their own living wage metric, the living well line, which you'll find is better than any industry standards.
Adelante boots are handmade, built to last a lifetime, and completely resoleable.
Shop | $305
9) Low Top Sneakers | Nisolo
Monochromatic sneakers offer a great look that's equally dapper with jeans as it is with a suit. The low top diego is an elevated take on the classic sneakers from our childhoods.
Wear it to work or while on vacation, it's as versatile as it is comfortable. Handmade in an ethical factory in León, Mexico and certified carbon neutral.
Shop | $150
10) Bundled Basics | Pact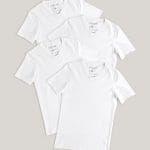 Every man needs basics: underwear, socks, and tees. They are the closest fabrics to your skin, so why not arm yourself with natural fabrics made without chemicals?
Pact's bundled basics help you save on packs of underwear, tees, and socks. All made from certified organic cotton.
Shop | $60-70
Looking for Fall Style Inspiration?
Our friends at Nudie Jeans asked us to help share their new fall collection: dubbed "Rainbow Mixtape."
⁠⁠
Besides really great jeans Nudie is one of Eco-Stylist's highest ranking brands on sustainability. They've been promoting circularity for many years now by repairing jeans for free and reselling used Nudies.⁠⁠
⁠⁠
This new fall collection is a celebration of Nudie Jeans 20 years of work. Here's how they describe it:⁠⁠
"A thousand roads lead to Gothenburg. This is our hometown and an endless well of inspiration. We got the rain, the sunshine, and the fleeting moments in-between when a rainbow connects them both. This collection is an aesthetic exploration of Nudie Jeans and our influences over the past 20 years."⁠⁠
Here I am wearing three pieces from their fall collection.
Check out Nudie Jeans fall collection.
Building an Ethical Fall Closet
There's 10 sustainable men's clothing staples for your fall wardrobe. These pieces are all durable and versatile, so you can wear them often, and for years to come.
It goes without saying that ethical fashion starts with wearing what's in your closet. There are many great approaches to building a conscious closet including thrifting, swapping and renting. For more on the different approaches see our guide to affordable ethical fashion.
If you're cleaning out your closet to prepare for fall, and want the most sustainable options for getting ridding of old clothes, see our guide.
More Sustainable Men's Clothes
More Sustainable Fall Fashion Guides
*Cover image featuring the Fall 2021 collection by Nudie Jeans.
**Article updated 12/3/22.
Eco-Stylist is reader-supported. If you make a purchase using our links, we may earn a commission. We only feature fashion brands that pass our sustainable brand criteria. Learn more here.

Garik Himebaugh is the founder of Eco-Stylist, the go-to resource for ethical clothing. He's also an international speaker on all things sustainable fashion. Garik loves coffee, climbing, and clothes.