Fall is one of the many things fashionistas look forward to every year. From boots to sweaters to cozy jackets, the options for looking good while staying warm are abundant.
Here at Eco-Stylist, we decided to compile a list of 12 sustainable essentials for autumn looks that never fail to impress. Shop these fall staples guilt-free, knowing you're supporting great brands and investing in quality pieces you can wear again and again, and again.
Editor's note: all of the brands featured are Eco-Stylist Certified. Learn what that means here.
Leggings have become a year round staple piece and the layering potential is only elevated by fall weather. Wear these to the gym, with a sweater, on a walk, or to your favorite coffee shop. You can't go wrong with pockets!
Pact offers great sustainable basics, loungewear, casual pieces, underwear, and dresses. With a lineup of organic cotton and Fair Trade clothes you can't go wrong.
The Merida Boot from Adelante Made-to-Order is a cult classic. These boots are available in six different colors, an array of tones that will match just about any outfit. From the pumpkin patch to late night bonfires, these boots definitely fit the bill.
Adelante is a leader in the realm of living wages. They are dedicated to ensuring that their employees are being paid fairly for their work and each pair of shoes is made to order and can be customized to your liking. These boots don't just look good, they feel good, too.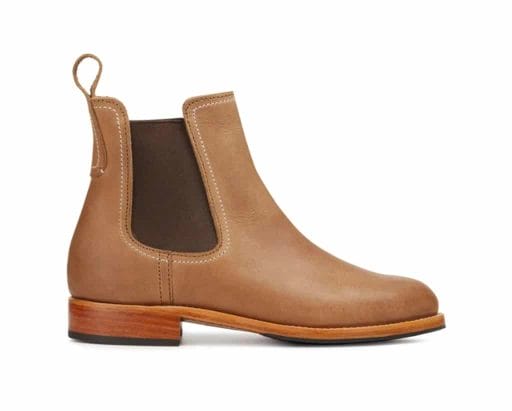 Mock Necks and Turtlenecks never truly go out of style. They may ebb and flow in popularity, but they are always around.
The Effortless Rib Mock Neck from For Days is a necessity for any fall look book, with its cute cropped style. If mock necks or cropped aren't your thing it comes in a full turtleneck too!
These lightweight and form fitting tops are amazing for layering under sweaters and jackets and even better for adding an extra pop to an outfit. For Days designs circular clothes that can be worn, loved, and when you're done sent back to be recycled.
Shop For Days: $36-38
It wouldn't be fall without jeans. Jeans and boots, jeans and sweaters, Canadian tuxedo (all denim anyone?), jeans and turtlenecks, you get the idea.
We love Outerknown's jeans because they fit great, they're made in the US with organic and recycled cotton, and they're guaranteed for life! When you factor in the warranty they're probably the most affordable jeans you could buy and you know they'll be recycled when you're done with them!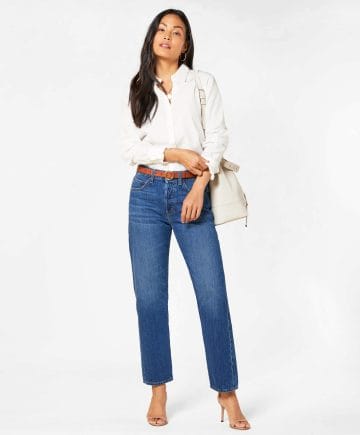 Loungewear has become a year round thing but sweatpants and hoodies are especially great to wear in the fall. Sweatpants are comfy, great for wearing at home, and great for casual looks too. Pair it with a turtleneck, sweater, hoodie, or coat.
Colorful Standard offers organic cotton basics like this in 40+ colors so its anything but boring. They also pay living wages and make their clothes in Portugal.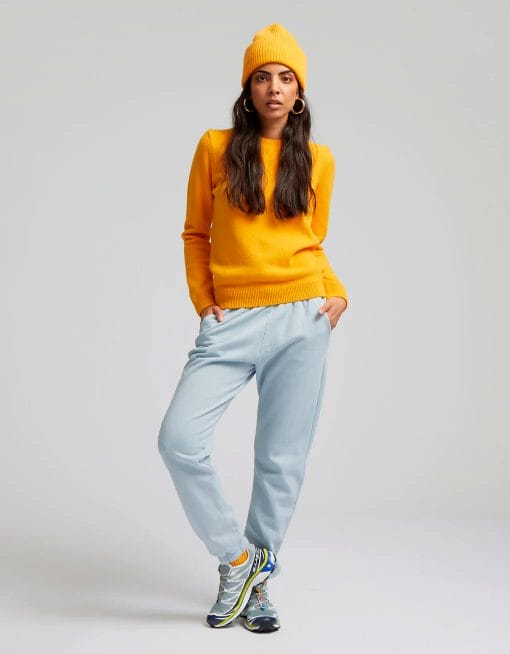 Cardigans are an absolute must for the fall weather. Layering turtlenecks for a brisk walk to class, a cozy day in drinking tea tucked into a blanket, and fall pictures in oversized sweaters all require the perfect cardigan. This one, made from BCI cotton and OEKO-TEX® certified non-toxic dyes, is a great addition to your closet for this season.
Kotn makes "farm to table" clothes, sourcing production locally in Egypt. Much like fall fashion, Kotn's designs are timeless.
Dresses are a fall essential and nothing says fall like these patterns. Wear it by itself, over tights, or layer it up with a cardigan or jacket.
Toad&Co has a great selection of eco-friendly fall clothing that's certified to use less chemicals and only ones that are safe by OEKO-Tex and Bluesign. This means clothes that are better for the planet and better for you. Check out their lines of vegan clothing too!
Fall is the time of year to let your socks show and these colorful socks show… just not too much. Bonus fact: these are made with hemp BioFiber, fibers from hemp crop scraps. The blend also contains organic cotton and recycled cotton.
Arvin Goods makes high performance and everyday socks from recycled materials, upcycled materials, and organic materials. This Seattle based brand has been innovating sustainable sock blends for years.
Who doesn't love a hoodie when the weather turns cold and the leaves change to red? These 50/50 Classic Hoodies from Girlfriend Collective are the answer to your prayers. Made from a mix of recycled and organic cotton, they claim that this just might be the softest hoodie you've ever had﹣and we believe them.
Coming in 10 different colors, this sweatshirt will be your new favorite for those rainy, fall days.
When the leaves fall the beanies come on and they don't come off until the spring. Beanie's pair well with hoodies, jeans, sweatpants, or pretty much anything.
This KNOWN SUPPLY beanie is Fair Trade certified, it lets you actually "meet the maker", and its made from recycled materials. KNOWN SUPPLY is a leader in transparency, introducing you to the people who make your clothes with a scannable QR code on every garment.
A great way to dress up and enhance your fall wardrobe: jewelry. The Dreamer Gold Hoop Earrings from Astor & Orion do more than get the job done.
Astor & Orion makes circular jewelry, meaning the jewelry is made from recycled materials and it is designed to be completely and easily recycled at its end of life. If you're done with the jewelry and don't have a way to recycle it locally, they'll take it back and handle that for you too.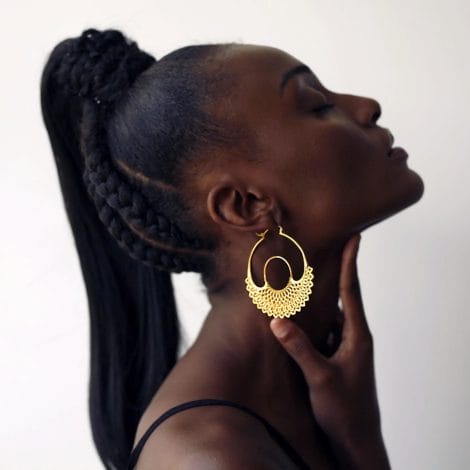 A denim jacket is an essential part of any wardrobe, especially when it comes to chilly weather. Denim jackets, like this one from Nudie Jeans, truly never go out of style and can be worn in a multitude of ways. Layer it up for a fun and toasty date night or dress it down with a pair of leggings and chunky boots for a coffee run.
Established in 2001, Nudie Jeans is a lot like a denim jacket. With their innovative approach to circularity, paying their employees fairly, and their classic denim looks – we don't see it going out of style anytime soon.
What makes these fashion brands sustainable?
All of the brands featured are Eco-Stylist Certified, meaning they're thoroughly vetted and among the best brands for people and the planet. To see their brand ratings and to discover more brands that match your style and your values check out our Ethical Brand Guide.
More Ways to Build a Sustainable Fall Wardrobe
It goes without saying that sustainable fashion is many things, beginning with wearing what you have. Start by shopping your closet, and if some pieces need love consider tailoring or repairing them.
Also consider thrifting, renting, and swapping. For an overview of the many approaches to sustainable fashion check out our guide on the topic.
How to Clean Out Your Old Clothes Responsibly
Looking to clean out your closet to prepare for fall? Check out our guide for the best options to sell, donate, and recycle your old clothes and shoes.
And if you end up cleaning out more than you expected, check out our shop for more sustainable clothing options.
More Ethical Fall Fashion Guides
*Article updated 9/28/22.
Eco-Stylist is reader-supported. If you make a purchase using our links, we may earn a commission. We only feature fashion brands that pass our sustainable brand criteria. Learn more here.

Catherine McCourt is a content writer at Eco-Stylist. She studies English, Creative Writing, and Philosophy at the University of Iowa. When she's not writing about sustainability in fashion, Catherine enjoys painting, journaling, and much needed downtime.