Eco-Stylist is reader-supported. If you make a purchase using our links, we may earn a commission. We only feature fashion brands that pass our sustainable brand criteria. Learn more here.
As the holiday season approaches, gift lists are starting to be made and handed out by moms, girlfriends, wives, best friends, and daughters alike. Buying gifts while also dealing with the Covid-19 pandemic may prove to be a difficult task, so here is a list of 10 items under $50 dollars that you can purchase safely from your home.
They are sure to appease the women in your life while also being better for the planet and for the people who made them.
Sustainability Pick: Merino Wool Beanie | Colorful Standard
Know a woman who loves to wear a beanie? Colorful Standard's beanie is ethically made in Portugal with certified non-toxic dyes and 100% recycled extra-fine merino wool. It also makes a great unisex gift for anyone on your list.
Available in 40+ different colors.
Shop | $40
Circular Jewelry: Gold Star Stud Earrings | Astor & Orion
Astor & Orion jewelry makes a great gift because it is beautiful, high quality, and comes with a great story. All Astor & Orion jewelry is made from recycled metals and designed to be 100% recyclable so it never goes to waste!
The star stud earrings are also available in silver and rose gold. For more jewelry under $50 check out their gift options!
Shop | $50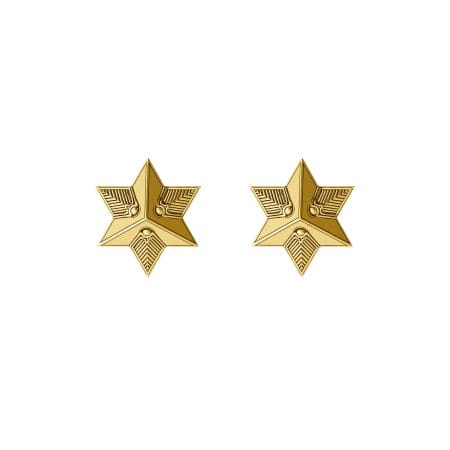 Organic Gift Set: Premium Crew Socks | Pact
These bold patterned crew socks are perfect to wear with a pair of jeans or for a fun pop of color with your business attire. They are made with a cushioned heel and arch support for maximum comfort throughout the day.
Not only are these socks perfect for keeping your feet warm, they are also made of 100% organic cotton and save about 15 gallons of water during the production process.
Shop | $24
Arm Sweaters: Waffle Knit Hand Warmers | Kotn
Let's face it: 80s fashion is having a moment and it's probably not unrelated to Stranger Things. These knit hand warmers from Kotn have an 80s vibe but they'll also be useful and stylish regardless of which show is trending on Netflix.
Kotn's hand warmers are more sustainably crafted with BCI cotton and are ethically made in Portugal. The dyes are certified OEKO-TEX® non-toxic, meaning it's better for you and the people who made it.
Shop | $42
Fair Trade Gift: Desert Sands Candleholder | Ten Thousand Villages
Warm up any room with this beautiful candle holder. This piece is handcrafted in the West Bank from recycled glass. As with any gift from Ten Thousand Villages, your purchase supports fair wages and opportunities for artisans around the world.
Shop | $34.99
Gift with a Story: Patricia Scarf | Known Supply
This versatile style can double as your typical scarf or as a shawl! It is the perfect addition to your accessory collection. The scarf is handcrafted in India and is both GOTS and Fair Trade certified!
Fun fact: Known Supply encourages customers to "meet their artisan" by signing the name of the maker on the tag, allowing you to look them up on their website.
Shop | $44
Ethically Made Gift: Rosa Pouch | Nisolo
This pouch is the perfect size for stashing cards, makeup, jewelry, keys and accessories securely with a zip closure. Carry it on its own for an easy outing or toss it in a larger bag or tote and go.
The Rosa Pouch is handmade in an ethical factory in Peru that pays living wages.
Shop | $50
Eco Friendly Gift: Recycled Scrunchies | Girlfriend Collective
These colorful scrunchies from Girlfriend are really popular and it's not hard to see why. Besides being great scrunchies these are also sustainably made from recycled plastic bottles.
At $6 each this is our most affordable gift option so go ahead, buy a few in different colors for the women on your list – they make great stocking stuffers too!
Shop | $30 for 5
Gifts that Give Back: Socks that Protect Animals Gift Box | Conscious Step
This sock box doesn't just keep your toes warm! It also helps save ocean animals by giving back to non-profit Oceana. Conscious Step partners with non-profit organizations that help support humanitarian and environmental causes around the world. Their socks are Fair Trade, made with GOTS organic cotton, and vegan friendly. Check out their selection of sock gift boxes.
Shop | $44.95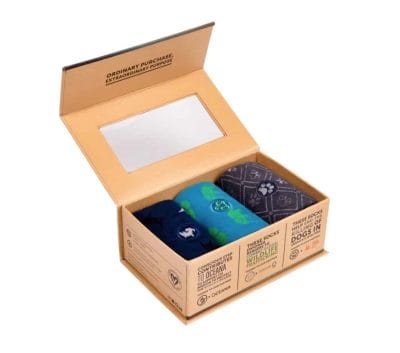 Gift for Sustainable Friends: Organic Canvas Tote Bag | Known Supply
This tote is perfect for carrying all of your everyday essentials! From laptops to books to face masks, this bag can fit it all! It is also made of 100% GOTS certified organic cotton, and is Fair Trade certified.
Shop | $24
What Makes These Gifts Sustainable and Ethical?
"Ethical" gets tossed around a lot these days but when we say it we really mean it.
Eco-Stylist uses our sustainable brand criteria to research and certify all clothing and shoe brands on our platform. This comprehensive framework focuses on both the human and environmental sides of sustainability.
Since our criteria is fashion-specific, we occasionally recommend value aligned accessary brands (non-fashion). In practice what this means is all of the brands in this article are Eco-Stylist Certified.
Sustainable Christmas Gifts for Her Over $50
Looking to splurge on the women in your life? Here's a few Christmas gift ideas that are over $50:
We all know women love their shoes, consider some cozy moccasins from Adelante Made-to-Order.
Looking for something fancier? Try the Dreamer Gold Hoop Earrings from Astor & Orion.
Want something a little more outdoorsy? Head over to Patagonia for a cozy jacket or fleece!
Sustainable Holiday Gifts for Men
For gifts for him and unisex gift ideas, check out our other gift guides.
More Ethical Gift Ideas
Looking for more ethical and sustainable holiday gift ideas for everyone? Check out our curated shop.
For anything else leave a comment.
Editor's Note: It's not as fun to talk about, but gift giving can be wasteful when the recipient doesn't love what they received. For this reason we didn't pick things like dresses and shirts that are hard to gift for someone else. Instead, we carefully selected useful gifts that your recipient is more likely to love! If for some reason they don't love it, these gifts could easily be re-gifted, or in the case of the earrings, even recycled.
*Article updated 10/24/22.

Catherine McCourt is a content writer at Eco-Stylist. She studies English, Creative Writing, and Philosophy at the University of Iowa. When she's not writing about sustainability in fashion, Catherine enjoys painting, journaling, and much needed downtime.