Christmas 2022 is coming and odds are you have a vegan friend or two on your list. You can't go wrong with these 10 vegan friendly gifts any man will love.
Each piece was selected for its outstanding impact and function, and of course a vegan friendly pat on the back. Now you have a guide for some mindful buying and no excuse for any last minute purchasing regrets.
If ethical and sustainable are on your gift list you can check those boxes too because all of our clothing brands are Eco-Stylist Certified and all accessory brands are value aligned.
1. Dad Hat | Known Supply
Dad hats are in but this wardrobe staple is no trend; they're here to stay.
This is no ordinary dad hat. Known Supply's hats are made with organic cotton, Fair Trade certified, and you can meet the person who made your hat! How you might ask? The name of the maker is printed on the inside of the hat, and you can look them up right on Known Supply's website.
Brand Rating: Certified
Shop | $28
2. Complete Skincare Package | Caldera + Lab
Every man should have a skincare routine and this one delivers. Caldera + Lab skin care products are where science meets nature: clinically proven and made with natural ingredients.
Help the men in your life get their skin care game on. They'll thank you later.
Caldera + Lab is a certified B Corp. To learn more about their 3 step skincare routine check out our review.
Shop | $150
3. Organic Cotton Boxers | Pact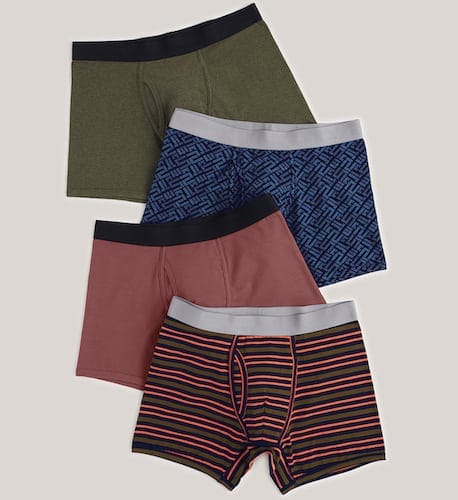 These days, it's trending to make your clothes last. (We saw you showing off your 7-year-old jacket at that party last weekend, Bob, and you were lookin' fine).
However, it's so not cool when it comes to your underwear. Here's a conscious undergarment he'll certainly love.
Pact's boxers are not only soft and comfortable but also made with GOTS certified organic cotton, made in Fair Trade factories, save 15.8 gallons of water, and completely vegan friendly.
Brand Rating: Silver
Shop | $14+
4. Socks | Arvin Goods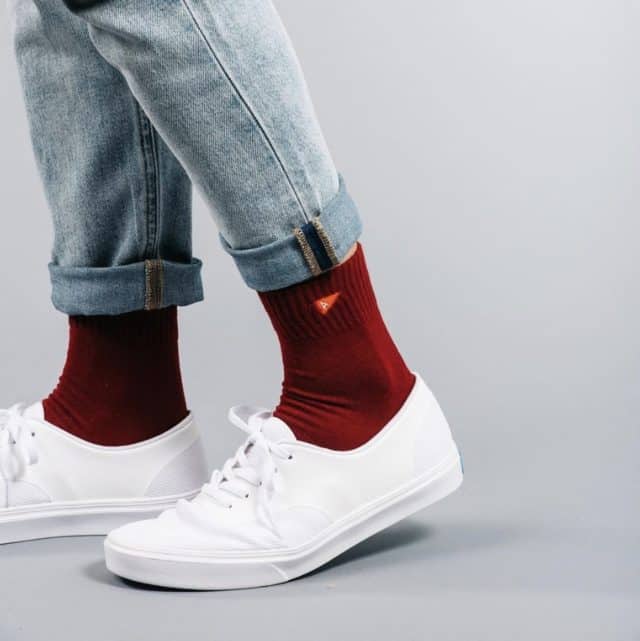 Nothing softens your footprint like a pair of socks from Arvin Goods. Made with a blend of upcycled cotton & recycled polyester Arvin Goods is innovating in crafting high quality basics in the most sustainable way.
What's the impact? Every 1kg of recycled cotton prevents 20kg of CO2 emissions and saves over 15,000 liters of water.
Brand Rating: Certified
Shop | $12+
5. Everyone Hoodie | Girlfriend Collective
Give him a gift you'll want to steal — any you can! This unisex hoodie looks good on everyone.
He'll look good and feel good because it's responsibly made with a blend of recycled cotton and organic cotton. In fact, 371 gallons of water were saved making this hoodie compared to a conventional option.
Brand Rating: Silver
Shop | $88
6. Beanie | Kotn
Beanies are a fall and winter must-have. This one is ethically made in Portugal with non-toxic dyes and BCI cotton.
Kotn's beanie is a great unisex option perfect for anyone on your gift list.
Shop | $42
7. Blanket Shirt | Outerknown
Introducing the softest shirt ever made. The Blanket Shirt is rugged, warm, made of organic cotton, and equipped with vegan friendly buttons.
Vibrant color is another reason to love this shirt, which comes in 42 different color options, including solids and plaids. One of Outerknown's most popular items, this is another gift you'll want to steal from time to time.
Brand Rating: Silver
Shop | $148
8. White Sneakers | Thousand Fell
What guy couldn't use a pair of slick minimalist vegan sneakers? White sneakers match virtually any outfit with great versatility to pair with any shade of your favorite blazer or tee.
Thousand Fell sneakers have the added bonus of a great impact. Their sustainable creation comes from recycled uppers and a fully circular business model: meaning you can send back your worn out sneakers for recycling when you're done with them. Now that's a gift with a cool story.
Brand Rating: Certified
Shop at Thousand Fell | $125
9. Sunglasses | Warby Parker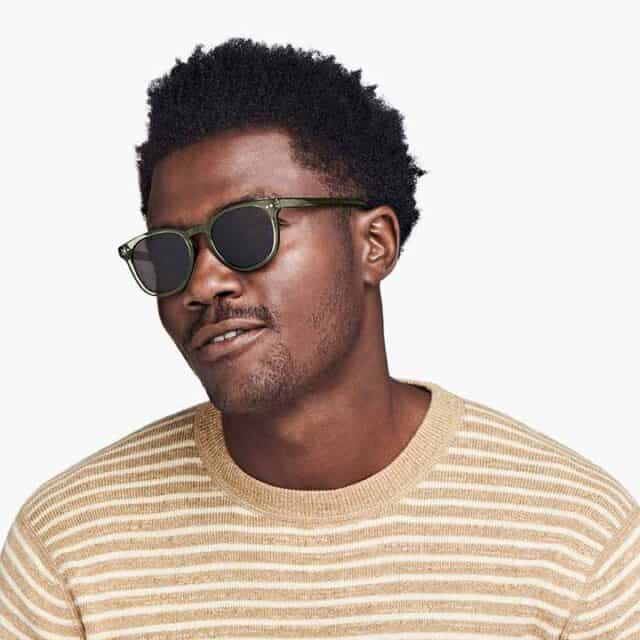 Winter may be upon us but the sun's still shining. Warby Parker's sunglasses are the perfect combination of style and function. With many different styles to choose from, they also offer any of their sunglasses in prescription form for those who need it.
Warby Parker is a certified B Corp with a buy-a-pair give-a-pair model, meaning they give a pair to someone in need for every purchase.
Brand Rating: Silver
Shop | $95+
10. Cutlery Set | Mizu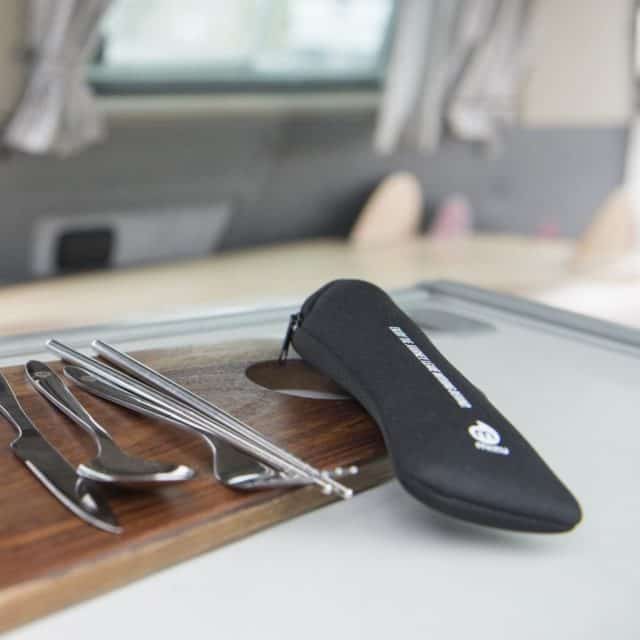 Sustainable living is way easier when you have the right tools. The cutlery set by Mizu includes a stainless steel fork, spoon, knife, chopsticks, and straw with a silicone tip, all of which fit in a slick black pouch. Everything is BPA free and like us, Mizu is a member of 1% for the Planet.
Anyone on your gift list (including yourself) would appreciate the quality and design of this set. Your gift recipient will feel good each time they use this beautiful set and simultaneously conserve resources.
Don't overlook practical utility. These are the kind of gifts that are truly sustainable and do give you that edge to wiggle into the minds of those who use your gift every day. It makes their life easier and you score some brownie points.
Shop at Outerknown | $18
Behind the Scenes
"Sustainable" gets thrown around a lot these days. In contrast to all the clickbait big media articles, at Eco-Stylist we only say sustainable when we really mean it.
Before recommending clothing brands to you, we research them utilizing our sustainable brand criteria. This holistic approach helps us ask all the tough questions while being completely transparent about our research process.
Since our criteria is fashion-specific, we occasionally recommend value aligned accessary brands (non-fashion). In practice what this means is all of the brands in this article are Eco-Stylist Certified except for accessory brand Caldera + Lab, which is value aligned and a certified B Corporation.
What's Left on Your List?
Navigating the holidays can be tricky. Especially when you're trying to keep your list ethical, sustainable, and vegan friendly.
The best option is to buy mindfully and in advance, and we hope this list of vegan options can assist you in alleviating those obstacles and stress.
For more eco-friendly gift ideas check out:
What's been your biggest challenge when it comes to buying conscious gifts this holiday? We'd love to help!
*Article updated 11/8/22.
Eco-Stylist is reader-supported. If you make a purchase using our links, we may earn a commission. We only feature fashion brands that pass our sustainable brand criteria. Learn more here.

Garik Himebaugh is the founder of Eco-Stylist, the go-to resource for ethical clothing. He's also an international speaker on all things sustainable fashion. Garik loves coffee, climbing, and clothes.