Eco-Stylist is reader-supported. If you make a purchase using our links, we may earn a commission. We only feature fashion brands that pass our sustainable brand criteria. Learn more here.
Looking for some holiday gifts for the special people in your life, but have absolutely no clue where to start? Well, you've come to the right place!
This gift-list is 100% gender neutral, making each of these gifts great choices. With gifts spanning from $12 to $395, you'll surely find a few things here that will fit within your budget, and you'll be able to feel good about it too as all of these gifts help the environment in one way or another. Happy shopping!
1. Good Luck Charm Necklace | Astor & Orion
Who doesn't want some good luck to welcome in the new year and beyond? This unisex good luck charm necklace from Astor & Orion makes the perfect gift and comes in this beautiful limited edition gift box!
The necklace is available in silver or gold, made from recycled metals, and designed to be 100% recyclable, making it completely circular. The gift box features original artwork and is sourced with eco-friendly materials including upcycled dead stock cotton for the bow and FSC certified paper for the box and card. Gift boxes ship starting 11/4.
Shop | $148-158
2. Moccasins | Adelante Made-to-Order
Moccasins are the perfect gift for anyone who has found themselves working from the dining room table rather than the office recently. They are great for wearing around the house, stepping outside, and even running errands. Adelante offers both cozy and non-cozy varieties for anyone.
Shop | $145-175
3. Diamond Stud Earrings | Brilliant Earth
Looking for an elevated gift for someone special in your life? These diamond stud earrings make a great gift for anyone and they come with a great story. Choose the metal or the carat to customize.
Brilliant Earth jewelry boasts an impressive number of certifications surrounding their ethical and sustainable creation. They use recycled metals, Beyond Conflict Free diamonds, lab grown diamonds, and they offset their carbon footprint via carbonfund.org.
For more gift ideas check out their selection of unisex jewelry.
Shop | $395
4. Everyday Hemp Backpack | 8000Kicks
Give a sustainable lifestyle gift anyone can use: a minimalist hemp backpack! This hemp bag from 8000Kicks is waterproof, expandable, durable, and made from eco-friendly hemp.
Prepare your loved ones for their next big trip or weekend adventure! This is a gift that's sure to get used and last a long time.
Shop | $159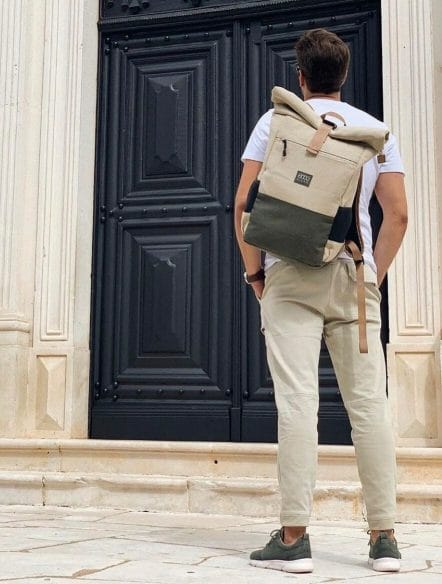 5. Room Service Sheet Set | Pact
Do you know a recent college graduate? Or maybe a newly engaged couple? This sheet set is the perfect gift to get them started on their new journeys!
Whether they're moving into the first apartment of their own or just starting out as a new couple, these sheets will not go unappreciated. They're Fair Trade Certified and made with 100% organic cotton. Frankly, we all are probably due for a new and clean set of sheets!
Shop | $130-220
6. Reimagine Cashmere Beanie | Outerknown
Beanies are a fall and winter staple, made to be worn by anyone, conveniently in one size fits most. The reimagine cashmere beanie by Outerknown is both luxurious (what's softer than cashmere?) and sustainably made (hello recycled fabric!). Available for pre-order in 2 colors.
Shop | $98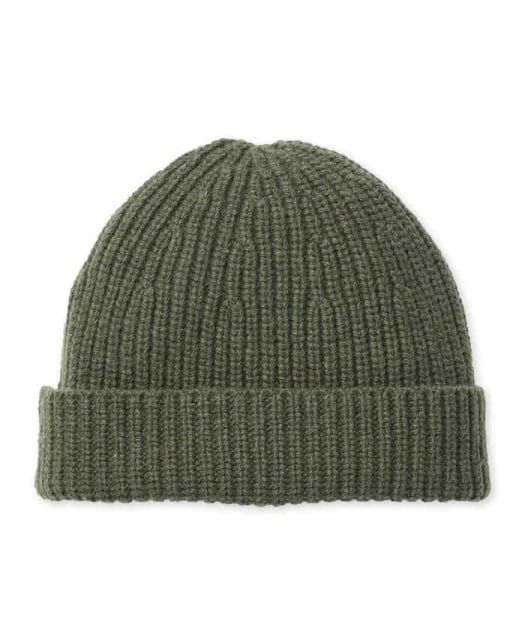 7. Oversized Organic Cotton Hoodie | Colorful Standard
These cozy unisex hoodies should be a staple in everyone's closet for the fall and winter months. They're made with 100% organic cotton, making them perfect to pair with a nice cup of hot cocoa and a Christmas movie. Available in 48 colors.
Ethically made in Portugal with Oeko-Tex certified non-toxic dyes.
Shop | $88
8. Classic Sweatpants | For Days
These unisex sweatpants make the perfect loungewear gift for anyone on your list. Comfortable enough to never want to take off and stylish enough to wear out of the house. Available in 5 colors.
They're made from 35% recycled cotton and 65% organic cotton, making them cozy as ever and better for the environment. They're also 100% recyclable and as a circular brand, For Days can recycle them for you at their end of life.
Shop | $98
9. The Recycled Move™ Chair | noho 
Know anyone with a love for minimalist or Scandinavian style? The noho chair is an ergonomic and light weight desk or table chair that is made from recovered and regenerated fishing nets!
The chair moves with your body as you sit – perfect for your WFH office or even around your dining room table. Did we mention they're super comfortable AND come in multiple colors!
Our team tested this product and loved it! See it in action on our Instagram.
Shop | $395
10. Ethiopian Coffee | Parker Clay
Did you know? Ethiopia is the birthplace of coffee. Parker Clay is a certified B Corporation that ethically makes all of their products in Ethiopia, so it's only natural that they also sell Ethiopian coffee.
The most sustainable gifts aren't just the ones that are more ethically and sustainably made, but also the gifts that actually get used. Coffee, like socks, is a safe bet, assuming of course that your recipient loves coffee (how well do you know this person again?).
Our team tested Parker Clay's coffee and loved it! The delicious whole bean variety is sure to please the coffee lovers in your life.
Shop | $20
11. Nano Puff Jacket | Patagonia
This warm, lightweight, wind-proof, and water-resistant jacket is a great gift for anyone preparing for this winter. What's better? It's made from 100% post-consumer recycled polyester; in other words, it looks great and it's good for the environment!
Shop Men's or Women's Sizes | $229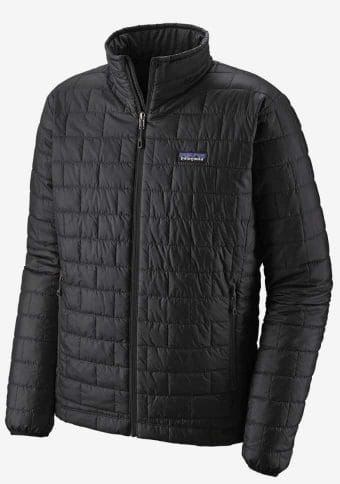 12. Socks That Protect the Planet Box | Conscious Step
This sock box won't just keep your toes warm! It will also add a pop of color to your day-to-day business attire. With each purchase of these socks, part of the profit goes towards protecting oceans, protecting rainforests, and planting trees.
Shop | $44.95
13. Summer Day Hammock Chair | Ten Thousand Villages
This hammock chair gives you the best of both worlds! It is the perfect addition to an outside patio for the spring and summer, or you could hang it in a corner of your house to create a cozy reading nook.
Shop | $125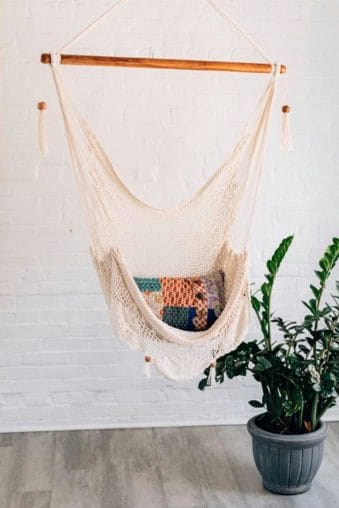 14. No Show Socks | Arvin Goods
We know what you're thinking—what? More socks?? But trust us, these socks are here for a reason.
Socks make great gifts because they get used and if fun socks aren't what you're looking for (scroll back up for fun socks) then these are straight to business. No show socks are super comfortable and let anyone pull off the "sock-less look" without actually going sock-less.
Arvin Goods socks are great because they're made from upcycled cotton and recycled polyester, meaning a lighter "footprint" for anyone on your gift list. At only $12 a pair buy your loved ones 3-5 pairs or buy a bunch and use them for stocking stuffers!
Shop | $12
15. Soothing Comfort Set | Ten Thousand Villages
This warming eye mask and neck wrap set is the perfect gift for the people in your life who have found themselves a little more tense than usual. Aren't we all these days? This set will bring a bit of relaxation to anyone who needs it!
Shop | $44.99
What Makes These Ethical + Eco Conscious Gifts?
"Ethical" gets tossed around a lot these days but when we say it we really mean it.
Eco-Stylist uses our sustainable brand criteria to research and certify all clothing and shoe brands on our platform. This comprehensive framework focuses on both the human and environmental sides of sustainability.
Since our criteria is fashion-specific, we occasionally recommend value aligned accessary brands (non-fashion). In practice what this means is all of the brands in this article are Eco-Stylist Certified except for accessory brand noho, which is value aligned and B Corporation Certified.
More Sustainable Christmas Gift Ideas
Didn't find quite what you were looking for?
Happy Holidays!
*Article updated 11/2/22.

Catherine McCourt is a content writer at Eco-Stylist. She studies English, Creative Writing, and Philosophy at the University of Iowa. When she's not writing about sustainability in fashion, Catherine enjoys painting, journaling, and much needed downtime.