Fall, winter, and spring can only mean one thing: sweater weather. That's right, it's not just about changing weather and imbibing lattes.
There's a good chance you could use some warmer layers to carry you through the seasons. But where can you buy an ethical sweater that makes a positive impact with your dollars?
Thrift shopping and consignment stores are a great option to give gently used items more life. You can also find some really great deals.
However, thrift shopping isn't everyone's cup of tea. That's why we've got you covered for all your sweater needs.
Here's a short list of 6 ethical and eco-conscious brands to get your gear and avoid the hassle of shopping. With these brands it's easy to look good and do good too.
1. Outerknown
LA based Outerknown's moto is "For People and Planet." They execute this mission with initiatives on both the sustainability and labor fronts.
A company that values fair trade and sustainable sourcing, and is transparent in its supply chain, Outerknown produces products you can feel good about. For example, many of their products are made with organic cotton and recycled materials.
Organic cotton requires less water to grow and by cutting out pesticides, it is better for people and the environment. Pesticides used on conventional cotton pollute our soil and water, kill wildlife, and poison farmworkers.
Sustainable Men's Sweaters
Outerknown carries a great selection of ethical sweaters and coats to carry you from the fall into the winter and spring months.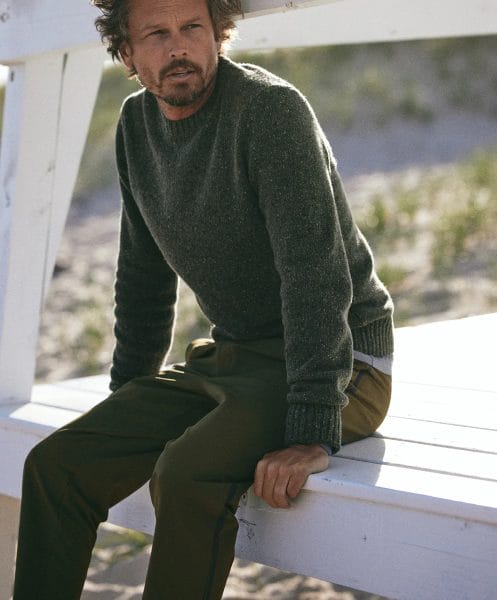 2. Colorful Standard
Colorful Standard offers sweaters, sweatshirts, and beanies in over 40 colors! Everything they sell is made with eco-friendly fabrics, eco-friendly dyes, and made by people who are paid fair wages.
This is really a company that puts sustainability first.
Recycled Wool Beanie
For example, they have great beanies, such as this one which is made from 100% recycled merino wool.
Recycled Wool Knit Sweater
And this ethical sweater? Also 100% recycled merino wool.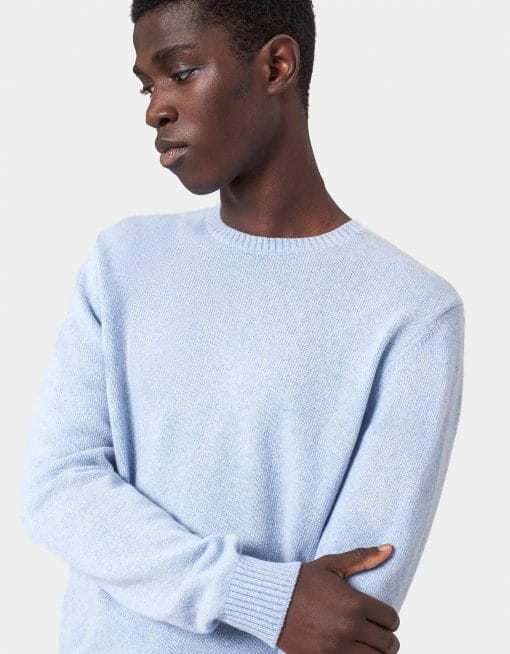 Organic Cotton Sweater
Not this one though—this sweater is organic cotton.
3. Taylor Stitch
Taylor Stitch has a great selection of basics and men's essentials responsibly built for the long haul. Since each new item is crowd funded, they don't over produce. That means less excess inventory, and less waste.
Taylor Stitch embraces ethical practices, ensuring fair wages and benefits for workers. They have also made a good effort to improve the sustainability of their manufacturing over the last few years.
Quality Men's Shirts
Shop here for a great selection of button up shirts, sweaters, and blazers. Just see for yourself.
Jumpers
Check out Taylor Stitch's selection of classic sweaters that you'll be excited to throw on year after year.
Jackets
Taylor Stitch has some of the most stylish timeless jackets in the menswear game.
4. Toad&Co
Toad&Co makes clothes with the wellbeing of the planet and their communities in mind. They have multiple partnerships with non-profits including Community Environmental Council, Ventura Land Trust, Portland Trails, and more. Toad&Co is Bluesign and OEKO-TEX certified, and has lines of vegan clothing!
When it comes to the clothes they are all sustainably made from materials including: hemp, organic cotton, tencel, and recycled fabrics. Their style is fun, casual, and classic.
Eco Friendly Sweaters
For more casual options check out Toad&Co's Butte Crew Sweater or their Wilde Zip Sweater.
If you want something slightly more elevated and cozy try the Wilde Crew Sweater.
5. Patagonia
While you know Patagonia, you probably don't know them for style. Not everything they put out is straight camping gear and we think you'll be pleasantly surprised by their sweater selection.
When it comes to doing business more sustainably Patagonia is no stranger. They are a member of 1% for the Planet, a certified B Corporation, advocates for protecting our environment, host a selection of Fair Trade certified sewn garments, are an Eco-Stylist approved brand, and more.
Ethical Sweaters for Men
If you're looking for solid fall and winter sweaters you can wear on a hike, at a family gathering, on a date, and to your local cafe, start here.
6. ASKET
Swedish menswear brand ASKET is on a mission to provide timeless staples that don't compromise when it comes to quality or your values. Forget the "new collection every week" model pioneered by fast fashion; ASKET offers a single permanent collection. They're honest about how transparent they are to boot!
If keeping it professional is more your speed then ASKET has your back.
Sustainable Wool Sweater
Their merino sweater is business casual appropriate for the office and beyond.
Sustainable Cardigans and Turtlenecks
They also have a nice selection of turtlenecks and zip cardigans to round out the collection.
That's 6 brands to find ethical and dapper menswear for this fall and winter, and beyond. We hope you enjoyed and found something you like.
Where to Find Fall Clothes: Hoodies, Boots, Sweatpants, & More
Share the Love
If you enjoyed this article, please help us grow and share it with people you know. The more we promote eco-conscious shopping the more positive impact we can create together.
Throw your fashion questions at us as well. We'd love to help!
Until next time, dress like you give a damn.
*Article updated 12/4/22.
Eco-Stylist is reader-supported. If you make a purchase using our links, we may earn a commission. We only feature fashion brands that pass our sustainable brand criteria. Learn more here.

Garik Himebaugh is the founder of Eco-Stylist, the go-to resource for ethical clothing. He's also an international speaker on all things sustainable fashion. Garik loves coffee, climbing, and clothes.