With the 2023 engagement season off to a start, so is the hunt for the perfect engagement ring for your s/o. Shopping for engagement rings can be a difficult task, and adding the complexity of finding ethically-sourced rings can be even more daunting.
Luckily, Brilliant Earth is a company focused on finding you the perfect sustainable engagement rings and has received our Eco-Stylist Certified rating. Below are our top picks from Brilliant Earth for the 2023 engagement season.
*Pricing is based on ring setting only and all engagement rings can be personalized based on ring size, setting, precious metal, and diamond and gemstone.
1. The Camellia
Starting off our top picks is the Camellia, part of Brilliant Earth's Wildflower collection. While the pear-shaped gemstone is the statement piece of the ring, it is complimented by the subtle, winding diamond detail, resembling petals branching out from the golden band. It is perfect for your ethereal, nature-loving partner.
Shop on Brilliant Earth | $1,190
Pictured in yellow gold with 1 ¼ carat pear diamond.
What makes this an ethical engagement ring?
The Camellia features a lab-grown diamond which provides an excellent mining-free alternative. The ring's band is also made of recycled gold which helps reduce the demand for new dirty mining.
2. The Hidden Halo
Our second featured ring is the Hidden Halo. With its simplistic, white gold band and beautiful oval diamond, its namesake comes from the sparkling halo of gems at the base of the diamond. This ring is a timeless piece for your fiancé.
Shop on Brilliant Earth | $1,090
Pictured in 18k white gold with 2 carat oval diamond.
What makes this an ethical engagement ring?
The Hidden Halo features ethically-sourced recycled diamonds, repurposed so they require no new mining and are conflict-free. The ring's band is also made of recycled metal. To learn more about Brilliant Earth's Beyond Conflict Free policy, see here.
3. The Versailles Three Stone Diamond
Set against an alluring rose gold band, this three stone diamond engagement ring is perfect for a Valentine's day proposal. Titled the Versailles, its pattern is characterized by its distinctive band of jewels and romantic elegance.
Shop on Brilliant Earth | $2,290
Pictured in 14k rose gold with ½ carat setting wt.
What makes this an ethical engagement ring?
The Versailles Three Stone diamonds have all been sourced from a select group of diamond suppliers committed to ethical practices that allow all of their diamonds to be segregated and tracked from their origin in order to ensure ethically-sourced mining practices. Like all of Brilliant Earth's diamonds, this one is Beyond Conflict Free.
4. The Aimee
The Aimee is simple yet stunning. It boasts a center oval diamond surrounded by two smaller diamonds on both sides of the yellow gold wedding band. It manages to put a unique spin on the classic engagement ring, while still keeping a sleek and sophisticated look.
Shop on Brilliant Earth | $1,250
Pictured in 18k yellow recycled gold with ¾ carat oval diamond.
What makes this an ethical engagement ring?
For the Aimee you can choose from lab-created diamonds or recycled or fair trade diamonds to avoid the demand for new mining and minimize the environmental impact of the diamond industry, or you can choose from natural diamonds that were sourced from ethical-based mining practices. Brilliant Earth's diamonds are Beyond Conflict Free.
5. The Nouveau
If your partner loves sparkle, this is the diamond ring for them. The Nouveau ring is pictured with a center teardrop gem set at the apex of the glittering band. The band is also three-quarters surrounded by smaller diamond accents. The unique shape adds a striking touch to this ring and makes it uniquely your own.
Shop on Brilliant Earth | $1,350
Pictured in platinum with a 1 ¼ carat ethically sourced diamond.
What makes this an ethical engagement ring?
The Nouveau's stunning multitude of diamond accents are all certified through the Kimberley Process, which looks to reduce the amount of conflict diamonds in circulation. The accents can also be lab-grown diamonds, as well.
6. The Viridian Toi Et Moi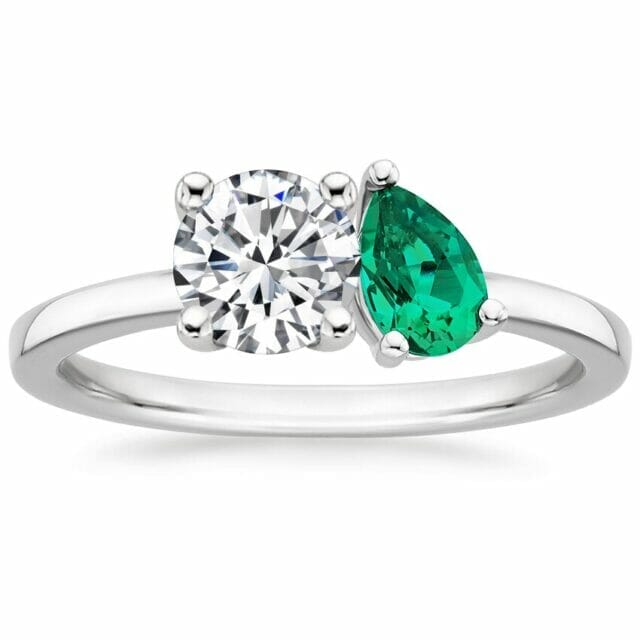 Our final pick is titled Viridian Toi Et Moi and its elegance comes from its oval statement diamond and lab-created emerald. This ring is Parisian-influenced and a fashionable choice for your fiancé.
Shop on Brilliant Earth | $1,090
Pictured in 18k white gold band with a 1 ¼ carat diamond.
What makes this engagement ring ethical?
The Viridian Toi Et Moi features both a center diamond and an emerald. Brilliant Earth makes sure that all of their gemstones are sustainable, so you can either choose from a lab emerald and diamond or an ethically-sourced mined gem. Again, Brilliant Earth's diamonds are sourced Beyond Conflict Free.
What is an ethically sourced, eco-friendly engagement ring and why do I care?
Now that we've given you a list of our favorite engagement rings and wedding bands made from sustainable materials and ethical sourcing, you may be asking yourself: is looking for an ethical ring worth all the fuss? The short answer is yes. The diamond trade has long been the cause of blood shed, worker exploitation, and environmental destruction from the harvesting of diamonds.
Brilliant Earth is part of the mission to make every diamond a conflict free diamond. Looking for ethical engagement rings does not have to be difficult, rather you can do so knowing your ring comes from ethical and environmentally sound sources. Not only does Brilliant Earth offer custom rings, a variety of diamonds and gemstones, recycled gold and platinum, but you can shop knowing your source is both affordable and ethical.
Every diamond has a story, you want to know your engagement ring was composed of ethical or sustainable diamonds from mine to retailer.
What is the difference between lab-grown and recycled for ethical engagement rings?

When picking out your stone, you may stumble across the words lab-grown vs recycled. The terms recycled gold or recycled gemstones mean instead of the new mining of precious metals, sellers are using metals and diamonds that were not recently mined when creating ethical rings. A lab grown diamond engagement ring means that instead of using diamond mines, diamonds are being made in controlled laboratory environments.
However, even if you end up picking a lab grown diamond, it possesses the same chemical properties as a natural diamond. Scientists have confirmed the difference in lab-grown diamond rings is not even noticeable to the naked eye. Therefore, you still are able to pick a unique engagement ring, while knowing it is eco-friendly and truly ethical. To read more about this, check out Brilliant Earth's page on lab-grown diamonds.
What does it mean to have a Kimberley Certified sustainable engagement ring?
The Kimberley Process was created to help identify conflict-free diamonds and remove conflict diamonds from the supply chain through a fair trade regime. They do so through the Kimberley Certification Scheme (KCS) where they track shipments of rough diamonds into states, and implement safeguards to ensure and certify they are conflict-free.
Buying engagement rings and wedding rings certified through the Kimberley Process helps combat child labor and poor working conditions. It also holds those in the diamond industry to a higher standard, ensuring better health and safety for those in the diamond-mining industry. Buying from jewelers who only sell ethical diamonds (whether natural or lab grown diamonds) puts pressure on the rest of the jewelry industry to only produce and sell ethical jewelry.
Want to learn more about Brilliant Earth's sustainability?
As mentioned, Brilliant Earth is Eco-Stylist Certified, meaning it's in the top 10% of all brands when it comes to ethics and sustainability. To learn more, see our full Brand Rating.
Still haven't found the perfect diamond ring or engagement ring for you or your partner?
If none of these end up catching your eye, Brilliant Earth has many more styles, gemstones, and even colors of wedding bands to choose from. Their website makes shopping for an ethical, conflict-free engagement ring that your partner will fall in love with easy.
Ok, but where can I find ethical wedding attire?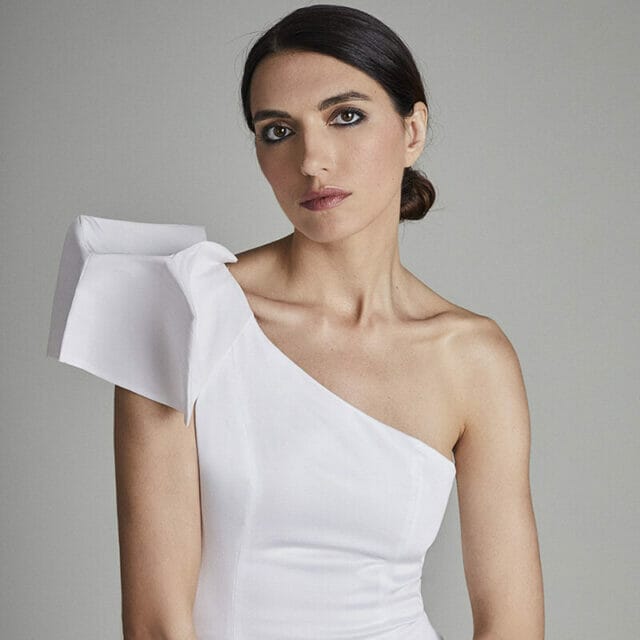 Already thinking ahead to the big day? We wrote a whole guide on what to wear to a wedding, ethical and sustainable edition.
It's got options for brides, grooms, guests, and everything in between. Check it out to dress like you give a damn at your next wedding.
Looking for more ethical and sustainable jewelry?
If you're still on the hunt for sustainable fine jewelry brands? We recommend checking out Soko and Astor & Orion.
For anything else, see our brand guide.
Eco-Stylist is reader-supported. If you make a purchase using our links, we may earn a commission. We only feature fashion brands that pass our sustainable brand criteria. Learn more here.
Abby Bishop is a writer at Eco-Stylist. She has had a passion for writing since she was 8 years old. Abby also runs a blog where she publishes her short stories and hopes to continue utilizing her writing as a tool for advocacy.