Eco-Stylist is reader-supported. If you make a purchase using our links, we may earn a commission. We only feature fashion brands that pass our sustainable brand criteria. Learn more here.
Of all the months, August is one of the most idyllic for weddings. However, what to wear can often be a challenge, and especially considering the environmental impact of most fashion retailers. If you are someone who wants to look their best and reduce their environmental impact, then here are a few ideas for you.
Sustainable wedding outfits for her: bridesmaids and guests
Made to order wedding dresses and looks: Fite Fashion
Wedding looks for bridesmaids and wedding goers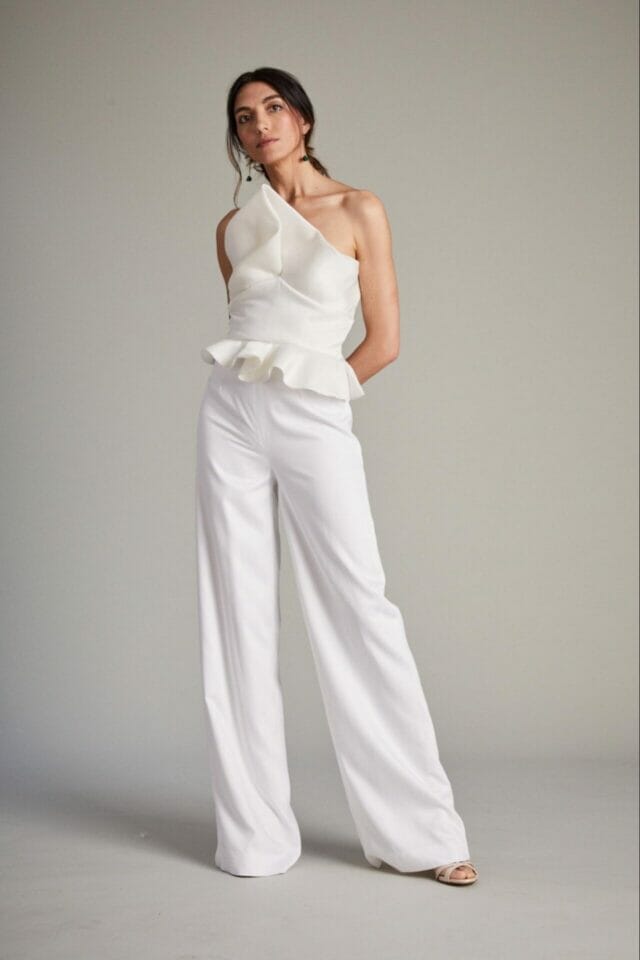 Shocking pink is all the rage at the moment as is anything with a bow attached; with dresses fit for brides to wedding party guests, Fite Fashion can tick many of these boxes. Fite Fashion has some glamorous collections available this season, with their white wide leg trousers piece being our favorite.
Fite Fashion mixes this with impressive environmental credentials too. It boasts using organic materials in their fabrics and dyes for their products, and avoids conventional methods of textile manufacturing where possible. Fite Fashion also avoids any use of virgin synthetic material and orders from places like Etsy when they are needed.
Fite Fashion's earnest transparency and their great collection this Autumn mean it is a definite go to.
Ethical wedding dresses: Whimsy and Row
Environmentally friendly, sleek dresses for weddings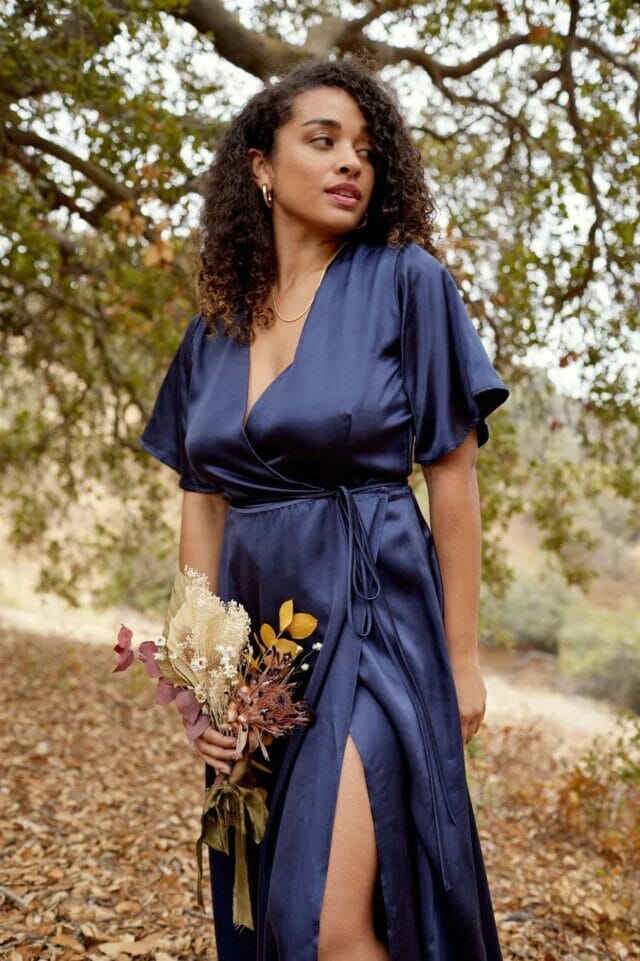 Whimsy and Row provides a variety of dresses from floral to pattern; from bridesmaid to guest; from the intricate to the simple yet stylish. Have a look on their website at the Lola Wrap Dress which combines a poolside aesthetic to that of a Mediterranean-styled summer ball.
Whimsy and Row also boasts impressive eco-credentials, including sourcing from a carbon neutral and OEKO-TEX 100 certified factory in China. Learn more about Whimsy and Row here.
With more sustainable materials and plenty of impressive options, Whimsy and Row is not one to miss.
Summer wedding dresses: People Tree
Dresses for religious, beach and outside weddings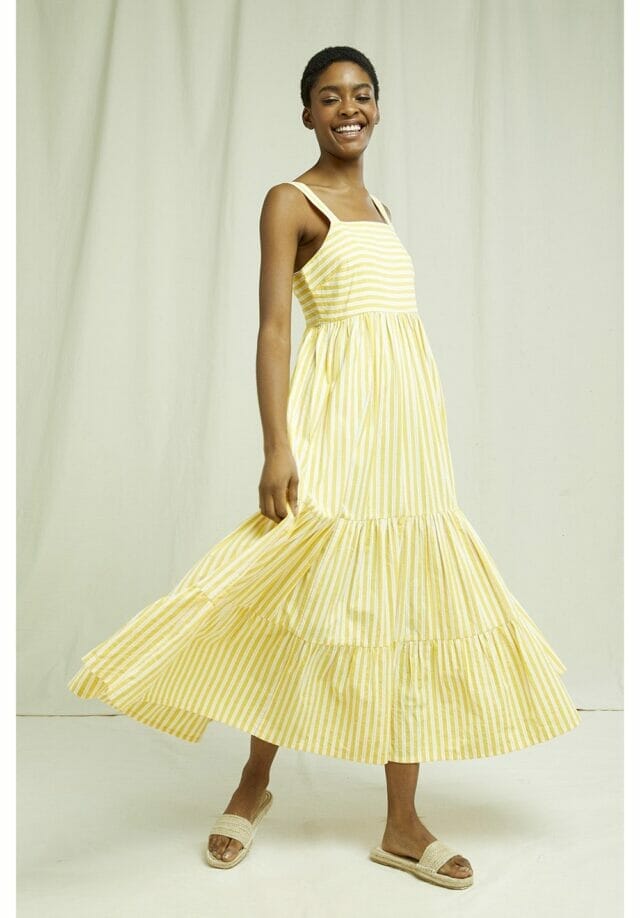 The Summer is idyllic for all types of weddings; from religious ceremonies to ceremonies in parks and gardens. People Tree will cater to any of these with their range of more traditional dresses to vibrant summer attire.
People Tree also has you covered ethically too. With their WTFO certification meaning People Tree source from fair trade sources that, as a principle, look after the environment where these textiles are manufactured too.
With huge choices and ethical consumer at their core, People Tree is a good choice for any wedding goer.
Night and day eco friendly wedding dresses: Pact
Wedding clothing for night and day weddings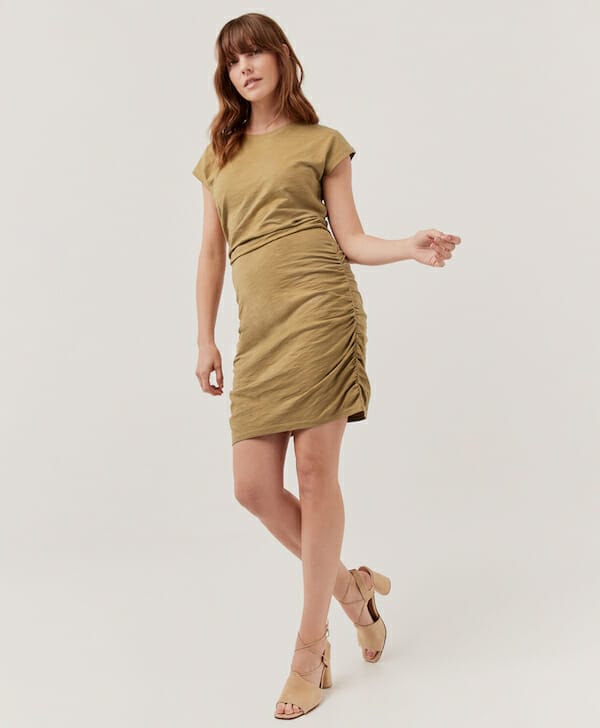 Have a look at our certified house Pact for some of their amazing, ethical formalwear. This day-to-night dress can be fashionable right throughout any wedding right into the early hours.
Pact also has substantial environmental credentials with 100% biodegradable packaging and carbon offsetting. Pact do have work to do to ensure that their work is transparent, and feel free to see more on this on Pact's Eco-Stylist certification page here.
Clothing that works around the clock, Pact is not one to miss.
Sustainable wedding outfits for him: groomsmen and guests
Men's organic dress shirts: Colorful Standard
Sustainable shirts for wedding suits
Colorful Standard is what it says on the tin. It provides a colorful array of shirts, shorts, and underwear. Although it applies to a more casualwear market, this season's shirts are the perfect companion to any power suit with their bold sandstone orange and spring green being particular standouts.
Standard keep to their namesake in their environmental impact too. It ships directly which avoids moving from warehouse-to-warehouse, reducing their carbon footprint. Colorful Standard also pays a living wage to their workers in Portugal and has commuting initiatives to ensure reductions in its workers' carbon output. It needs to disclose more information about their methods of production, and there is more information about this here.
Colorful shirts for a summer wedding, a great choice.
Men's wedding suits: Suit Supply
Sustainable and traditional wedding wear
Suit Supply is a classic Italian suit maker based from the Alpine village of Bielle, Northern Italy. It creates timeless, classic Bond reminiscent suits. A particular favorite this season is their white suits which could easily be for a bride groom as much as a party guest.
"Artisan tradition meets modern innovation", this summarizes Suit Supply in a nutshell, as it has some of the most transparent supply chain and carbon output reports in the industry; more on that here.
Men's business casual: Taylor Stitch
Cool summer suits for outside weddings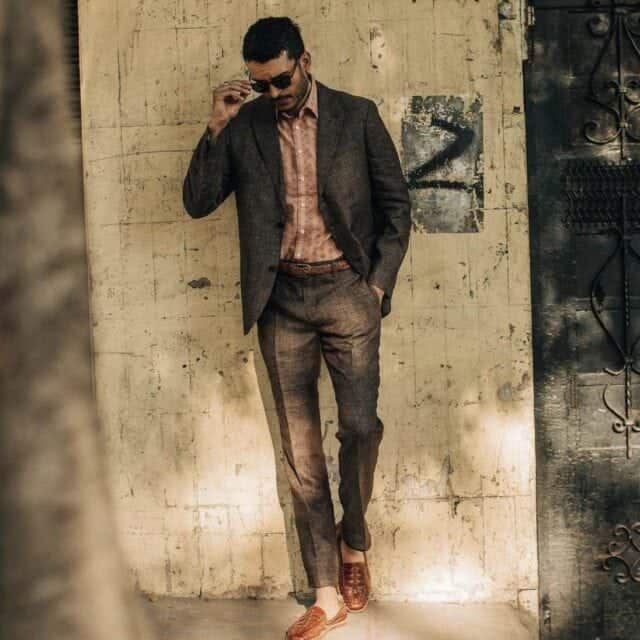 There is a fitting link between Taylor Stitch's shirts and suits, and its environmental footprint. This season, suits-and-shorts are all the rage and Taylor Stitch jumps to the mark in this regard, making it easy to pair a selected array of shorts, shirts, and blazers.
Taylor Stitch evidently fitted its collections to the current climate, with most of its products coming from sustainable materials like hemp, organic cotton, and linen.
With the heating weather and planet, Taylor Stitch is a men's must for summer weddings this season.
Sustainable wedding looks for everyone
Business casual and elevated looks: Kotn
Dresses and mens clothes for an urban wedding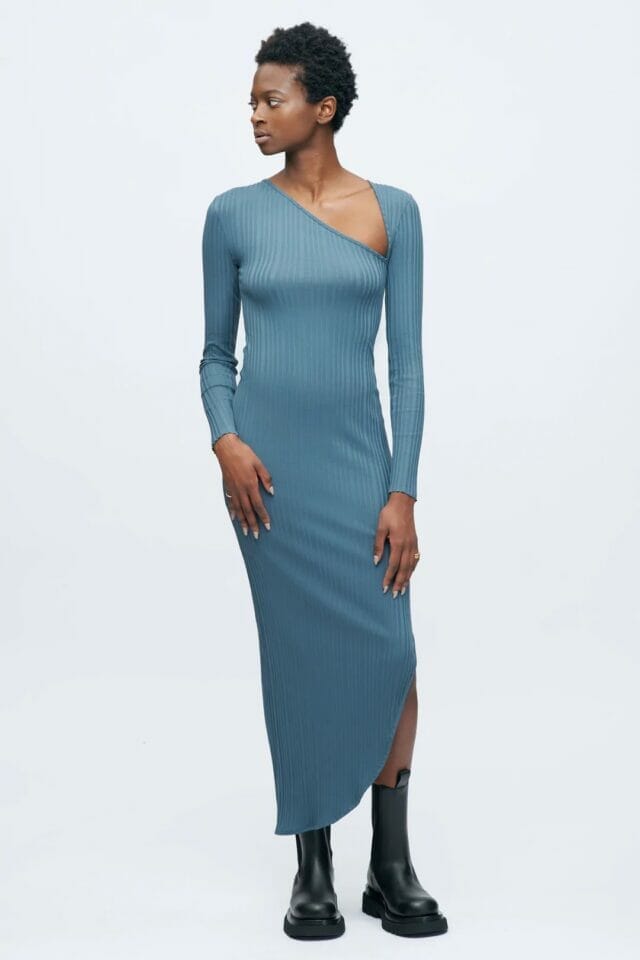 For those who are city bound this summer, Kotn has you covered. Kotn provides an incredible range of futuristic dresses and tops for both men and women. Particularly impressive, is their necklines which are truly forward thinking.
Kotn is also a brand investing in our futures, with their clothes made to last into future fashion seasons and made with Egyptian Giza organic cotton, the strongest cotton around. More work needs to be done on their part to promote circular resources.
With their pieces made to last in your wardrobe and stay in fashion, Kotn is a smart choice.
Wedding suits for everyone: Ministry of Supply
Tailored Sustainable Suits Online
The Ministry of Supply is ideal when considering the suit option as it is quite literally designed with you in mind. Ministry of Supply offers multi-gender suits and tailors to height and weight. It also produces outstanding quality with many choices available designed specifically for the wedding market.
Ministry of Supply also has an impressive ethical record too. It is certified by the NGO "Climate Certified " and has a return policy where it reissues 50USD to any account who gives back clothes, damaged or used, to be recycled and repurposed. It does still have work to do in terms of a living wage for all of its factory staff.
Overall, with guaranteed bespoke fashion, comfort, and green credentials. You can be rest assured that the Ministry of Supply can tailor to your wedding needs this season.
What to wear to a beach wedding? Outerknown
Clothing for a beach wedding
August is a perfect time for a beach wedding with the summer sun and ocean being ideal for a range of couples. Outerknown certainly has some promising collections this season with that in mind. Its floral range patterns provide the idyllic clothing choice.
Its environmental footprint speaks for itself too. Outerknown is special globally for actually being able to trace their entire supply chain; which in fashion terms is often unheard of. This is also emboldened by their high use of "waste" materials and organic, virgin textiles to ensure it keeps a low impact on the planet.
Outerknown surely is ideal for that couple looking to take advantage of the August weather and tie their nuptials by some waves.
Sustainable wedding dresses for the bride
Are you the star of the wedding? For "the" wedding dress here's 2 brands we recommend for bridal wear.
Made to order wedding dress: Fite Fashion
Something special for the special day
Fite Fashion offers stunning non-traditional wedding options that are red carpet worthy (in case you decide to wear your wedding dress again!)
These gorgeous options are made to order just for you. With every purchase you're supporting sustainable fashion that's made right in the USA, in Philadelphia.
Ready to order bridal dress: Whimsy and Row
More bridal dress options
Looking for something sustainable and more affordable? Check out Whimsy and Row's bridal options for dresses in the $248-$1500 range.
Sustainable suits for the groom
Where can you find the right suit to tie the knot in? Here's 2 ethical brands we recommend for formal wear.
Formal and classy suits: Suit Supply
Dapper suits for the groom
If formal, elevated, classy or dapper are words you would use to describer your ideal wedding vibe then this is the brand for you. Check out Suit Supply's selection for everything from tuxedos to summer suits and suits with a more modern smart casual vibe.
Sporty suits: Ministry of Supply
Wedding suits that move like you do
Want a wedding suit that performs just like you do? Ministry of Supply is your jam and you can (and should) wear this suit for multiple occasions, making it a great sustainable choice.
Sustainable shoes you can wear to the wedding
Dress shoes for everyone: Adelante
Ethical shoes to wear to a wedding in summer or fall
Adelante is a classic for Eco-Stylist. It is a brand specializing in footwear and has a limited but impressive collection of formal wear shoes for both men and women. Check out its "Serena" heel which works well with many of our certified brands.
Adelante also pays well above the living wage to its workers in Guatemala who produce these shoes. It has also been working towards improving its environmental footprint, and new information about this work can be found here.
With ethics in mind right down to the heel, Adelante is a firm favorite.
Smart casual wedding vibe shoes: Koio
Wedding shoes, smart and casual
With a unique approach to fashion production, Koio has produced a variety of unique shoes to match. Our favorites for this season are their Garda shoes and Brera loafers, which can tailor to either the traditional or informal wedding aesthetics.
Koio also encompasses a revolutionary method of carbon reduction, by using sustainable means to source their leather. Find out more on this work here.
Game changing shoes? A definite consideration this season.
Sustainable accessories and jewelry you can wear to the wedding
Fair Trade accessories: Ten Thousand Villages
Sustainable Accessories for weddings
Accessories are often the most difficult things to source for any occasion, especially weddings. However, if the more intricate and sentimental taste suits you, then Ten Thousand Villages is the store for you.
It sources from local villages throughout ten thousand locations and ensures that energy and resource efficient methods are at the centerpiece of its manufacturing.
Quite simply, this conscious choice has intricate accessory designs suitable for anyone.
Eco-friendly jewelry: Soko
Beautiful, eco-friendly wedding jewelry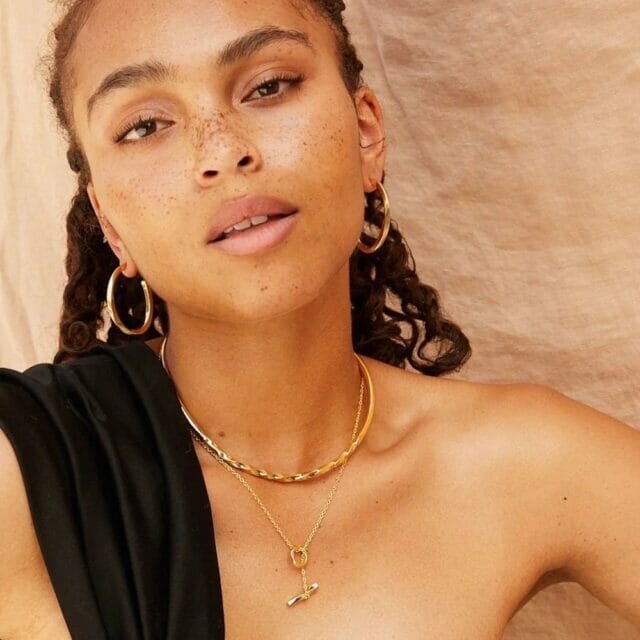 Soko is an elegant choice, and is UN affiliated. This season, it's impossible not to love some of Soko's hooped earrings which rock the boat in what we consider to be hooped earrings.
Adding to this, the company is UN affiliated for a reason, and pays its workers five times as much as the average artisan in the same field. They also promote cultural sovereignty in the communities in which it operates.
With such a great workers ethic and some experimental new designs, Soko is a must see at the moment.
Ethical wedding and engagement rings
Looking for the perfect engagement ring to pop the question? Check out our 6 favorite options.
For more rings, including wedding bands, look no further than Eco-Stylist Certified brand, Brilliant Earth.
Diamond rings and wedding bands: Brilliant Earth
Stunning wedding rings for him and her
Brilliant Earth offers a wide selection of ethical engagement rings and wedding bands. With options like rings made from lab grown diamonds, rings made from recycled metals, rings with conflict free diamonds, or rings without diamonds you can't go wrong.
Brilliant Earth boasts some impressive ethical and eco credentials. Learn more here.
Affordable and sustainable wedding outfit options
Events are often a time to buy a new outfit, after all we want to look our best for the big day. However, like with any other time of year, it's worth considering if you already have something you can wear. The most sustainable thing is what's already in your closet.
Another great sustainable option, that's also more affordable, is thrifting your wedding looks. Suits and dresses can often be found at your local goodwill or thrift stores.
If you thrift your wedding look most likely the size won't be just right. We recommend getting something close to your size but a little bigger is ok, and then get it tailored for that perfect fit. You might be surprised how sharp you can look on a budget and keep clothes in use at the same time.
Need a new suit or dress but only planning to wear it once? Renting could be a great option for you.
Looking for more sustainable clothes?
Check out our shop for over 1,500 curated items from our Certified sustainable brands. There you can find more bottoms, tops, socks, underwear, accessories, dresses, and suits.
If you're looking for more great brands to vote with your wallet and support check out our Ethical Brand Guide with over 100 Certified options.
*Article updated 1/28/23.

Adam Newman recently graduated from a History degree at the University of Exeter in the UK. He became interested in sustainable fashion after a university friend got him involved and has been a champion of sustainability in fashion ever since. His hobbies include reading, running, traveling and free-diving.