From business casual to trendy patterns, Banana Republic has become one of the top clothing brands in recent years as they seem to have something for everyone. Despite their fashion forwardness, they do fall short in one area: ethically and sustainably produced fashion.
Using our sustainable brand criteria, Banana Republic got a failing score of 32, where brands need 50/100 to pass. You can read the full report here.
Not to worry though – for the people out there looking for the Banana Republic style (but in a more sustainable manner) Eco-Stylist has some alternatives for you:
Of those alternatives, the one giving you the most aesthetic match for your buck: Taylor Stitch. Taylor Stitch is a men's clothing brand that has everything from knit sweaters to chelsea boots.
They are also a sustainable and ethically sourced brand — centering around the motto that their garments are made to wear in, not out. In for the long haul, Taylor Stitch will certainly last longer than that patterned button down you bought at your local fast fashion retail store.
The Gibson Jacket
Let's start with the jacket. The Gibson jacket is described as the perfect travel jacket and has the passport pockets to prove it. (Although traveling may not be in the picture right now, don't let that stop you from checking this out!)
This jacket is a perfect piece to add to your closet. With a folding collar and 10 different neutral options, this garment can easily take you from a business casual meeting to a dinner with friends in no time!
Of course, business casual isn't the only way to style this look. The Gibson can easily spice up that first date look with a pair of dark jeans and a turtleneck, a look that will surely impress your companion for the night.
This jacket could also take you down to the corner shop with a pair of joggers and a button down for a sporty, but casual look. Everyone loves a great (and sustainable) streetwear fashion moment.
For 5 ways to wear the Gibson Jacket, from casual and streetwear to business casual, check out our video review:
The Jack Shirt
Now, onto the shirts. Taylor Stitch seems to have perfected the art of an attention grabbing, but subtle button shirt, comparable to Banana Republic's dress shirts. The Jack Shirt is available in no less than 45 different patterns and colors, many of them textured and bound to make an outfit pop.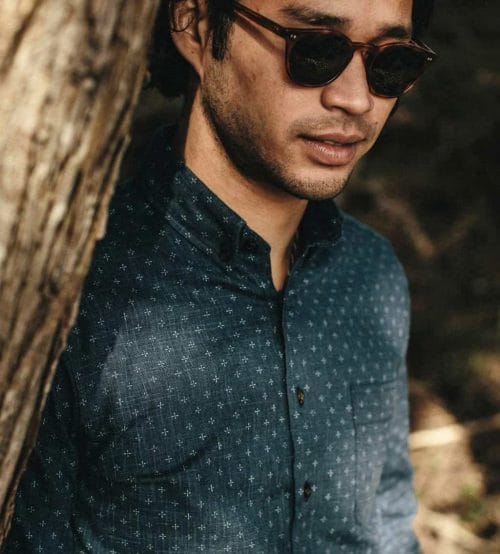 These shirts are also not strictly dress shirts, as while they can easily be styled as such, they are extremely versatile. Sure, they would look amazing under a suit, but they would also look great with a pair of chinos and a cardigan, or even left open with a t-shirt and a pair of jeans.
Here's two casual ways to wear the Jack Shirt, featured in black on the left and coal donegal on the right.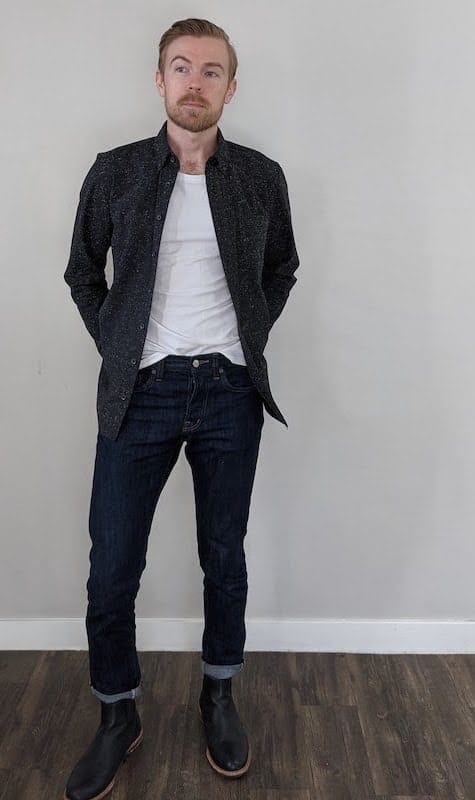 The left look brings elements of athleisure with the prAna joggers, Dress Like You Give a Damn Tee, and huarache sandals by Nisolo. The right look is smart casual with the Ambassador jeans by Outerknown, and chelsea boots by Nisolo.
Men's Fashion in a Woman's World
While many fast fashion brands like Banana Republic carry both men's and women's clothing, Taylor Stitch is strictly a men's clothing brand, but ladies don't fret. Men's clothing has been making a huge debut in women's fashion lately. With the structured cut, sharp lines, and slightly oversized fit, these pieces would find a lovely home within any woman's closet as well.
The Gibson Jacket, for example, would look amazing paired with a pair of corduroy's, a close fitting turtleneck, and a pair of heels for the office.
You could also wear the jacket with a pair of light colored jeans, converse, and a graphic tee for a more fashion forward moment.
One of the best ways to wear men's fashion (in our opinion) is with a button down shirt. Button down shirts are a universal look and can easily be styled for a man or a woman. A button down shirt worn with a pair of flared jeans, a boxy tee-shirt, and some statement jewelry, or a statement bag never fails to impress with subtlety and style.
Here you can see Kestrel Jenkins, the host of Conscious Chatter, wearing the Heavy Bag Tee by Taylor Stitch with the Rambler Shirt by Outerknown.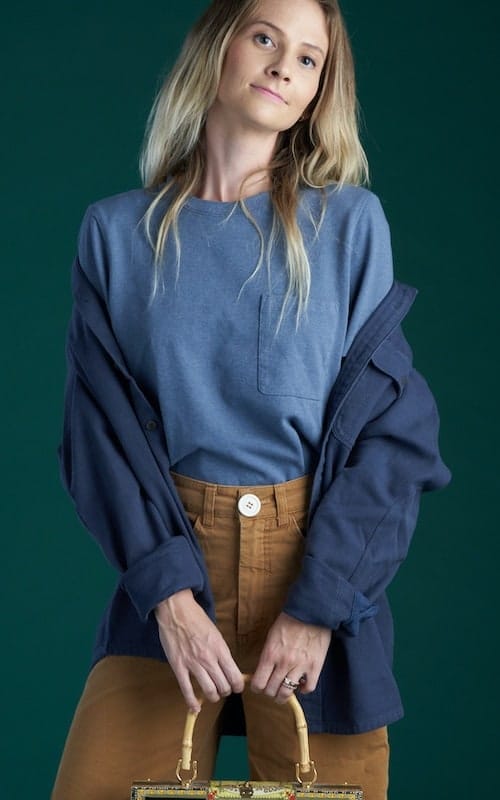 Here you can see Kestrel Jenkins, the host of the Conscious Chatter podcast, wearing the Heavy Bag Tee by Taylor Stitch with the Rambler Shirt by Outerknown.
Taylor Stitch: Is It Worth It?
While brands like Banana Republic, Calvin Klein, and H&M are easily accessible and typically cheaper for a quick shopping trip, Taylor Stitch is in it for the long haul. Yes, it comes with a cost, but it's totally worth it.
Taylor Stitch is dedicated to making garments last in a classic and stylish way while also working to help the environment. They back that claim with a repair or replace guarantee and they take back, repair, and resell their used clothes. What's not to love?
What's your favorite sustainable alternative to Banana Republic?

Catherine McCourt is a content writer at Eco-Stylist. She studies English, Creative Writing, and Philosophy at the University of Iowa. When she's not writing about sustainability in fashion, Catherine enjoys painting, journaling, and much needed downtime.
Eco-Stylist is reader-supported. If you make a purchase using our links, we may earn a commission. We only feature brands that pass our sustainable brand criteria. Learn more here.