UPDATE: We re-evaluate brands regularly, and as of 2/17/22 Everlane earned a higher score of 53 points—a significant improvement from their previous brand rating! You can learn more about what changed here.

Despite the forward progress, we're unable to endorse Everlane as an ethical brand at this time (learn why here). For now, we're keeping this article in its original form.
IS EVERLANE REALLY SUSTAINABLE?
Worn by the hottest celebrities and now sold at Nordstrom, Everlane has made a name for itself in the sustainable fashion market… but… does the brand deserve the praise and attention?
Strip away the hype and good publicity, and you have a brand that fails the sustainable brand test.
Everlane's trendy styles, affordable prices, and green promises may be appealing, but unfortunately their lack of commitment to living wages, worker well-being, and sustainable fabrics continually (from our recurrent re-scoring) keeps them from passing our sustainable brand criteria.
Given the popularity of Everlane's minimalist "modern essentials," our team at Eco-Stylist has found alternatives to 10 Everlane staple wardrobe pieces from our certified brands — 5 men's and 5 women's items. With these swaps you can dress stylish and feel good about it.
MEN'S
EVERLANE'S Performance 5-Pocket Pant
OUR ALTERNATIVE: Taylor Stitch Foundation Pant
Truly made for every occasion, these modern slim chinos are made from a durable organic cotton fabric. Designed in a medium weight fabric that feels great all year long.
EVERLANE'S Court Sneaker
OUR ALTERNATIVE: Thousand Fell Court Sneaker
If you're looking for an eco-friendly sneaker the court sneaker by Thousand Fell offers a similar style in a shoe that's designed to be recycled! Vegan friendly, made from recycled materials, and comfy af. When they wear out just send them back, doing your part to keep shoes out of the landfill. Women's and men's styles available.
EVERLANE'S ReNew Air Pant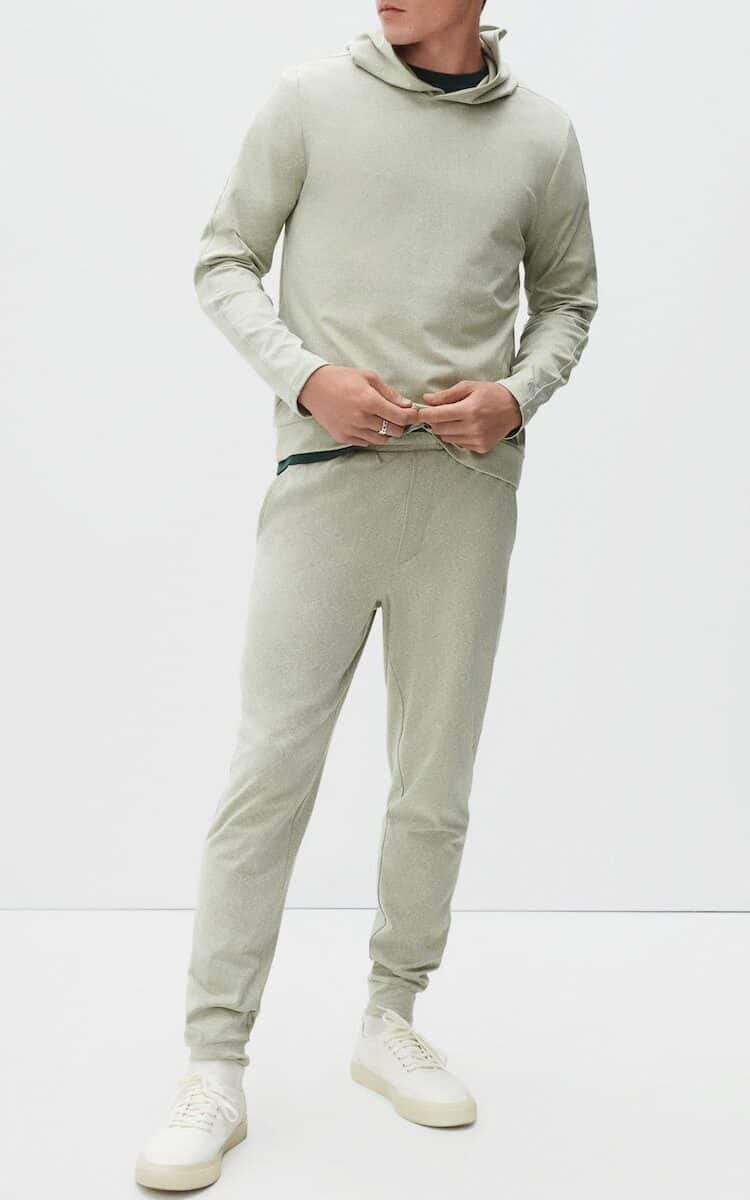 OUR ALTERNATIVE: Colorful Standard Organic Sweatpants
Comfortable, easy, and breathable. These organic cotton, vegan friendly, unisex sweatpants are ethically made in Portugal with eco-friendly dyes. Designed for working from home, working out, and everything in between.
EVERLANE'S Heavyweight Overshirt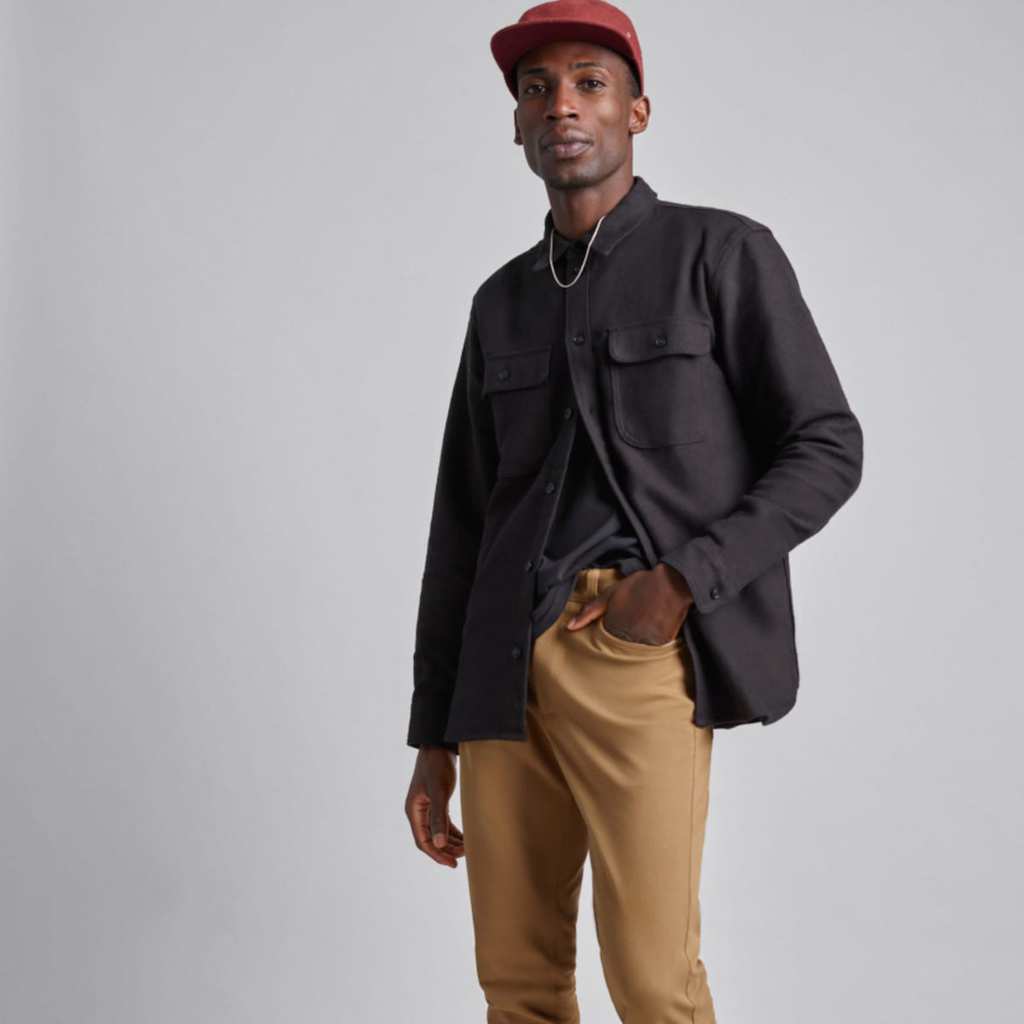 OUR ALTERNATIVE: Outerknown Blanket Shirt
The coziest damn over-shirt you'll ever wear. The blanket shirt is made from 100% organic cotton and you'll quickly discover why it's one of Outerknown's most popular styles. Available in a myriad of colors and patterns.
EVERLANE'S Air Crew Tee
OUR ALTERNATIVE: GOEX Unisex Eco-Triblend Tee
Designed with comfort in mind, these tees have a longer length and elegant taper. Made from eco-friendly fabric containing 5 recycled water bottles, this is a true feel good basic to add to your wardrobe. An added bonus? They come in both neutral core colors and fun fashion colors.
WOMEN'S
EVERLANE'S Cheeky Straight Jean
OUR ALTERNATIVE: Outland Denim Abigail Jean
Everyone needs a good girlfriend jean, and Outland Denim delivers just that. The waist-hugging high rise and relaxed leg make these premium organic cotton jeans comfortable and stylish; what more could you ask for?
EVERLANE'S Track Jogger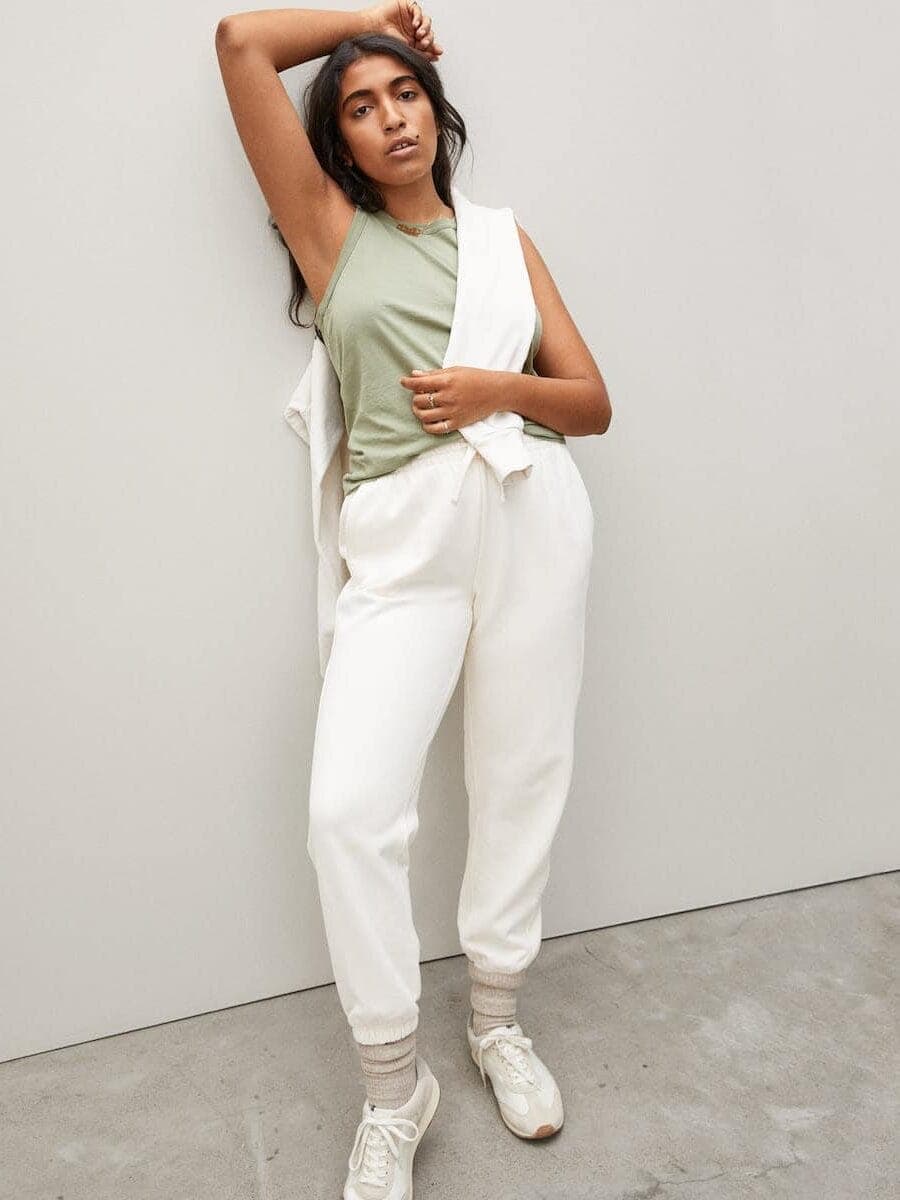 OUR ALTERNATIVE: Girlfriend Collective Everyone Mid-Rise Jogger 
A mid-rise gender neutral jogger made from recycled scraps found on cutting room floors. Both eco-friendly and eco-cozy, these pants are the best of both worlds made for every body to enjoy.
EVERLANE'S Silky Cotton Relaxed Shirt
OUR ALTERNATIVE: SANVT The Oversized Oxford Shirt
A staple piece in any wardrobe, this minimalist style shirt allows endless styling possibilities. Made from 100% extra fine organic cotton and tailored for an oversized unisex boyfriend look, it is the perfect layering piece.
EVERLANE'S Organic Cotton Box-Cut Tee
OUR ALTERNATIVE: ARMEDANGELS Kajaa Tee
The Kajaa tee has everything you look for in a perfect tee: soft to the touch, loose cut, slightly cropped length, made from fairly traded organic cotton, and ethical: purchasing the Kajaa tee helps 366 small farmers from India convert to organic cotton. A true feel-good purchase!
EVERLANE'S Italian Leather Studio Bag
OUR ALTERNATIVE: Parker Clay Caroline Tote
Made from Ethiopian leather, this tote bag is thin strapped, lightweight, and durable enough to carry anything. From your laptop to your lunch, the Caroline tote allows you to bring along whatever you may need while doing it in style.
TAKEAWAY
We know brands like Everlane can be tempting, which is why Eco-Stylist is here to help you shop smarter. We're providing you with options for purchasing equally "Everlane-esque" minimalist and modern pieces, made by brands you can trust are more ethical and sustainable.
What brands would you like to see ethical alternatives for?
*Article updated 3/24/22.
Eco-Stylist is reader-supported. If you make a purchase using our links, we may earn a commission. We only feature brands that pass our sustainable brand criteria. Learn more here.
Emma is a writer at Eco-Stylist. She studies journalism and mass communications at the University of Iowa. Emma's love for sustainable fashion was sparked by thrifting with her mom throughout her childhood.