Now that it's getting colder outside, you've probably already packed up your warm weather clothing and reinstated some fall and winter staples back into your closet. The most responsible choice when compiling a new season's wardrobe is to continue wearing clothing from previous years, but maybe you've donated or recycled some old jeans or sweatpants, and your closet is starting to look a little bare. It might be time for you to invest in a few new sustainable pieces.
Here at Eco-Stylist, we've been given the opportunity to review a couple of items from prAna's Stretch Zion Series: the Zogger pants and the Straight pants. The Stretch Zion Series revolves around a nylon fabric that prAna created themselves, and it's designed to be "durable, wrinkle resistant, quick drying, and with UPF 50+ sun safety built right in." As a result, these pants are stretchy, lightweight, and comfortable, and they're able to be worn year-round, making them well worth your consideration as you shop for new clothing.
How Can the Stretch Zion Pants Be Styled?
prAna specializes in clothing made for yoga, working out, and other outdoor activities, and their Zion Series is no exception. Both the Zogger pants and the Straight pants are suited for the outdoors, whether you want to wear them while hiking, climbing, or backpacking.
They dry quickly, they don't snag, and they move with your body. They also come in a variety of neutral colors, so they're easy to style with anything that you already own.
Not an outdoorsy type? No worries! Both pairs of pants are also stylish enough to be worn day-to-day, whether you choose to dress them up or dress them down.
Zogger
The Zogger pants walk the line between cargo pants and joggers. Cargo pants have received a lot of (just) criticism in recent years, and as Garik–the founder of Eco-Stylist–mentions in his in-depth video review, we usually wouldn't be quick to recommend them, but prAna has found a way to make them appealing.
The Zogger pants initially appear more casual than the Straight pants, which shouldn't come as a surprise from a jogger-cargo hybrid, but this doesn't mean that they should be considered an "around-the-house-only" piece of clothing.
Yes, you could throw on your favorite sweatshirt and wear them to watch a movie at home, but you could also pair them with an Oxford shirt and wear them out to dinner with a friend. Part of the fun of these pants is that you can style them in ways you might not expect, like with a button-down shirt or a nice sweater. When it comes to footwear, they work equally well with sneakers, sandals, and boots, depending on the look that you're trying to create.
Here's 2 casual ways you can wear them: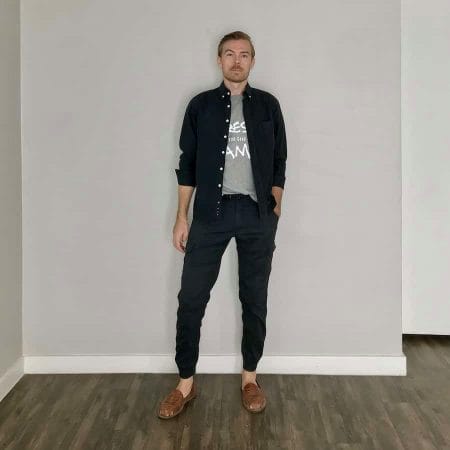 Straight Pants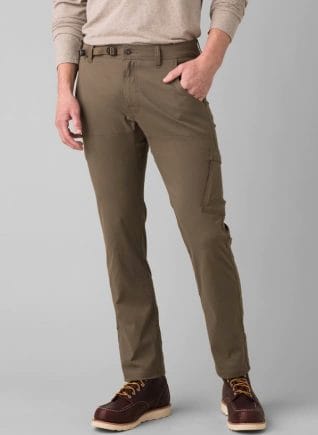 The Straight pants are great as an everyday staple. They currently come in over twice as many colors than the Zoggers do, including black, sepia, and slate green (among others), meaning that you have more options for how you could incorporate them into your wardrobe. When creating an outfit, these might be a little more straightforward than the Zoggers because they have the appearance of a rather traditional pair of pants.
Like the Zoggers, the Straight pants can be worn casually or in a more elevated manner. You could pair them with a button-down shirt and visit a brewery, or, surprisingly, you could put on a t-shirt and wear them while you do yoga. Even a basic sweater or long sleeve shirt would go well with these pants, and most types of shoes could work as well, from sneakers to Oxfords.
No matter your personal style, these pants would be incredibly easy to integrate into your closet, especially if you're in the process of learning new ways to style clothing.
Here's 2 smart casual ways you can wear them:
For more ways to style these pants, check out Garik's video review:
The versatility of both the Zogger and the Straight pants means that they shouldn't be difficult to match to clothing you already own.
How Do the Stretch Zion Pants Fit?
The Zogger pants are a little looser than the Straight pants because they fit like a traditional jogger, but they're nowhere near baggy. The elastic cuffs at the bottom create a tapered effect, causing them to be a bit tighter around the ankles.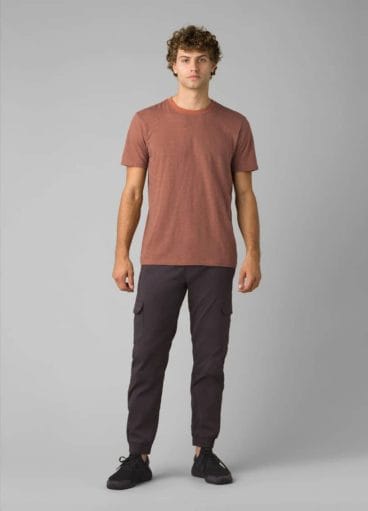 The Straight pants, on the other hand, fit similarly to chinos. They're snug around the waist and straight from hip to ankles, giving them a fit that matches their name. Snaps near the shins make it easy to roll these pants, creating a loose cuff a few inches above the ankle.
Both styles come with an adjustable waistband so that you can fit them comfortably to your body, no belt required.
You can consult prAna's size guide on the product pages to find which size is best for you.
What Makes prAna Sustainable?
Like all of the brands that we partner with, prAna has passed the test when it comes to our Sustainable Brand Criteria. This means that they've been evaluated on the sustainability of their fabrics, their manufacturing facilities, the well-being of the makers of their products, and their leadership, among other things. Overall, prAna is making a positive impact in the fashion sphere.
For example, they currently work with 11 Fair Trade Certified factories, and they're aiming to have 100% of their products produced in Fair Trade Certified factories by 2028. The health and safety of employees in these factories is treated as a priority, and they're given extra financial support through premiums contributed by the brands that order items from them.
prAna has also been limiting the amount of plastic that they use in their packaging since 2010, and, if all goes according to plan, they will have completely eliminated plastic from their consumer packaging as soon as next year. Their products are sent in recyclable cardboard boxes, and the tags that they use are also made from recycled materials.
When it comes to clothing, prAna generally uses sustainable fabrics like organic cotton and recycled wool. This, however, is where the Stretch Zion pants don't quite hit the mark. They're made with virgin nylon, which isn't as sustainable.
However, as Garik mentions in his video review, "These are technical pants. [prAna is] very focused on the technical specifications of these pants, and in cases like that, it can be trickier to make those items with sustainable fabrics." These pants are high-quality and made to last, so even if they're not entirely sustainable, at least you'll be able to wear them much longer than a pair of pants bought from a fast fashion retailer. We think this shortcoming is forgivable.
After all, as prAna states in their personal sustainability statement, their focus is on progress–not perfection. It's easy to get hung up on the ways a brand or a piece of clothing may fall short, but it isn't helpful or realistic to expect perfection in every area. With each new sustainable choice that prAna makes, they're changing the world for the better. At Eco-Stylist, we stand behind their commitment to progress.
Final Thoughts
Both the Zogger pants and the Straight pants are comfortable, easy to style, appropriate for a variety of occasions, and come from a brand that's committed to cultivating positive change. They're also reasonably priced (~$95), especially when you consider how much wear you'd be able to get out of them over the years. Overall, we think these pants are a worthy investment for someone looking to fill a gap in their closet.
While you may initially decide to introduce these pants into your fall wardrobe, we suspect you might end up loving them enough to wear year-round.
*Article updated 7/17/22.
Eco-Stylist is reader-supported. If you make a purchase using our links, we may earn a commission. We only feature fashion brands that pass our sustainable brand criteria. Learn more here.
Celia Wiseman studied Communication and Creative Writing at the University of Iowa, and her growing interest in sustainable living led her to Eco-Stylist. In her free time she enjoys reading, writing, and making videos, as well as any other activity that allows her to get creative.