Eco-Stylist is reader-supported. If you make a purchase using our links, we may earn a commission. We only feature fashion brands that pass our sustainable brand criteria. Learn more here.
We all love the variety that Zara offers and some people might even like their prices because they consider them affordable. Reality check: no fast fashion is truly affordable.
As writer Aja Barber explains, people and the planet always pay the cost, and it is not the poor or underrepresented who are buying into it. It is the well-earning people in the Global North that are consuming the most.
But what if you still want to be able to play around with the transformative power of fashion? No worries, we have your back. We did the work to find sustainable alternatives to Zara so you don't have to.
Zara has been known for its unethical practices, such as low pay, the use of child labor, and poor working conditions. This January, during the start of winter sales, for example, the Spanish Zara Workers were striking to demand wage increases and better labor conditions.
Zara was also involved in Uyghur forced labor in Xinjiang, China, and is now leaving Maynamar due to the worker abuse going on in the country since the close-up of factories during COVID and the military coup in 2021.
Fortunately, several ethical alternatives to Zara can provide fashion lovers with stylish clothing without compromising on ecological or social standards.
14 sustainable and ethical alternatives to Zara
We handpicked 14 brands that give a style similar to Zara but with more timeless and high-quality clothing. Not to mention they help you to ditch all the bad vibes (greenwashing, fast fashion, etc.) and live by your values.
Zara alternative for basics – Colorful Standard
When it comes to basics, Colorful Standard has you covered with shorts, tees, hoodies, sweaters, sweatshirts, sweatpants, beanies, and more in 40+ colors.
Skip the basics at Zara and opt for these higher-quality pieces that are made with more sustainable OEKO-TEX-certified fabrics (like organic cotton and recycled wool).
The brand also uses precise laser cutting to cut down fabric waste to a minimum and dyes their garments when finished to use less water, energy, and dye. The scraps that are left are turned into furniture filling.
Colorful Standard also pays living wages to the people working in their factory in Portugal, and it has a car-sharing program for its workers. Not only that, but it also plants a tree for every purchase and it founded a program called Let Them Play, which provides children in the Democratic Republic of Congo with an all-purpose activity center to allow them to play and express themselves.
See brand rating.
Zara alternative for surf-inspired casual wear – Outerknown
Outerknown has a great selection of jeans, pants, dresses, short-sleeved button-ups, swimwear, activewear, and jackets. For alternatives to Zara that are casual wear, surfer style, or LA vibe, Outerknown is your brand.
Their jeans have a lifetime warranty, which means they will repair and replace them, as well as recycle the ones you no longer wear. They also use sustainable materials across their collection, like their swim trunks made of recycled or renewable fibers. And 95% of their materials are preferred sustainable materials.
For example, their partnership with Bergam Rivera has resulted in 10 tons of Regenerative Organic Certified Cotton and 28 acres of farmland converted to regenerative processes. They have also kept 1818 pieces out of landfills with their resale platform and repurposed materials that would have ended up in landfills like 300 lbs of denim reused to make bags.
They use several Fair Trade-certified factories to make their clothes, which they disclose fully. They were the first brand to pursue the Fair Labor accreditation before selling a single product, which allows them to invest in the livelihoods of over 5000 workers.
See brand rating.
Zara alternative for outwear for women – Culthread
If you are looking to stay warm this fall-winter season, without sacrificing practicality or your values, look no further: culthread makes coats, jackets, and accessories from recycled materials, with tons of pockets.
The company is committed to uplifting women in its value chain, which is why every piece is made so they can work, nurture, and have fun. Expert women are also the ones that craft the brand's products, under ethical conditions.
Additionally, culthread's puffer jackets are made with recycled material: 100% GRS-certified recycled plastic (PET) from the company Mirea, for the filler. They are also coated with C0, which does not contain any toxic chemicals commonly used to make outerwear waterproof.
On the other hand, if you are looking for a more rockstar feel, their leather alternative looks are made with recycled material, made from coffee grounds and recycled polyester fabric.
See brand rating.
Zara alternative for timeless style – Kotn
How about a fashion-forward alternative to Zara that doesn't rely on trends or go out of style? Kotn has an awesome selection of tops, bottoms, dresses, hoodies, sweaters, turtlenecks, and more.
If you're looking for baggy pants, oversized hoodies, unisex pieces, or tops with an edgy silhouette, Kotn delivers.
Like farm-to-table but for your clothes, Kotn is transparent about where your clothes are made and how they're sourced. They build their supply chain from the ground up with best practices in mind like paying living wages to their workers. They started working with smallholder organic cotton farmers in Egypt and have expanded to working with 2390 farmers in the region to serve their community needs and advance brand sustainability.
One such way is the ABCs project born from the fact that in Egypt 32% of people do not have literacy or quality education. So in partnership with the local NGO, Misr El Kheir Foundation, Kotn donated a portion of the proceeds to build primary schools in the Nile Delta and Faiyum, Egypt. So far they have built 18 schools and impacted the lives of 107,888 people.
Beyond their Egyptian cotton, they produce their garments with GOTS and BCI-certified cotton and Responsible Wool Standard as well as Global Recycled Standard fabrics. Additionally, all of their dyes are OEKO-TEX certified, which ensures that no toxic chemicals are entering your body or the Earth.
See brand rating.
Zara alternative for running shoes – 8000Kicks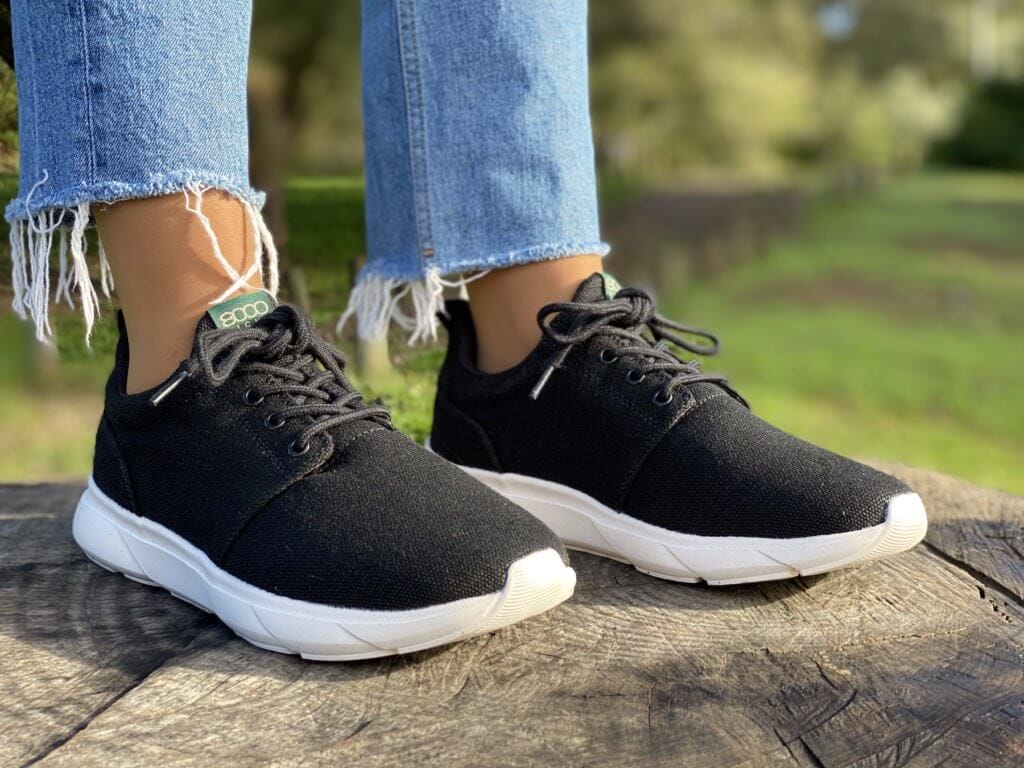 Do yourself a favor and don't buy shoes from fast fashion brands like Zara. They might look nice at the store but they don't last.
For sneakers that do last check out 8000Kicks. Their durable, waterproof hemp sneakers come with a lighter environmental footprint your feet will love.
A typical running shoe generates 30 pounds of CO2 emissions (15 kg), whereas one you get at 8000Kicks only produces 4.1kg of CO2.
How do they achieve that? With their material and construction choices. Hemp sequesters CO2. According to them, 50 kg of CO2 is removed from the atmosphere each year in the growth period of hemp which is an average of 20 to 50 years.
The soles are also part of why their footprint is way lower than your fast-fashion sneakers. They are made from Algae Bloom, which cleans our water and air by sequestering CO2 and has 20-41% less of an impact than EVA soles.
They also pay a living wage to 100% of their garment workers in China and Portugal, who also have benefits such as social security, free food, local accommodation, healthcare, and education.
See brand rating.
Zara alternative for activewear – Wolven
For yoga wear, activewear, swimwear, and sexier tops, Wolven is a great brand to check out. Founded on the notion of creating a "home for everyone to feel confident and empowered" this brand is body-positive.
Wolven is also a female-founded, BIPOC-owned brand: Kiran Jade, its founder, is an Indian-Pakistani woman whose values permeate Wolven. Don't miss their selection of colorful prints in their leggings, tops, and swimsuits.
The brand produces its athleisure, brunch-approved looks with recycled materials such as RPET, which is OEKO-TEX certified and antimicrobial. This means their clothes have a smaller footprint than if they were made from virgin resources and do not have harmful chemicals.
They also tell their Wolfpack to wash their clothes in a monofilament washing bag in the washer, to avoid microplastic shedding that ends up in the ocean, like the Guppyfriend bag. And they encourage circular ways of consumption by selling pre-loved clothes on their website.
They also hold a WCA certification that ensures that their factory in China is audited regularly and the score of 87% suggests good performance in social and labor conditions, health and safety standards, environmental standards, and business practices.
See brand rating.
Zara alternative for basics and loungewear – Pact
Pact makes its clothes out of organic cotton, which is GOTS-certified. This makes their underwear, sweatshirts, pants, tops, t-shirts, hoodies, sleepwear, etc. more durable, comfortable, and also better for the environment.
Conventional cotton is one of the most pesticide-intensive crops out there, and making it organic reduces carbon emissions, water usage, pesticides, and waste.
Pacts' clothing also doesn't use any toxic dyes or chemicals that could end up on your skin or your nearest river. Additionally, they have The Give Back Box, a donation program where you give them your used clothing, and they will deliver it to nonprofits.
They also calculate the CO2 emissions of every single Pact product, thanks to a partnership with Simple Zero. They manufacture with Fair Trade-certified factories, which means that their garment workers are under dignified working conditions and are paid a premium that they can use for community programs.
Zara alternative for sneakers – Thousand Fell
If you are looking for leather-like white sneakers, Thousand Fell is a great vegan alternative, approved by PETA. Their recycled PET uppers do not need microfiber shedding care, are coated with natural materials like quartz, and use rubber recycled from yoga mats.
Their brand has been circular from the start: their products are truly made to be recycled at their end of life. Not only that, since they sell white sneakers, they made sure that they are water and stain-resistant so that you do not discard them as quickly as you would other white options.
They also invest in community organizing and education about climate change and circular fashion through their Friends of the Future membership. They do climate panels, clean-up days, and marches, among other things.
See brand rating.
Zara alternative for timeless menswear- Taylor Stitch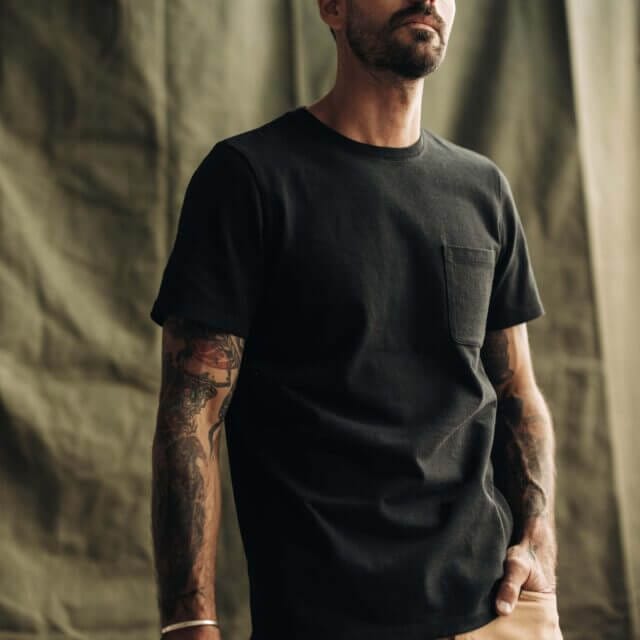 Taylor Stitch makes button-downs, chinos, and henley's, that are responsibly built to last. If you are into the rugged look this is the brand to look out for. They use regenerative and recycled fabrics, where possible, and resell their products through their program Re-Stitch.
They share their list of manufacturers and ensure their workers have access to healthcare, clean water, maternity leave, child care, and vacations. Additionally, they're working to build development funds to use based on their community needs.
The brand also has a program called Wild Forever Days, which is a mix of volunteering, education, and community building, where it partners with other companies, customers, and local organizations to do things like blaze trails, clean up trash, or help out a farm.
Additionally, they have a program called the workshop in which they kickstart new designs, which means no overproduction and a 20% discount for the customer.
See brand rating.
Zara alternative for office basics – Ministry of Supply
Founded by a friend duo, Gihan, and Aman from MIT, the Ministry of Supply was born out of the need to hack clothing and build the most comfortable breathable dress shirts and socks. This eventually led to what it is today, a destination for business casual, business professional, and work leisure clothing that will make you look smart and feel good knowing that what you are wearing achieves sustainability through science.
They produce with an in-demand 3D printed knit technique; and work with capture carbon fabrics, like an FSC-certified wood-based fabric; as well as nontoxic water-repellent fabrics and circular recycled polyester for dress shirts.
Additionally, they treat their fabrics with waterless dying, are BluseSign and Oeko-Tex 100 certified, and are Climate Neutral Certified. Finally, they ensure their apparel is made under ethical conditions, by working with factories that are WRAP (Worldwide Responsible Accredited Production) and BSCI (Business Social Compliance Initiative) certified.
See brand rating.
Zara alternative for pajamas – Hernest Project
If you are looking for sleepwear that you can also take with you on a Sunday stroll, look no further. Hernest Project is made with Tencel, recycled cotton, organic cotton, recycled Lycell, recycled elastane, and linen fabrics; their PJs are comfortable, durable, non-toxic, and good for the planet.
They're also climate neutral, which is achieved by offsetting their CO2 emissions with Green Story. The brand is also committed to tracing the whole supply chain by 2030.
See brand rating.
Zara alternative for timeless, forward, womenswear – Ninety Percent
If you are looking for timeless pieces with an edge, Ninety Percent has an assortment of dresses, skirts, trousers, and knitwear, among others, that will never go out of style. The brand was founded on the principle that 90% of their profits should be divided between their people and the causes close to their heart, so you know that by shopping with them you are doing good for people.
Their fabrics are also as low impact as possible: they use organic cotton, Tencel, Enka, and MicroModal viscose from renewable wood sources, Ecovero, Linen, and Cupro, among others. Their buttons are nickel-free, made from Corozo, and their zippers are recycled or GOTs certified.
See brand rating.
Zara alternative for party dresses – Selfmade
The dresses sold by Selfmade are made in Costa Rica, Colombia, and México. The brand was founded on the desire to support local craftsmanship and produce in the most environmentally conscious way possible. They focus on hand embroidery, done by single mothers, and pay their garment workers 1.5x higher than the minimum wage.
The brand also distributes a percentage of the earnings to growing trees in Turrialba, Cartago, Costa Rica. They have both a buy-now and a made-to-order model.
All of their dyes are natural from Costa Rica or Oaxaca, México; and they offer a retouching service no matter how much time has passed. 70% of their materials are GOTS and OEKO TEX certified. They craft with organic cotton, hemp, linen, and a mix of silk and hemp. Leftovers are used for embroidery and packaging.
See brand rating.
Zara alternative for jewelry – Astor & Orion
Astor & Orion makes 3D sculpted jewelry from a technology used for VFX and gaming. They have a circular design process and 3rd party certifications so that you can look trendy with your accessories while knowing that they were made in a way that's socially and environmentally conscious.
Their forward-thinking circular design method means that any of their items can be recycled at their end of life. Their manufacturing facility has a host of third-party certifications for the fair treatment of people and ecological management like ISO, Carbon Offset, and SMETA.
See brand rating.
Is Zara really sustainable?
No. Zara is one of the pioneers of fast fashion, a business model that has made the entire fashion industry less sustainable. Fast Fashion is a way of producing clothes in which trendy styles are churned out at increasingly higher speeds, in great quantities, and a disposable quality, for low prices.
This overproduction of clothes we do not need is wreaking havoc on our environment. It entails the unnecessary usage of resources, tons of CO2 emissions, wastewater pollution, landfills full of clothing producing methane and contaminating the global south, deforestation, and microplastic pollution, among other nefarious consequences.
Due to this and other elements, Zara failed our sustainable brand criteria.
Is Zara an ethical company?
No, it is not. Fast fashion is also a model that is based on cutting as many corners as possible, which usually means producing in countries where minimum wage and regulations are almost nonexistent.
Countries where garment workers are subjected to undignified working conditions, health hazards, and harassment. Their underpayment and mistreatment is the reason you can find clothes for cheap, which actually have a high cost on people and the environment.
Additionally, the overconsumption Zara promotes has led us to believe buying into new trends will make us happy. But science shows that it is bad for our mental health.
Additionally, its founder, Amancio Ortega is worth 90.7 billion dollars, a fortune he has amassed through Zara's parent company, Inditex, which also owns the likes of Stradivarius, Bershka, and Zara Home, among others. His earnings have been fueled by environmental and human depletion.
Does Zara use fast fashion?
Zara is fast fashion. Not only is Zara a fast fashion brand but they helped invent the concept of fast fashion.
Where to find more ethical brands
Eco-Stylist! Check out our brand guide for more brands you can feel good supporting. We did the work of researching their practices and certifying them so that all you have to do is dress like you give a damn.
Adela is a Colombian storyteller, content maker, strategy consultant, & event producer, specializing in sustainable fashion, mental health, and gender issues.