You've probably heard someone say "sustainable fashion is expensive." While it's often cited as a drawback to sustainable choices, there are a lot of moving parts to this.
Before we move on, a clarification: The idea is to shift from buying large quantities of fast fashion pieces to buying smaller quantities from brands doing good. We need to make it known that for consumers who are genuinely able to financially, it is essential to re-evaluate existing shopping habits and support brands that are doing better for clothing makers and our planet.
Fast fashion doesn't benefit anyone – not the farmers, workers, planet, or consumer due to the highly impactful processes involved, and for what, for it to fall apart and be thrown away after a handful of wears? We should want to have long-lasting pieces we love that were made responsibly. This can be achieved in a variety of inclusive ways, from buying less and supporting ethical brands, to swapping and thrift shopping. Many articles at Eco-Stylist talk about these different methods.
To get this started now, there is some truth to the prices of sustainable apparel being higher, and that's because the costs associated with doing things the right way are higher. By right, we mean having a well-developed business operation that factors in fair wages, safe conditions, waste reduction, recycling, and low energy usage. It costs more to source eco-friendly fabrics, to work with factories that have certifications, to pay people a living wage, to invest in sustainable innovations, to make higher quality clothes, and to become members of organizations like 1% for the Planet and B Corporation.
Why Is Sustainable Fashion Expensive? Myth vs. Reality
However, despite a sometimes noticeable difference in price, the idea that sustainable fashion is unreasonably expensive is a myth. Here are 3 reasons why:
1. Fast Fashion Cannot Be Our Baseline for Prices
Fast fashion has taken the price of clothes to rock bottom levels, which could only have been done by cutting a lot of corners. Fast fashion brands achieve their low prices by using the cheapest fabrics (like polyester) and paying the lowest costs for manufacturing, even if this means there is child labor and slave labor in the supply chain.
Ayesha Barenblat, the founder of Remake notes "Clothes that cost less than a cup of your favorite Starbucks coffee, cannot be made in a way that keeps women safe."
If we believe in a fashion industry that's more equitable for everyone, we must first recognize that fast fashion is inherently unsustainable in every sense of the word, and therefore is not a starting point from which to talk about prices. Fast fashion doesn't help anyone except their 1% upper class CEOs – not the workers, not the customers because the quality is so low, and certainly not the planet either due to the disposability.
2. Consider Your Cost Per Wear
Cost per wear is a simple formula that brings quality and utility into the price conversation. If you buy a $5 shirt and wear it twice ($2.50 per wear) or you buy a $25 shirt and wear it 25 times ($1 per wear), which one was actually more expensive?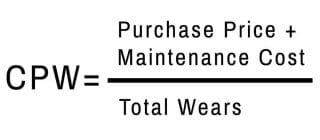 Cost per wear is the price of an item divided by the number of times you wear it. It is a way of thinking about price that factors in both the quality of the piece and how much you love it. Cheap clothes become a lot less cheap when you wear them infrequently and buy them often (learn how to set a clothing budget here).
All this to say that the most sustainable and affordable clothes are not necessarily the ones with the lowest price tag. They are the ones that you love the most, wear the most, and have the lowest cost per wear.
3. There Are Surprisingly Affordable Sustainable Brands
Whether you take into account cost per wear or not, there are some very affordable sustainable brands out there. From $11 socks to $15-18 tees to Outerknown jeans that will cost you $148 but come with a lifetime repair and replace warranty, we're highlighting affordable, high-value options from some of our best ethical brands.
13 Surprisingly Affordable Sustainable Fashion Brands
What They Offer:
$24 tank tops, $39 turtlenecks, and $11 socks.
What's Good About Kotn:
Kotn offers great pieces with complete supply chain traceability. The clothes are made from long staple Egyptian cotton. You can explore where the fabric came from, where it was sewn, and more right from Kotn's website. It's like farm to table, but for your wardrobe.
What They Offer:
$14 boxers, $45 sweatshirts, $70 for 4 T-shirts, and $24 for 3 pairs of socks.
What's Good About Pact:
Pact provides you with basics that are made from GOTS certified organic cotton, made in Fair Trade Factories, and that are vegan friendly. They are bringing affordability to the sustainable fashion space with tees, hoodies, socks, and underwear at competitive prices.
What They Offer:
$148 Outerknown jeans come with a lifetime warranty. That's like the price of 1-2 pairs of jeans from Express or Banana Republic, but those will wear out in 9 months. In contrast, Outerknown jeans are made responsibly, built to last longer, and have that lifetime warranty (if they do wear out). You'll be hard pressed to find a better deal on jeans, period.
What's Good About Outerknown:
Outerknown stands for People and Planet, and they back this up with their actions. They are one of our favorite brands. Outerknown uses a variety of sustainable fabrics and pays living wages. It also manufactures jeans in the most sustainable denim factory in the world: Saitex!
What They Offer:
Looking for Patagonia goods but can't necessarily pay Patagonia prices? Meet Worn Wear. These repaired and refurbished Patagonia clothes are ready for years of new adventures but at a reduced price compared to new.
What's Good About Worn Wear:
Patagonia's Worn Wear program repairs and resells used Patagonia goods. Go to any of Worn Wear's events to get your Patagonia gear repaired for free. You can also turn in your old Patagonia garments at any store location, or via mail, and get yourself some store credit in return. The Worn Wear program then repairs those used garments and resells them online, giving you a chance to be sustainable and buy better than new. On the website they also share in-depth tips and instructions on how to repair your own garments.
What They Offer:
A new pair of Nudie Jeans will run you around $185 – $240 and come with free repairs for life! This is especially easy if you live close to one of their stores or partner repair facilities, as you simply bring in your jeans for free repairs. If you're not so lucky, you can still get a free repair kit from their website.
A cheaper option is to grab a pair of their Re-Use jeans. Re-Use jeans have been repaired and refurbished and still include those free repairs for life. Re-Use jeans can be found in Nudie Jeans stores or online but note that the demand is high and the online inventory tends to sell out.
What's Good About Nudie Jeans:
Nudie Jeans are made with 100% organic cotton and offer free repair services for life at any of their store locations. They are members of the Fair Wear Foundation, transparent in their production, resell second hand products in-store & online, and recycle jeans that are worn out. Plus, Nudie Jeans have an amazing fit!
What They Offer:
This high quality footwear ranges from $150 – $260, comparable prices for high quality dress shoes and boots you'll find anywhere. If you're lucky, you'll catch them on sale.
What's Good About Nisolo:
Nisolo is a certified B Corporation brand that pays on average 27% higher than Fair Trade requirements. Their shoes are handcrafted in ethical factories in Peru and Mexico. In order to offset carbon emissions, Nisolo contributes to the Amazon Basin, protecting trees in the Amazon for every pair of shoes sold.
What They Offer:
Tees for $38. They usually offer 15% off for new customers!
What's Good About Vustra:
Vustra is a California based company that manufactures 100% GOTS certified organic cotton men's shirts in Fair Trade factories with low impact dyes. They started in the wake of Fashion Revolution, after the devastation of the Rana Plaza tragedy. Vustra's mission is to offer good, sustainably made clothes for masculine-presenting individuals.
Genders: Masculine
What They Offer:
$31.50 for a durable hat using discount code ECOSTYLIST10 to get 10% off.
What's Good About Topiku:
Arguably the most sustainable hats out there, Topiku hats are completely made from upcycled and recycled materials. The button is made from recycled aluminum cans, the base from upcycled organic cotton, and the brim from recycled plastic. All the hats are ethically made in Indonesia.
Genders: All
What They Offer:
$32 Tees, $56 Sweatshirts, and $19 Long Sleeve Shirts.
What's Good About Known Supply:
Known Supply is re-inventing clothing in a way that dignifies the people who make our clothes. Offering quality staples, each piece of clothing is hand-signed by the maker. You are invited to learn more about this on their website! Committing to sustainability with organic pima cotton, Known Supply is also humanizing the apparel industry.
Genders: Masculine / Feminine / All
What They Offer:
What's Good About Arvin Goods:
It's Arvin Goods' mission to create the cleanest basics on the planet. To achieve this, they use only donated/upcycled materials to minimize water usage, and eliminate waste and toxic dyes. For example, Arvin Goods' Econyl® turns waste problems like abandoned fishing nets from our oceans and old carpets destined for the landfill, into renewed nylon.
Genders: All
What They Offer:
Get discounts on Taylor Stitch goods with Restitch. These repaired and refurbished vintage items are better than new, but cost a bit less. You can find deals like $65 chinos and $35 tees. Since these goods are taken back and repaired in the USA you won't find super cheap deals, but you will get a reasonable break off the typical sticker price.
What's Good About Restitch:
Taylor Stitch's Restitch program allows you to clean out your closet and give your old Taylor Stitch garments a second life, all while staying stylish. When Taylor Stitch was presented with the issue of textile waste, they took action and came up with a solution. Their solution involves taking back their customers well-loved Taylor Stitch garments in return for store credit. They then repair the used Taylor Stitch clothes and resell these better-than-new items for a discount you can be stoked on.
Genders: Masculine
What They Offer:
While Taylor Stitch's new clothes aren't in the same price range as the Restitch options, they come with a lifetime guarantee and a resale value that could change your perspective. They build all their clothes to last and back that up by offering to "repair or replace any defect outside of normal wear for the life of the product." Additionally, if at any point you don't want one of their pieces, you can sell it back to them for their Restitch program and gain store credit in return.
What's Good About Taylor Stitch:
Taylor Stitch makes durable men's clothes built to last. They utilize small batch manufacturing to prevent waste from overproduction. They also commit to ethical factory certification and use a variety of sustainable materials including organic cotton, recycled polyester, wool, hemp, and linen.
Genders: Masculine
What They Offer:
$11.95-$14.95 per pair of socks.
What's Good About Conscious Step:
Conscious Step socks give to one of their non-profit partners with every single purchase. Additionally, their entire supply chain is GOTS and vegan certified. The crops are not treated with herbicides, insecticides, pesticides, and are not genetically modified. Plus, all of their products are made in Fair Trade certified factories. This means that there's no child labor, they have minimum wage compliance set in place, overtime compensation is paid, and there's freedom of association for workers. They offer kids socks too!
Genders: All
What Makes Any of These Brands Sustainable?
No brand is 100% sustainable. Instead, we highlight the most ethical and sustainable brands available to you by researching every brand with our sustainable brand criteria.
The criteria runs on a point system from 0-100 where only brands scoring 50 and above are approved. The criteria is comprehensive and evaluates the sustainability of a brand's fabrics, the sustainability of their manufacturing facilities, maker well-being, living wages, ethical leadership, and much more.
Curious what other brands pass? Check out our Brand Guide and try it out for yourself.
More Choices for Ethical Clothing on a Budget
For an in depth guide to all of the best affordable options like thrifting, swapping, renting, and more brands, check out our ultimate guide to affordable sustainable clothing.
For sustainable + affordable jeans check out our review of these lifetime warranty jeans.
Which Brand Is Your Favorite?
We hope you found some new sustainable brands that you didn't already know about. What's your go-to option for shopping sustainably? Let us know in the comments!
*Article updated 4/25/22.
Eco-Stylist is reader-supported. If you make a purchase using our links, we may earn a commission. We only feature fashion brands that pass our sustainable brand criteria. Learn more here.

Garik Himebaugh is the founder of Eco-Stylist, the go-to resource for ethical clothing. He's also an international speaker on all things sustainable fashion. Garik loves coffee, climbing, and clothes.