Finding a good pair of jeans can be a difficult task. When you do find a pair that fits in all the right ways, they end up ripping at the knees, fraying around the ankles, and stretching out over the course of one, maybe two years (if you're lucky). Nothing is more frustrating than having to toss an expensive pair of jeans without getting enough wears out of them.
Outerknown, a sustainable and ethical clothing brand, may have just solved the problem of finding the perfect pair of jeans. Their SEA jeans are said to have unmatched quality and detail. The best part? SEA jeans have a life-time warranty attached, meaning Outerknown will repair or replace your pair for free.
*Scroll down for our video review of Outerknown's SEA jeans.
The Sustainability
What makes these jeans sustainable? First, they're made with 100% organic cotton, which saves gallons of water in the production process. Organic cotton is naturally cultivated without the use of any synthetic agricultural chemicals like fertilizers and pesticides that can harm both employees and wildlife. 
These jeans are also Fair Trade Certified, meaning they fit strict requirements of transparency and fair labor. As far as Fair Trade requirements go, brands are required to pay their employees fair wages, provide a safe work environment, and ensure that the production process is in accordance with international environmental standards.
You can learn more about what makes Outerknown sustainable here.
Outerknown SEA Jeans: The Fit
The SEA jeans come in a variety of styles for men and women. For men, they have a slim fit, straight fit, and tapered fit. All of these styles are extremely versatile and can be dressed down or paired with a nice sweater or button down for a great night on the town!
The slim fit is great for dressing up or down. This style can be easily crafted to suit your everyday style, or they can be dressed up for a night out on the town. Who doesn't want to rock a pair of skinny jeans?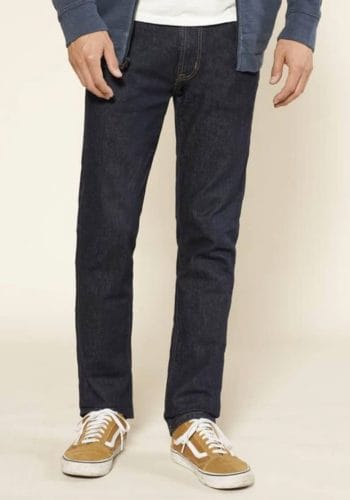 Outerknown also has a more relaxed fit for people a bit more laid-back. The straight fit is a classic and much more casual cut, but it can still be dressed up for date night with a dashing sweater and some oxford shoes.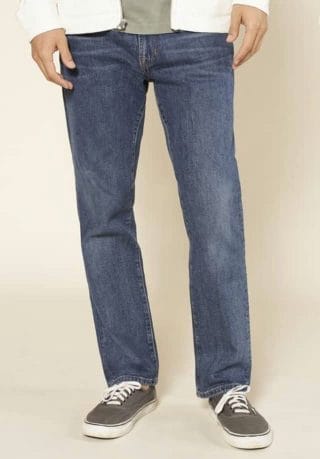 Finally, the tapered fit combines the best of both worlds. These jeans are looser in the thigh and slowly taper down at the ankles, creating a relaxed but crisp look.
Affordable Sustainable Jeans for Her
As for the women's SEA jeans, they have a variety of styles ranging from $178 to $328. Pictured below are the High Rise Slim jeans, the Fillmore Boyfriend jeans, High Rise Skinny, and Generation Selvedge Crop. You can order these styles on Outerknown's website.
The Lifetime Warranty
These jeans may be more expensive than pairs you have purchased in the past, but their guaranteed lifetime warranty makes their price tag worth the investment. Outerknown will replace and/or repair SEA jeans that have been damaged in any way, whether they've ripped at the knees or frayed at the ankles. Regardless of the damage, you can send your SEA jeans back and receive a brand new pair for free!
In contrast to SEA jeans, a typical pair of jeans from American Eagle will run you between $40 and $50, but because there is no warranty, you can expect to spend hundreds of dollars on new jeans to replace them each time they wear out. Outerknown's warranty not only saves you money but also keeps old pairs of jeans out of the landfill.
Outerknown SEA Jeans Review
We tried out Outerknown's Ambassador Slim Fit SEA Jeans in the Indigo Selvedge option. Check out our full video review:
What is Selvedge Denim?
You may have noticed that the jeans we reviewed are selvedge denim, but what does that actually mean? Selvedge denim tends to have a tighter and stiffer weave pattern, allowing for a longer wear time and a more durable product. "Selvedge" also refers to the "self-edge" of the fabric and it creates crisper and cleaner seam lines — great for cuffing!
This has become more and more popular in recent years because of the quality and trends in fashion. Many fashion influencers and models have brought back a more minimalist look with crisp, clean lines, perfectly pressed shirts and trousers, and a look that can easily go from day to night in a matter of minutes. Selvedge jeans can help you do just that.
3 Ways to Wear Them
We couldn't try out Outerknown's Ambassador Slim Fit SEA Jeans without styling them. Here's 3 different ways you can wear them to dress them up or down.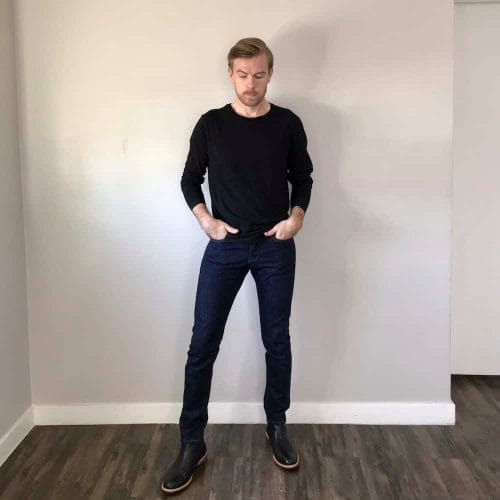 To wear them casually just pair with your favorite tee. We recommend skipping the graphics and opting for boots or solid color sneakers.
You can easily pull off a smart casual look by pairing these jeans with a button-up shirt or a sweater. We recommend a nicer shoe here such as boots, chukkas, or oxfords.
If you're looking to dress these jeans up even more they look great paired with a blazer. You can elevate the look further by tucking in your shirt and pairing the jeans with some nice oxford shoes.
Sustainable Affordable Jeans: Is It Worth It?
After reviewing Outerknown's SEA jeans we would emphatically answer: "Yes!" They look great, the price is unbeatable when considering the lifetime warranty, and with every pair purchased Outerknown has given great concern for both the planet and the people who made your jeans.
As far as sustainability goes, as mentioned Outerknown is an Eco-Stylist Certified brand. If you're interested in the SEA jeans head over to Outerknown to try them out!
Looking for More Affordable Sustainable Fashion?
Check our guide to the best options.
Eco-Stylist is reader-supported. If you make a purchase using our links, we may earn a commission. We only feature fashion brands that pass our sustainable brand criteria. Learn more here.

Catherine McCourt is a content writer at Eco-Stylist. She studies English, Creative Writing, and Philosophy at the University of Iowa. When she's not writing about sustainability in fashion, Catherine enjoys painting, journaling, and much needed downtime.