Back in 2018 I went to Remode, the largest gathering of ethical fashion change makers in the US, and this was its first year running. The conference, held in Los Angeles on November 13-14th, focuses on disruptive innovation and sustainability in the fashion industry.
As the founder of Eco-Stylist, I went to learn and network with industry leaders and brands. I was not disappointed.
Imagine a room full of change makers, innovators, founders, and influencers in the ethical fashion space. Imagine 3 stages, booths and exhibits in between, workshops, 1000 attendees, and 2 days packed with great content. Imagine the excitement you feel as you are surrounded by people you have always dreamed of meeting or have only read about in the magazines. These are the people who gave me the motivation to begin, and to continue.
Now you have some idea of what Remode is.
Walking around the main conference area I was star-struck. If ever there was an insiders look at the ethical fashion space, this was it.
If you're excited about sustainable fashion and the future of the fashion industry, these are the folks you want to follow. Here's some of the inspiring creators I connected with at Remode, and the projects they've built.
Wardrobe Crisis
Clare Press is the host of Wardrobe Crisis, one of the leading podcasts on ethical fashion and one I'm a big fan of. She's also the author of 3 books, including Wardrobe Crisis and most recently Rise & Resist.
On the podcast Clare interviews influencers like Tamsin Lejeune, founder of Ethical Fashion Forum, and James Bartle, cofounder of Outland Denim, a denim company that gives employment and training opportunities to women rescued from human trafficking.
Also consider checking out her latest book, Rise and Resist. It's an absolutely fabulous look at a range of topics including the women's march, the fashion revolution, environmental activism, women's empowerment, and more. I collect no affiliate revenue for saying this, it's just a damn good book.
Remake
Ayesha Barenblat is the founder of Remake, a nonprofit that engages conscious consumers through a sustainably curated shop, short films promoting a more ethical fashion industry, and a variety of other initiatives. Remake promotes fashion that respects women and the planet.
Check out their films. They give a much needed look into the troubling working conditions of garment workers. These are the women who make the clothes on our back.
Did you know 80% of fashion is made by women 18-24 years old? Here's one of Remake's short films, called Made in Pakistan. At just 4 minutes long, it's easy to make time for, and you'll be glad you did.
Conscious Chatter
Kestrel Jenkins is the host of the leading ethical and sustainable fashion podcast, Conscious Chatter. At Conscious Chatter, "what we wear matters."
Conscious Chatter puts out episodes prolifically, interviewing leaders of some of the biggest brands in sustainable fashion as well as a variety of activists and change makers in the space. Past episodes have included interviews with Nisolo, Outerknown, Nasreen Sheikh, and more.
It was actually while listening to an episode of Conscious Chatter that I heard about Remode! Meeting Kestrel in person was surreal because I'm a huge fan.
Definitely subscribe to this one.
Shout out to Kestrel, she's also the cofounder of recently launched women's sustainable fashion brand, Left Edit.
Lauren Engelke
Lauren is a sustainable fashion influencer and a kindred spirit, herself an eco-stylist. She helps people dress better with 1-1 style consultations emphasizing sustainable options.
Lauren also curates the shop for The Minimalist Wardrobe. For solid staples and sustainable women's clothes, give their shop a look.
You can follow Lauren on the gram @lauren.engelke.
Topiku Hats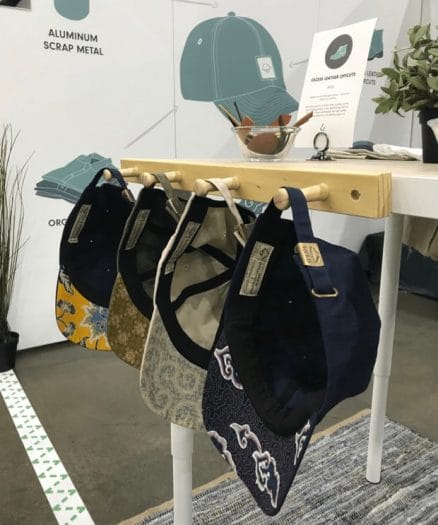 This was a new brand discovery for us and one we're excited about! Topiku hats are made in Indonesia, where they are renewed from waste materials.
They use recycled aluminum for the buttons, recycled clothing scraps for the hats, and reclaimed fabrics for the beautiful patterns on the underside of the caps. These reclaimed fabric scraps are factory leftovers that were otherwise headed for the landfill.
To top it all off, they are very attractive hats! Check out their shop to see for yourself, and use code ECOSTYLIST10 for 10% off.
Fashion Revolution
Orsola de Castro is the co-founder of Fashion Revolution. Hearing Orsola speak was pretty surreal.
What is Fashion Revolution you ask? Well, where to begin.
Fashion Revolution started Fashion Revolution week, which takes place every year around April 24th, the anniversary of the Rana Plaza incident. This is a week of action where people use the hashtag #whomademyclothes to call attention to the big clothing brands, most of whom have poor worker safety and little transparency in the supply chains.
Fashion Revolution produces the annual Fashion Transparency Index, a report that ranks all the biggest fashion brands on their supply chain transparency. This benchmark is critical for measuring responsibility and change. If you look at it from year to year you will see some brands making improvements.
They've also taken on a project called the Garment Workers Diaries, a year-long research project studying the lives and wages of garment workers in India, Bangladesh, and Cambodia. You can hear about the results of the study as well as garment workers' stories on the Fashion Revolution podcast.
For a closer look at other projects they have going on, check out their website and follow them on Instagram @fash_rev.
The Regeneration Magazine
I met Kyle Calian at Remode. He's the founder and creative director of The Regeneration Magazine, a publication that "highlights creatives, thinkers, artists, and entrepreneurs who are making waves in the environmental movement and changing the conversation about climate change."
Sounds refreshing, right? Kyle gifted me a copy of Issue No. 3 and I have to say, I'm impressed.
The Regeneration Magazine is printed on recycled paper and trees are planted for every magazine purchased. Issue No. 3 has notable interviews with famous creators such as Orsola De Castro, as well as recognized brands like Zero Waste Daniel.
The content is consistently creative as the articles are solution focused and articulate. Great work Kyle.
Evrnu
Meeting Stacy Flynn, CEO of Evrnu was simply inspiring.
Essentially, Evrnu turns clothing waste into stronger fabric to be used for new garments. This technology is revolutionary and important to solving the ever-growing clothing waste problem.
Check out their website to learn more.
Triarchy Denim
Adam is the creative director at Triarchy Denim. Their mission is to "to conserve our planet's most important resource by reducing the massive water consumption of our planet's most beloved piece of clothing, jeans."
In short, they make really sustainable denim. Triarchy Denim's factory in Mexico recycles 85% of the water used in production. Buttons and rivets are made from recycled metals, the woven labels are made from recycled water bottles, and the leather is made from recycled leather.
They also make denim jackets from reclaimed vintage denim, available at their online shop. These classic and versatile jackets are hand made in their workshop in downtown LA.
The Renewal Workshop
Jeff and Nicole are the founders of The Renewal Workshop, a company that partners with brands to take their discarded apparel and textiles, and turn them into renewed apparel, upcycled materials, or recycling feedstock.
Their brand partners include Ibex, Mountain Khakis, Nau, prAna, and Toad&Co. And guess what?
You can shop these renewed items at discount prices at the Renewal Workshop's website. Pretty sweet to find prAna jackets at discount prices.
Swap
Nicole is the co-founder of the Swap Society, an online clothing swap platform. Swap Society is free to join and uses a point system to value items you send in for swap.
With the online platform you can literally swap 24/7. Swap also hosts and co-hosts live clothing swap events.
While Swap Society currently only serves women online, that could be changing in the future.
GFX
Patrick Duffy is the co-founder of the Global Fashion Exchange (GFX). GFX's core offering is clothing swap events, and since 2013 they've given new life to 110 tons of clothing.
You can find upcoming events on their website or apply to be an ambassador, and host local GFX events in your city or home town.
Common Objective
Tasmin Lejeune is the CEO of Common Objective, a social network for people in sustainable fashion. Think LinkedIn, but hyper focused on building connections to advance sustainable fashion.
It's free to join and is a great way for individuals or businesses to connect with brands, chat with investors, meet suppliers, or meet other people in the space.
qb Consulting
Sam Harmon is the co-founder of qb consulting, a purpose driven consulting firm. They offer a range of services to help companies with social and environmental missions.
Services include strategy, operations, communication, marketing, and management. Check out their website to learn more about their consulting offerings.
Are There More?
This is not a comprehensive list of everyone who attended. These are some of the change makers in ethical fashion that I met.
There were also several brand representatives in attendance from brands like Outerknown, Reformation, Everlane, and more. There will be plenty of chances to chat about brands coming up.
For more information see the full list of speakers and sponsors that were present at Remode.
Please Share
If you liked this article please share it with someone you know. It will help us get the word out and grow our mission.
Remember, by shopping ethically you're helping to make the world a better and more aesthetically pleasing place. Supporting our Certified brands means supporting brands that pay living wages and make clothes more sustainably.
What are you most excited about in ethical and sustainable fashion? Let us know in the comments.

Garik Himebaugh is the founder of Eco-Stylist, the go-to resource for ethical clothing. He's also an international speaker on all things sustainable fashion. Garik loves coffee, climbing, and clothes.