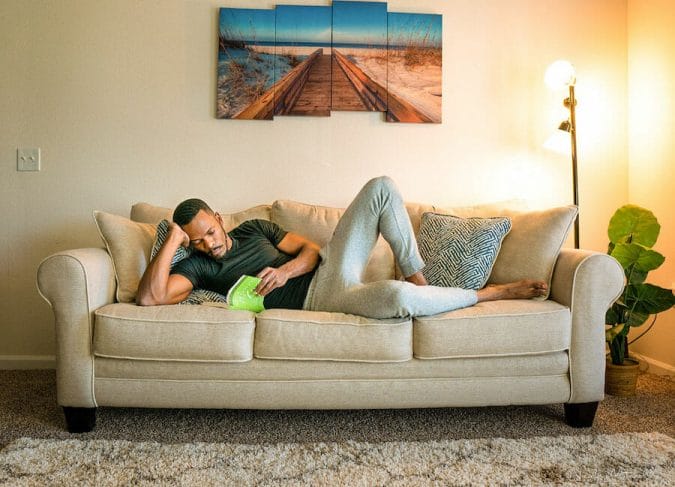 Sustainability is fashionable, and as fashion companies strive to take advantage of the sustainability market, the range of ethical clothing has never been greater.
Whether it's vegan-friendly, fair trade, or organic cotton you're looking for, there are now brands that offer you guilt-free, sustainable sweatpants that align with your worldview.
Take a look at these ten ethical sweatpants suppliers to help you choose the one for you.
1. Colorful Standard
Shop | Unisex Organic Sweatpants
Description | Unisex sweatpants in 40+ different colors
Ethical Claims | Vegan friendly, organic cotton, 1 tree planted for every order
Price | $75
Colorful Standard takes loungewear and essentials away from animal products and towards sustainability, transparency, and fair labor. With colors like lemon yellow, spring green, and bubblegum, these basics are anything but boring. These sweats are made from 100% organic cotton and come in 48 different color options.
Colorful Standard only sources more sustainable fabrics that are OEKO-TEX certified to ensure no harmful chemicals or dyes. All of their clothes are ethically made in Portugal where they guarantee living wages.
---
2. For Days
Shop | For Colorful Days Jogger
Description | Recycled, color blocked joggers
Ethical Claims | 88% organic cotton, 12% recycled cotton
Price | $68
For Colorful Days comfortable joggers come from the GRS-certified fashion company aiming to 'close the loop' by offering customers the opportunity to upcycle old sets for credit on new ones when you're done with them.
These pants aren't made with any environmentally-harmful chemicals and are eligible for free carbon-neutral shipping. As part of their SMETA certification, For Days provides all their workers with fair pay.
If you're looking for more fashion forward sweatpants also check out their wide leg joggers.
---
3. Outerknown
Shop | Hightide Sweatpants
Description | Super cozy sweatpants in black, blue, and green
Ethical Claims | 54% organic cotton and 46% recycled polyester
Price | $118
The hightide sweatpants are available in men's and women's fits. Outerknown's comfiest sweatpants yet, they're just as good wearing out as wearing at home.
Outerknown's focus is people and planet. As such, these comfortable, tapered-leg sweats are made in ethical factories from organic and recycled materials. Recycled polyester turns waste into a valuable material, reducing CO2 emissions in the process.
---
4. Pact
Shop | The Essential Sweatpant
Description | Vintage looking all day sweatpants in black, stucco, walnut, ore & more
Ethical Claims | 100% GOTS certified organic cotton, made in a Fair Trade factory
Price | $85
Available in mens and womens styles, these sweatpants are a medium weight option, made of a cozy loop-back Terry fabric that's perfect for cool-ish nights. These pants have two front pockets for all your essentials.
Made in a Fair Trade factory in India, Pact aims to make Sustainable Fashion for All. Pact uses GOTS certified organic cotton meaning no toxic chemicals and 81% less water used than conventional cotton. In fact, these sweatpants save between 70-90 gallons of water, depending on the fit.
---
5. Girlfriend Collective
Shop | Unisex 50/50 Relaxed Fit Jogger 
Description | Unisex jogger in coffee, chai, laser, agave, graphite, falcon, & more
Ethical Claims | 50% recycled cotton, 50% organic cotton, 100% biodegradable
Price | $78
Girlfriend Collective presents this entirely plant-based jogger that conforms to the stipulations in the company's SA8000 certification. The relaxed fit makes it suitable for workouts or pre/post workouts as well as casual wear.
Girlfriend Collective's materials are sourced to save water, CO2, and energy, and you can see those savings right on their website. Using recycled cottons helps turn fabric scraps, which would otherwise be waste, into something good.
---
6. Coalatree
Shop | Evolution Joggers
Description | Comfortable and soft sweatpants in 3 colors
Ethical Claims | Made from coffee grounds and recycled bottles
Price | $74.99
If 'eat my shorts' has gone out of fashion, maybe 'drink my sweatpants' can take its place. These pants are made from recycled coffee grounds and plastic bottles which are melted down to produce the waterproof fibers used in their manufacture. They also rely on waterless dyes to save on resources.
Coalatree claims the coffee grounds provide permanent odor-absorbing properties and the sweats pack away into their own pockets for ease of storage while traveling. Using recycled CO2 in their dying process apparently saves 20 gallons of wastewater per pound of textile.
---
7. Groceries Apparel
Shop | Valerian Joggers
Description | Unisex sweatpants with hemp drawstring; grey and tie-dye options
Ethical Claims | 100% organic cotton, non-toxic dyes, made in LA.
Price | $98
We're back on the topic of food with Groceries Apparel's Valerian joggers. These come in a tinted grey and a legal-edible green/blue tie-dye, and both are 100% comfortable cotton.
98% of Groceries' materials come from California local vendors, and this commitment to keeping the process local not only creates jobs but reduces waste and their carbon footprint. The tie-dye pants are even handmade with vegetable dyes.
---
8. Kotn
Shop | Essential Sweatpant
Description | Relaxed yet tapered sweats available in 5 colors
Ethical Claims | 100% BCI cotton, ethically made in Portugal
Price | $76
The essential sweatpants by Kotn come in mens and womens fits. A subtle throwback to the early 2000s, these sweatpants are comfy with an elastic waistband and soft brushed interior. The best part? They get softer with every wash.
Kotn is a certified B Corporation working to change fashion by serving you the "farm to table" experience for your closet. They do this by responsibly sourcing their cotton from Egypt, where they pay fair prices, and ethically making the sweatpants in Portugal where they guarantee a living wage.
---
9. Patagonia
Shop | P-6 Label Uprisal Sweatpants
Description | Comfortable, regular-fit sweats in blue, grey, or black
Ethical Claims | 100% recycled, Fairtrade
Price | $69
Patagonia has been leading the charge when it comes to sustainable fashion and they're not about to stop now. In terms of transparency, sustainability, and fair labor they are top-rated in every category, and these 100% recycled sweatpants are a great example of why.
These ethical sweatpants, which come in men's and women's sizes, are made from recycled fabric scraps and plastic bottles, and there is a clothing exchange available for credit, as a way of closing the loop. Patagonia also displays the name and location of the factory that makes the garment from the item page.
---
10. Tentree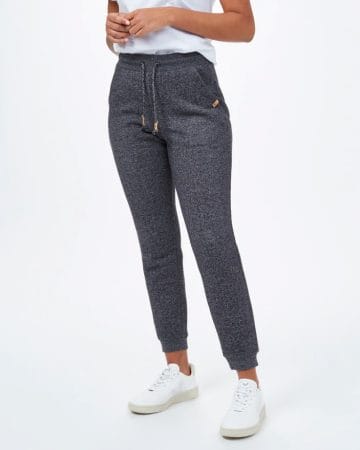 Shop | Bamone Sweatpant
Description | Midweight joggers available in black, olive, and white
Ethical Claims | Organic cotton & recycled polyester blend
Price | $68
Available in men's and women's styles. Tentree plants ten trees with every purchase. These joggers are sustainably made to save 363 liters of water and 1.16 kg of CO2.
Tentree's code of conduct helps ensure their manufacturing in China is ethical and fair. Tentree's goal with their tree planting project is to plant 1 billions trees by 2030.
---
Conclusion
There are a bunch of ways to be ethical in fashion, and some are easier than others. Some ways also matter more to you than others, and some companies will use high-profile but relatively meaningless ethical gestures to jump on the bandwagon and distract customers from shady and destructive practices.
As customers become more aware of the impact of the fashion industry on the environment and on the lives of those involved in manufacturing, it's important for companies to fall in line and be held to a higher standard. Hopefully, this list of ethical sweatpants will give you some good leads into the world of sustainable fashion and help you make more informed fashion choices.
*Article updated 4/10/22.
Eco-Stylist is reader-supported. If you make a purchase using our links, we may earn a commission. We only feature brands that pass our sustainable brand criteria. Learn more here.

Garik Himebaugh is the founder of Eco-Stylist, the go-to resource for ethical clothing. He's also an international speaker on all things sustainable fashion. Garik loves coffee, climbing, and clothes.