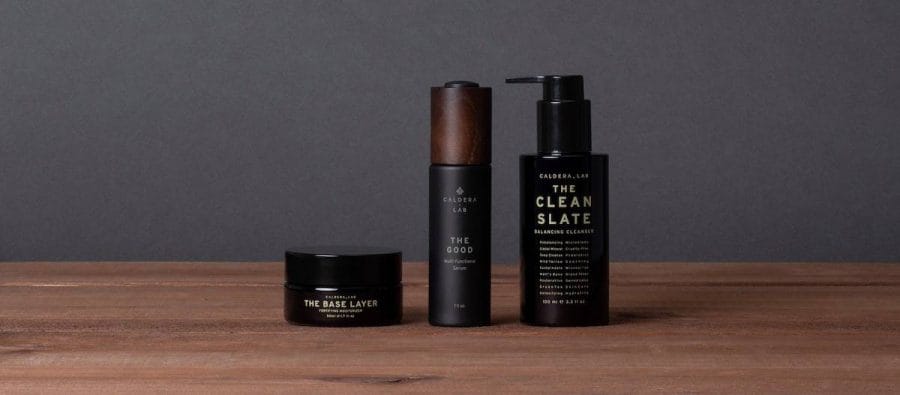 My skin care routine consists of pumping a dollop of some store-bought face product onto my palm and rubbing it into my face. I bet this is a similar story among my age and gender-related compatriots. As a matter of fact, many of my friends just use regular soap or even body wash to maintain their handsome mugs.
Now, I figure myself to be a man of modern times; I even get a mani-pedi from a local salon every now and then. However, being a thirty-something-year-old is a reality that sets in every time I look in the mirror. Beginner brow lines, crow's feet, and dull skin serve as unfriendly reminders of my age and the need to pay more attention to my personal care.
According to Grand View Research, the global men's skin care industry is valued at $12 billion. There is a growing male population with the desire to suspend the aging process – after all, there is only so much an Instagram or Snapchat filter can do.
Simultaneously, the sustainability movement and consumer demand for product transparency has compelled many companies in the beauty and personal hygiene market to change their tunes. Sustainable means many things to many people. For my purposes, sustainable has a range of definitions — all the way to your fair trade, ethically sourced, organic, or cruelty-free products. The point is, these factors have led to the emergence of brands who have organic, eco-friendliness at the core of their business. This is a good thing for those of us who want to be more conscious of how we consume: who we support with our dollars, how our decisions affect our world, and how what we buy enhances our quality of life.
Enter Eco-Friendly Skincare Brand: Caldera + Lab
If you read the first paragraph you know that my daily face washing regimen leaves much to be desired. The products from Caldera + Lab changed all of that with a simple process that was as easy as 1,2,3 (plus a bonus 4).
Never have I ever used such high-quality products on my money-maker. Using the products for the first time was like moving from a one-bedroom apartment to a mansion. I felt fancy!
Step 1. The Clean Slate
The Clean Slate is the daily balancing cleanser you apply in the morning and the evening. My skin tends to be oily, but whenever I use my regular drugstore face wash my skin comes out super dry. It's so dry that I absolutely need to use a moisturizer to replenish what was stripped away. That is not the case with The Clean Slate.
After dampening my face, pumping a small amount of product onto my hand, and working up a lather on my face, my skin came out on the other side cleansed and still supple. And it's really no surprise. I'm no scientist, but when you have ingredients like "probiotics, clarifying plant extracts, hydrating amino acids, and mineral-rich glacial ocean silt extracts" it's got to be good. Right?
Step 2. The Base Layer
The Base Layer is the fortifying moisturizer that goes on after The Clean Slate. The soft grind of glass-on-glass as I twist the top from the container of The Base Layer is the sound of opulence. I could become accustomed to this kind of life. I think that most men don't care too much about the scent of products unless they smell "girly." Here's the thing,this moisturizer barely has any smell. There is a slightly organic scent that seems welcoming and healthy, but that's it.
Just a small amount goes a long way and once it's properly worked into your skin you can hardly tell you applied anything. No oily residue. Just fully moisturized skin. I could even use the word "supple" again, but I think you get the point. The Base Layer goes on after you use The Clean Slate in the morning and it lasts all day. I have this habit of rinsing my face with water once or twice a day because my face begins to feel too oily. Even after rinsing my face and patting it dry, my skin still feels sufficiently moisturized – and I live in the desert. I guess it's all those botanical ingredients and plant stem cells that do the trick.
Step 3. The Good
The Good goes on after The Clean Slate in the evening, serving as your overnight multi-functional skin restorative. There's no need for The Base Layer in the evening because this serum does all the work of a moisturizer and more. I don't know what sorcery Caldera + Lab is up to, but The Good is some good stuff. I could tell it was quality from the long list of the healthy botanicals printed in the ingredients.
The experience is heightened by the interactivity with the bottle. Sure, I have simple tastes (sometimes), but pressing the button on top of the lid, then unscrewing the cap gets me excited every time. Once you remove the cap, you'll see that the dark yellow serum has been magically inserted into the dropper and ready to use. The serum itself has a strong herbal aroma, but it is pleasant. After you rub the goodness into your face, the scent disperses quickly – and you're left with a fully moisturized face that's glowing. Just in time for bed. Don't worry. You'll wake up glowing, too.
Step 3 Plus. The Deep
Just when I thought the fun was over, here comes The Deep. For all my basic-ness, I do love a good face mask. I'm speaking of the kind you only wear at home. The Deep delivers what I expected and more. When something has volcanic ash and glacial oceanic silt it simultaneously makes me feel like a "dude" and a boy, jumping up and down clapping my hands.
As I spread the pasty grey substance on my face, I immediately felt tingling. That's not something I get from the face mask I buy from the beauty aisle at the grocery store. From the very beginning, I knew that this stuff was going to do something notable. After 20 minutes, I rinsed my face. I must admit, I felt special. Smooth, moisturized skin was the result of covering my face with this modern-day magic. By applying the mask just one time a week, The Deep is the perfect addition to the three-step regimen.
Skin Care Recommendation
If you want to feel good, Caldera + Lab knows how to deliver. This certified B Corp uses the best ingredients to ensure that the products are not only good for you but good to you – and the rest of the world. My skin feels and looks great, and it didn't take long to see results. I have smoother skin, a natural glow, and wrinkles are less noticeable.
It is true that beauty is only skin deep. However, when you look good, you feel good. When you feel good, you can do good. Do something good for yourself and try out Caldera + Lab.
Every conscious and modern man should have a skin care routine. You don't have to start so indulgent; there are other options for you. However, if you really want to do it right, this is going to take care of you. And you don't mess around with skin care!
This article contains affiliate links that help us earn a small commission from your purchase. Each purchase helps support our mission to make sustainable fashion the norm.