Looking to build up the foundation of your wardrobe? ASKET's focus on men's everyday clothing makes them a go-to for long lasting essentials. They take a holistic approach to sustainability, keeping the big picture in mind as they prioritize transparency and traceability.
ASKET is one of our Certified brands, passing our criteria with 57 points earned. This makes them a leader in the sustainable fashion sphere and a brand you can feel good about buying from. As with any brand, there's room for ASKET to improve, but we, at Eco-Stylist, applaud them for their consistent commitment to progress and the steps they've already taken to make a difference.
How do we rate our partnered brands on sustainability?
We rate our brands in three impact areas–Transparency, Fair Labor, and Sustainably Made. From there, our brands are ranked into one of three rating levels: certified (50-60 points), silver (61-69 points), and gold (70-100 points).
It's important to note all of our partnered brands are leaders when it comes to sustainable fashion, no matter where they fall in our ranking system. Passing our criteria speaks volumes about the commitments our brands have made to ethically-produced fashion, and they only continue to grow. ASKET is no exception.
Transparency
When it comes to transparency, ASKET excels. They're currently focusing most of their energy on their traceability journey, and their score in this area reflects that.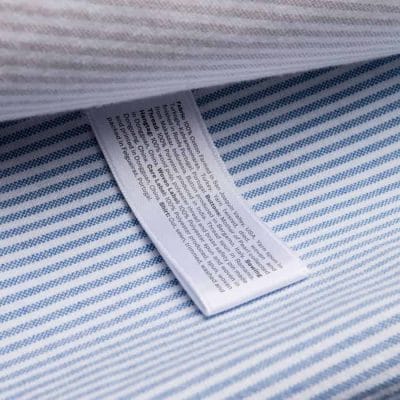 ASKET sews traceability labels into their garments, breaking down each piece of clothing into its raw components, so consumers know the exact route their clothes took before ending up in their closet. By 2022, their goal is to reach 100% traceability, meaning the exact location of farms, plants, factories, and facilities where their clothing is made will be fully available to consumers. Right now, they sit at 86% traceability, putting them on track to reaching their goal and setting them apart from their peer brands.
In 2020, ASKET released The Principles–a complete snapshot of their impact and influence. They don't stop there-each year they publish a report of their overall progress in traceability and impact, setting a great example of what it means to prioritize transparency.
Fair Labor
Fair Labor is where ASKET has the most room for growth.
ASKET's makers earn a living wage and the salaries paid to workers within their factories can be found on their website. We applaud their transparency in this aspect, but we'd also like to see them disclose any benefits or well-being programs they provide for their makers. By addressing the actions they're taking to reduce human and labor rights risks in their supply chain, engaging more with their makers, and potentially making investments to improve the well-being of the communities where their makers live, ASKET could make even more of a difference.
That said, we don't expect our partnered brands to be perfect. We expect them to be actively working toward a more sustainable future, and ASKET is absolutely on the right path.
Sustainably Made
As for our third impact area, sustainably made, ASKET does well, but there are some changes they could make.
To their credit, they conducted a life cycle impact assessment in collaboration with RiSE, and they now use the information they gained about their supply chain–like COS emissions, water, and energy consumption–to reduce their impact on the environment. One of the ways they've done this is through changing their packaging, and they've publicized the steps they took so other brands can follow suit. To increase the longevity of their clothing, ASKET also provides care, stain, and repair guides for their garments.
ASKET could improve their Sustainably Made score by making efforts to reduce carbon emissions from their factories and the amount of water used in manufacturing their products. We trust this will come in time, as they continue to prioritize impact and traceability.
ASKET Sustainable T-Shirt Review
Eco-Stylist recently had the opportunity to try out ASKET's t-shirts and in short: we were impressed. They're soft, comfortable to wear, and made with high-quality materials. Not to mention, ASKET utilizes a next-level sizing process; a unique quiz helps you identify your ideal size.
Here's what Eco-Stylist founder, Garik, had to say about it, "these are the best fitting tees I own." To try out Size Finder, simply click "What's my size?" on any product page and then click Size Finder to get started.
Here is Garik trying the T-Shirt in burgundy, the Longsleeve T-Shirt in white, and the Lightweight T-Shirt in black. The Lightweight T-Shirt was Garik's favorite because it makes for the perfect layering piece.
Pulling it all together…
We're proud to partner with ASKET and commend them on the steps they've taken toward a more sustainable future, especially in the area of transparency. A leader in the sustainable fashion sphere, ASKET is an excellent place to look when you're on the hunt for long lasting essentials.
While there's still progress to be made, their overall goal to minimize wardrobes and "pursue less" stands in direct opposition to the goals of fast fashion, ultimately creating positive change in the world.
Thank you, ASKET, for helping us dress like we give a damn.
To learn more check out ASKET's Brand Rating!
Celia Wiseman studied Communication and Creative Writing at the University of Iowa, and her growing interest in sustainable living led her to Eco-Stylist. In her free time she enjoys reading, writing, and making videos, as well as any other activity that allows her to get creative.
Eco-Stylist is reader-supported. If you make a purchase using our links, we may earn a commission. We only feature fashion brands that pass our sustainable brand criteria. Learn more here.