Capsule wardrobes can meaningfully simplify your life. At the same time, building one can feel impossible. There are too many options to settle on anything less than the most comfortable and stylish clothes — the clothes that make us feel seen as we truly are.
So what is a capsule wardrobe and why should you build one? It's the fundamental items you reach for everyday plus some bonus items to change up your looks based on occasion.
Why Build a Capsule Wardrobe?
A capsule wardrobe is "a collection of clothing that is composed of interchangeable items only, to maximize the number of outfits that can be created."
Top 4 reasons to do it:
It's more sustainable. Having less pieces of higher quality means you wear them more often. Better for the environment and for your wallet.
It polishes up your wardrobe and makes your choices more intentional. You are wearing what you like best.
It's great for traveling
Less clothes = less stress picking clothes in the morning
We're going to show you exactly what to buy to build a 10 piece capsule wardrobe. Provided below is a framework you can use to build your own capsule of any size and season.
10 Piece Sustainable Capsule Wardrobe for Men
We've built a 10 piece sustainable capsule wardrobe designed for spring + summer.
1) Chinos
Chinos should be your versatile go-to pants. They're slightly more elevated than jeans, giving you more freedom to go from casual to business casual in the same pair of pants.
Get them in khaki so they match everything (black, navy, or olive are also good color choices).
Why It's Good:
Asket offers superior transparency and traceability of their products
They share price transparency so you know you're getting a fair deal
2) Jeans
Like chinos, jeans are super versatile. They don't require much washing, making them an essential pair of pants for any capsule wardrobe.
We recommend getting a pair of dark wash jeans because they look sophisticated and are flattering on the body.
Why It's Good:
Nudie Jeans offer free repairs for life in store and will send a free repair kit via mail
The denim is made with organic cotton and vegan friendly tags
3) Tee
Whoever said white tees are boring just didn't know how to wear one. This is a staple for any capsule closet.
Wear it on its own with contrasting colors (like dark wash jeans) or wear it under an open button-up shirt. You can even throw a navy blazer over it.
Why It's Good:
100% Organic Cotton
Known Supply clothes are signed by the maker and you can "meet the maker" right on their website
4) Athletic Tee
This athletic tee is perfect for the minimalist because it serves the dual function of a work out tee that can also be worn casually. You can even wear it for up to 7 days without washing it due to the anti-odor properties of merino wool.
Why It's Good:
Made from 100% merino wool, a completely natural and biodegradable fiber
Washing less is good for the planet: washing and drying account for 2/3 of a garment's environmental impact
5) Long Sleeve Tee
Compliment your white tee with a long sleeve black one. Roll up the sleeves when it's hot and keep 'em down when it's cold. Looks great paired with chinos or jeans.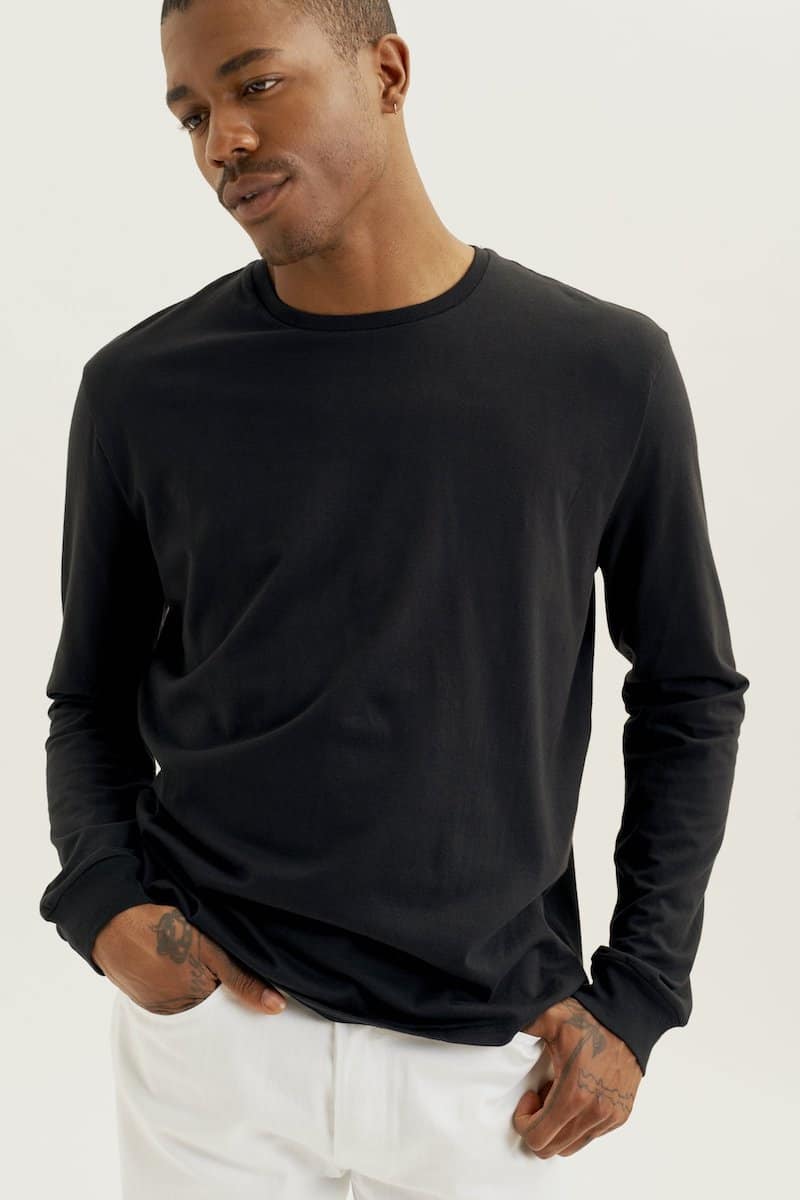 Why It's Good:
Kotn Offers superior traceability of their clothing
Ethically made with Egyptian cotton
6) Short Sleeve Button-Up
Throw some pattern and color into your closet with a short sleeve button-up. Perfect for summer and spring.
Can still be worn under a blazer. We recommend grey, blue, or green. If you want something more adventurous and bold Outerknown has that too.
Why It's Good:
Made from 93% organic cotton, 7% hemp

Buttons made from nuts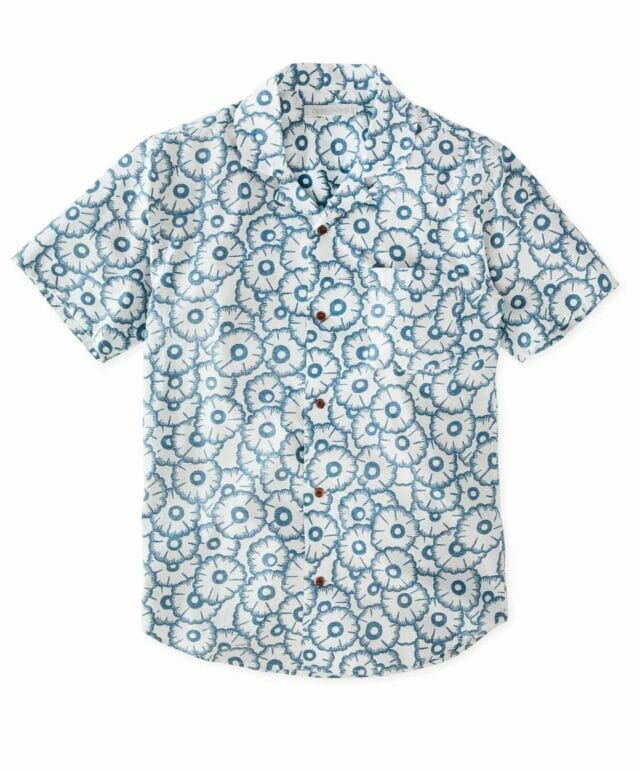 7) Oxford Shirt in Black or White
A solid oxford provides so much function. Don't overlook this sharp staple. Go ahead and grab it in white or black!
Looks fantastic tucked, untucked, and under a blazer. For more variety this unisex style comes in 40+ color options.
Why It's Good:
Made with 100% Organic Cotton
Ethically Made in Portugal
Environmentally Friendly Oeko-Tex® Certified Dye
PETA Approved Vegan
8) Solid Color Oxford Shirt
With a capsule wardrobe it can be hard to incorporate colors. Afterall, you want everything to match.
The good news is that you can. Grab this oxford in a blue or green variety and it'll still match everything else we've selected for you.
Why It's Good:
100% organic cotton
Lifetime warranty
Taylor Stitch will buy back, repair, and resell their clothes for life
9) Colorful Oxford Shirt
Add more color to your closet with the Vertigo shirt by Vustra. This micro pattern adds an element of interest to your outfit while looking nearly solid from afar.
If this color isn't your vibe Vustra has several similar options including more neutral tones to complement your aesthetic.
Why It's Good:
100% organic cotton
Made in Fair Trade factories
Vustra gives back 25% to charity
10) Blazer
A blazer is your capsule layering essential. Throw it over any of your shirts to elevate your look and prepare for that date or zoom meeting (or zoom date perhaps?)
This contemporary blazer can be dressed down with a tee or dressed up with the chinos, oxford shirt, and dress shoes for a sharp business casual look.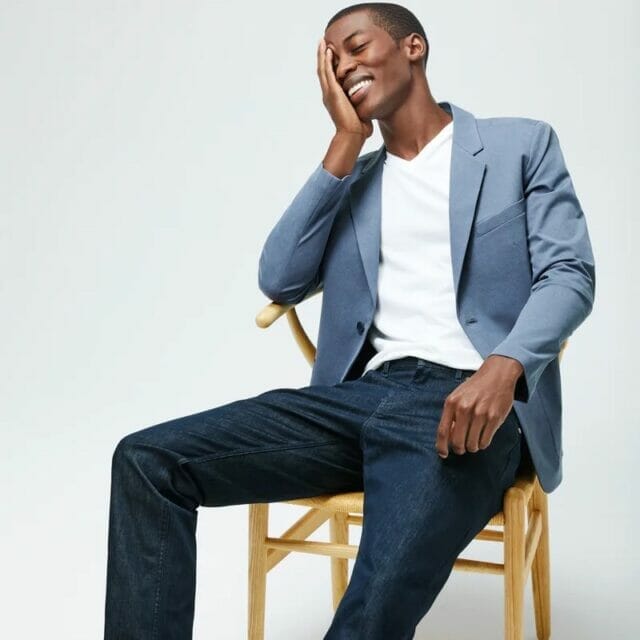 Capsule Wardrobe Shopping – Men's Shoes
1. Sneakers
White or black sneakers are essential because they match it all. Wear them with tees and button-ups alike.⁠ If you're feeling European you can even pair them with a suit!
If white sneakers aren't your thing opt for black or brown instead.
Why It's Good:
Thousand Fell sneakers are fully circular, meaning when they wear out you can send them back to be recycled
They are also vegan friendly
2. Sandals
Sandals are great for summer but they tend to give off a vibe that's unprofessional or overly casual. Not these options.
These sophisticated slip-on shoes can be worn all summer long with tees and button-ups, all while keeping you and your feet cooler.
Why It's Good:
Ethically made in Mexico and Peru
Nisolo publishes their lowest wages
Nashville, TN based B Corporation
3. Oxford Dress Shoes
Oxfords are a must have in any man's closet because they're your go-to shoe when you need to dress up. This wingtip variety adds visual interest to your staple wardrobe without being too much.
Why It's Good:
Adelante pays above industry standard living wages to their makers in Guatemala
Built to be resoleable
The maker signs the shoes
4. Boots
Boots will add a lot more variety to your closet, especially when fall and winter come around. Boots look great with jeans, tees, button-ups, and even your blazer.
Why It's Good:
Adelante pays above industry standard living wages to their makers in Guatemala
Handmade shoes built to be resoleable
The maker signs the shoes
For shoes, we recommend at least options 1-3, with the addition of option 4 for even more outfit combinations. Since each of these shoes is vastly different, every additional pair will add a ton of value to your capsule.
Grab a belt too! For this capsule you'll need one brown belt and one black belt (if you get the black boots).
Want to Build Your Own Capsule Wardrobe?
We made a video outlining everything you need to know (scroll back up to watch the short guide).
For quick reference, here's the 4 step framework for how to build a capsule closet of any size and season.
4 Step Framework for Building a Capsule Wardrobe:
Set a Goal – ex: 10, 15, or 20 pieces
Select the Seasons – ex: Spring/Summer
Pick Your Ratios – ex: 20% pants, 70% shirts, 10% layers
Choose Versatile Colors – ex: black & white, neutrals, blues & greens
We'd love to help you build your own sustainable minimalist closet. What questions do you have?
Looking for More?
*Article updated 12/4/2022.
Eco-Stylist is reader-supported. If you make a purchase using our links, we may earn a commission. We only feature fashion brands that pass our sustainable brand criteria. Learn more here.

Garik Himebaugh is the founder of Eco-Stylist, the go-to resource for ethical clothing. He's also an international speaker on all things sustainable fashion. Garik loves coffee, climbing, and clothes.