At Eco-Stylist we love every ethical brand we recommend to you. Ethical brands humanize the fashion industry and make us feel good–inside and out–about what we wear.
When we discover an ethical brand that looks like it might be a good fit for our customers we first research that brand using Remake's sustainable brand criteria. This ensures that they align with our values and meet your standards when you want to shop sustainably.
The brands that pass our criteria are progressive on ethics and sustainability while also showcasing great style. Brands this driven by a mission must have great stories–right?
To share one of those stories with you, we recently chatted with Kohl Crecelius, the CEO and co-founder of KNOWN SUPPLY. If you care about the ethics and sustainability of your clothing, you're going to enjoy this conversation.
Eco-Stylist: Why did you start KNOWN SUPPLY?
Kohl Crecelius: I had been working in the ethical fashion space since 2007 (which wasn't even called this back when we started our first brand). After 10 years of operating our headwear brand Krochet Kids intl., we surveyed the space and the challenges facing the future of ethical fashion and its growth. We realized that there were a growing number of small, independent brands popping up and doing some great work in producing quality, sustainably-made items. However, all these efforts felt very isolated and we didn't see an easy bridge for more companies and organizations to jump into the space.
We decided KNOWN SUPPLY could fill this void by focusing on apparel and establishing ourselves as the brand that not only sells direct to consumer, but that provides ethical apparel for other entities through our basic apparel or custom projects. We believe this will help expedite ethical fashion as a whole, and most importantly to us, the opportunity for shoppers to meet the people behind their products.
Eco-Stylist: How did you personally get into sustainable fashion?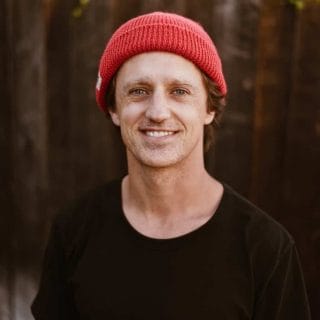 Kohl Crecelius: I got into this space in a very roundabout sort of way.
My friends & I initially saw product creation as a tool to provide economic empowerment opportunities to women and communities in the developing world.
We started our first empowerment project in Uganda in 2007, which coincided with our brand Krochet Kids intl. We knew how to design and make crocheted headwear, so we started by teaching women in Northern Uganda this skill and employing them to make hats for our brand.
It was only from here that I learned more about the global fashion industry and how dark its methods really were. Unbeknownst to us at the time, we were actually pioneering the future of what ethical fashion could look like.
Eco-Stylist: What does sustainable mean to you?
Kohl Crecelius: The common mistake I see in the general sustainability conversation is that people are only focused on environmental impacts. To me, sustainability has just as much to do with the human inputs as it does the material inputs. Many of the things we purchase–and especially clothing–are manufactured and handled by human hands.
We can't stand behind the label of "doing good" if our products are organic, but aren't providing fair wages to the person who made it.
And yet, this is what's happening constantly today.
Eco-Stylist: Where does KNOWN SUPPLY manufacture its clothes?
Kohl Crecelius: We continue to work with supplier operations that we helped found in Uganda and Peru through a direct trade relationship. These partners are making the majority of our accessories. Our apparel is made in Fair Trade Certified production facilities in India. The Fair Trade certification has been a great new way for us to continue to deliver on our promise of empowering employment, while being able to operate at a larger scale.
Many people don't realize it, but the Fair Trade certification is a relatively new opportunity in the apparel and fashion space.
It wasn't even around when we started our first brand.
Eco-Stylist: Why is transparency important to you?
Kohl Crecelius: Transparency is everything to me for one main reason: people won't want to change things they don't understand and they won't understand things they cannot relate to. Our whole brand is built on the idea that you should be able to know WHO made your clothes. If we as shoppers can see the humans behind our purchases, and we can empathize with all we share in common, we believe our purchases will be made with this in mind.
Empathy has the power to shift behavior in a way that statistics simply can't.
Eco-Stylist: Which one KNOWN SUPPLY garment is your favorite, and why?
Kohl Crecelius: I'm going to cheat and say two…
I wear the red Brady beanie from Krochet Kids intl. everyday (which is a brand of KNOWN SUPPLY). Our organic cotton unisex t-shirt in black is the other staple in my closet. Simply put, these make up my everyday style.
Eco-Stylist: What's coming next for KNOWN SUPPLY?
Kohl Crecelius: 2020 is going to be an incredible year for the brand. We are rolling out a number of new products both for our online shop, as well as our B2B partners–or as we like to call them #KNOWNSUPPLIERS. Visit the SUPPLY HOUSE to learn more about how you can access bulk orders and these latest releases.
Eco-Stylist: What excites you about the future of sustainable fashion?
Kohl Crecelius: You can really see the movement accelerating at a pace that is incredibly fast compared to the conversations taking place 10, or even 5 years ago. I look forward to the ubiquity of sustainable fashion, but
I think we should all be more cautious of the claims surrounding "sustainability". The more it is popularized, the more corporations will be looking for ways to ride that wave, albeit in inauthentic ways.
*Kohl Crecelius is the CEO and co-founder of Eco-Stylist approved brand, KNOWN SUPPLY. KNOWN SUPPLY is re-inventing clothing in a way that dignifies the people who make our clothes.
Who's Next?
At Eco-stylist we want to support an industry that allows for individual creativity and expression, while also working with the people–not against the people–who make our clothes. How could fashion make you feel your best if you know there was underlying harm caused to make it?
That's why we're highlighting brands with great style and great stories. Eco-Stylist approved brands give you the comfort of knowing your clothes were made ethically and in a more environmentally responsible way. Furthermore, they're helping to drive change in the industry.
In order to keep this conversation going let us know which ethical brand we should interview next. Vote in the comments and we'll pick one brand for an upcoming article!

Garik Himebaugh is the founder of Eco-Stylist, the go-to resource for ethical clothing. He's also an international speaker on all things sustainable fashion. Garik loves coffee, climbing, and clothes.