When it comes to dressing like you give a damn, you probably spend a lot of time thinking about your buying habits. After all, everything we buy makes an impact, so it's important to make sure that impact is good. But our commitment to sustainability only begins with our purchasing power … it doesn't end there.
The next step of dressing like you give a damn? Taking care of your clothing.
Did you know making your clothes last an extra 9 months can reduce their carbon, water, and waste footprint by up to 30%?
Talk about a positive impact! You may wonder, then … how do you take care of your clothes?
This guide is here to help you do just that.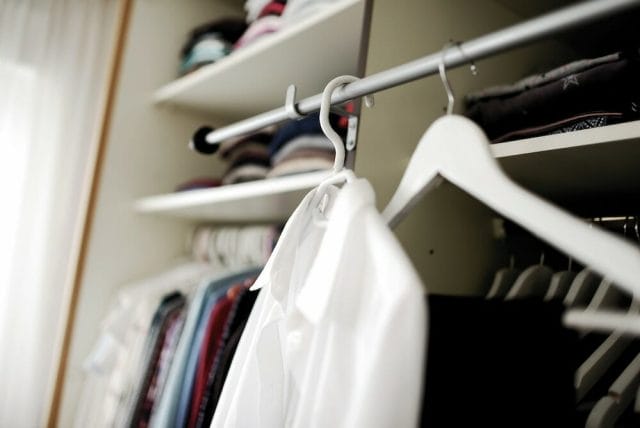 1. Store Your Clothes With Care
If you reach for a wire hanger each time you put away your laundry, it may be time to rethink your habits. Not all clothes should be hung up, but for the ones that should (think jackets, blazers, dress pants, button-down shirts, clothes prone to wrinkling, etc.), it's best to use wooden hangers. They provide more support to your clothing, helping each piece maintain its shape long term.
Save space in your closet by folding and storing heavy sweaters and knitwear in your dresser. Hanging these pieces can cause them to stretch or sag. Not a good look!
2. Wash Less and As Directed
First and foremost, follow the care instructions for your garments. These can usually be found on a tag on the side or bottom of your clothing, and they let you know the best way to care for your garment … machine wash cold or hand wash only, for example. Some pieces of clothing are higher maintenance than others, and care instructions should be considered before you buy. 
Chances are good you can get away with washing your clothes less often–and with less detergent–than you do right now. A good rule-of-thumb is to wear a piece of clothing two or three times before throwing it in the laundry, unless it's visibly dirty or starting to smell. This will help preserve both color and fabric quality. Some garments, like jeans, can go even longer between washes, while others, like socks, should obviously be washed with each wear.
When you do wash your clothes, try turning your t-shirts and dark-colored garments inside out. This will keep them from fading as quickly and help prevent cracks from forming in the print on your tees.
Finally, check out our zero-waste laundry hacks for tips on how to make the entire process more sustainable from start to finish.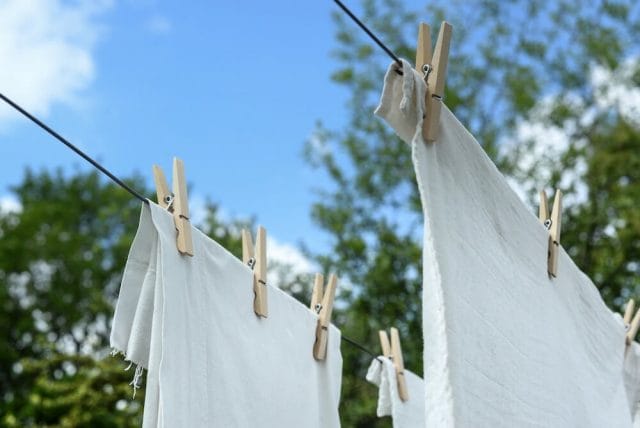 3. Air Dry Your Clothes When You Can
On top of saving money and being more environmentally friendly, air drying is actually better for your clothing. An electric dryer can shrink your clothes, and high heat and tumbling cause them to wear down more quickly (which explains the fuzz in your lint trap).
Most of us probably don't have access to a clothesline, but buying a drying rack online is a great and affordable alternative. Just be sure to use a flat drying rack for sweaters and heavy knits, so they don't start to sag. If you're drying your clothes inside, you can use a fan to speed up the process … but be sure to plan to wash clothing you'll need in advance, as it will still take longer than an electric dryer.
4. Remove Stains Promptly
From red wine to spaghetti sauce … we've all been there. The first thing to remember with stain removal is to act fast. The longer you wait, the lower your chances are of removing a stain from your favorite pieces of clothing.
Use a cold, wet cloth and citrus-based dish soap on the stain, then throw the garment into the washer. Allow the garment to air dry to make sure the stain has been completely removed. If it's still there, you can wash it again. Don't apply heat–via iron or electric dryer–until the stain is completely gone.
5. Learn How To Mend Your Clothes
Sometimes, even if you take good care of your clothes, a button may fall off or your shirt may get torn. When this happens, it's helpful to know some mending basics. Even beginner-level skills will save you money and allow you to wear your clothes for as long as possible.
Tutorials for sewing buttons, fixing torn seams, reattaching straps, and more can easily be found on Youtube. Slow Stitch Club, for example, has videos on darning and mending clothing, while Gentlemen's Gazette offers tutorials on various ways to tailor, sew buttons, and take care of your clothes. Of course, a simple search in Youtube should show you numerous videos on anything you need to learn to do.
For more complex fixes, you can always take your clothing to a tailor. When it comes to shoes, we recommend sending them to businesses that specialize in shoe repair, like Potter & Sons or Goods & Services.
6. Get It Tailored
If you're not a fan of the way a piece of clothing looks on you, chances are you won't wear it very often. If you love a garment but don't love the way it fits your body, consider getting it tailored.
Tailors are able to adjust sleeve length, fix zippers, hem pants, change the way a dress drapes … and more. People often toss an item rather than tailor it, but consider that using a tailor is the only way for a truly perfect fit—so it's worth the investment!
You can easily find a local tailor by searching for them online. We recommend vetting a new tailor by asking them to do a simple alteration first–like hemming a pair of jeans. This will give you an idea of their work before you trust them with more complicated alterations. Online reviews can also be helpful when deciding where to go.
Not sure where to start? We recommend searching for tailors near you on Google Maps and picking one with good reviews.
7. Part Ways Responsibly
Of course, even if you take excellent care of your clothing, there will come a time when you're ready to let go of some garments. Don't throw your clothes in the trash, though–there are ways to dispose of your clothing without contributing to landfills. Luckily for you, we've created a guide full of ways to get rid of shoes and clothes sustainably, whether they're gently used or completely unwearable.
If the most sustainable clothes are the ones we already own, then taking care of those clothes is the icing on your eco-cake. Now you know exactly how to make your clothes last those 9 extra months (or longer!), reducing your carbon, water, and waste footprint by up to 30%.
We hope you find this guide useful as you continue on your sustainable fashion journey, dressing like you give a damn at every stage of your garments' life.
Celia Wiseman studied Communication and Creative Writing at the University of Iowa, and her growing interest in sustainable living led her to Eco-Stylist. In her free time she enjoys reading, writing, and making videos, as well as any other activity that allows her to get creative.