Refreshing your wardrobe, whether it be out with the old or in with the new, is like a breath of fresh air; liberating, cleansing even… but what about that underwear you've had for longer than you would care to admit? Those undershirts starting to yellow in the armpits? Those favorite pairs of socks thinning in the heel? Must I say that nagging bra with an exposed underwire that should probably be replaced?
Per the industry, the standard rule of thumb is to refresh undergarments every 6 months to one year, depending on the wear they receive. That being said, it might be time to restock those neglected underwear and sock drawers.
Eco-Stylist believes in rejuvenating your drawers with undergarments that not only look and feel great on, but are manufactured and distributed both ethically and sustainably. Our certified brands put an emphasis on how their clothing is made, as well as how the people making them are treated.
From the following list of brands, shoppers can purchase undergarments designed to make them (both him and her) look and feel great as a conscious consumer.
Ethical Underwear Brands for Him and Her (for Everyone)
Pact
Pact goes above and beyond by caring about the fabric they use and the means in which their products are manufactured. By saving water using organic cotton, avoiding the use of toxic chemicals that harm the environment, and offering features such as carbon offset shipping, give back box, and thoughtful packaging, Pact cares.
Shop men's boxers, briefs, undershirts and socks, or women's bras, underwear, and socks featuring holiday prints to neutrals at Pact.
Toad&Co
Toad&Co is a US based brand that excels in Sustainably Made. They have certifications to ensure safe chemical use, offer vegan options, use natural sustainable fabrics and recycled materials, and they sell used Toad&Co gear right on their website.
Toad&Co offers a range of women's and men's underwear including boxers, boxer briefs, bikinis, thongs, hipsters, and bralettes. Their underwear comes in a variety of colors, prints, and patterns, made with breathable materials like tencel.
Patagonia
Patagonia has undergarments for everyone to enjoy: from basics to florals, designed for your bed or the water. Patagonia shares their amassed wealth and gives 1% of their profits back in effort to preserve and restore the environment.
Patagonia ensures products are produced in safe, legal, fair, and humane conditions — striving to be transparent with where and whom they are doing business with.
Organic Basics
Organic Basics sets high standards for the quality of their products, the treatment of their workers, and their impact on the environment. You can see their commitment from paying living wages in the majority of their factories (in Portugal, Italy, Turkey, Austria, and Scotland) to using mostly sustainable fabrics to sharing their carbon emissions.
Organic Basics offers a large selection of women's bras, panties, socks, and tights, now available in extended sizing. They also offer men's boxers, boxer shorts, long johns, and socks. Organic Basics uses materials like organic cotton, tencel, and recycled nylon in their underwear.
Icebreaker
Icebreaker offers transparency into their supply chain and excels in Sustainably Made. The brand shares their water and CO2 footprint, uses more sustainable materials, and is committed to sustainable packaging.
Something unique about Icebreaker's underwear is that it is mostly merino wool based, with a focus on performance, breathability, and natural odor resistance. Icebreaker has a nice selection of briefs, boxers, and undershirts for men, and bras and panties for women.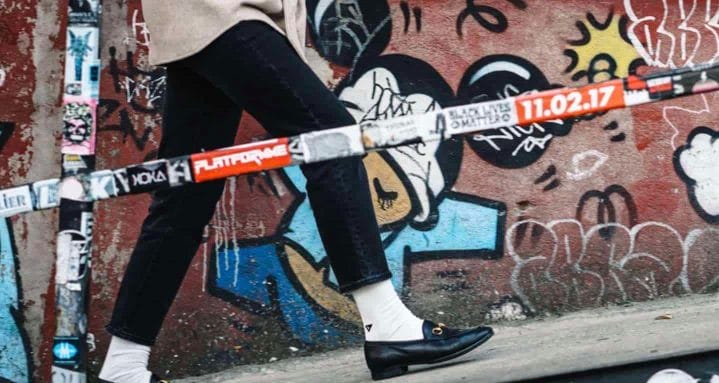 Arvin Goods
Arvin Goods is a certified brand that emphasizes the materials they create their socks with. Complete with unisex styles, colors, and patterns, Arvin's naturally dyed, recycled organic cotton socks are the most responsibly made socks in the history of socks; made for everyone.
Conscious Step
Conscious Step is a unique sock brand. Not only do they sell socks made of organic materials and certified Fair Trade, but they ensure every sock purchase supports a partnering organization and the communities they serve.
The cherry on top? They come in fun patterns that give a face to the cause each purchase supports, ranging from safe water usage, tree planting for cleaner air, and book donations as well as meals provided for children.
Ethical Women's Underwear Brands (Just for Her)
For Days
For Days is all about circularity and keeping clothes out of the landfill. While no brand is perfectly circular, For Days is off to a great start, diverting 2.4 million garments from the landfill to date. They take back any brand of clothing, of which most of the For Days brand clothes get recycled into new clothes, and most of the other brands they receive get resold or down cycled, staying out of the landfill.
For Days sells a wide selection of women's bras, panties, and lingerie from a range of brands. Something unique about their site is that they partner with and stock other brands they believe in, in addition to selling their own house brand.
Girlfriend Collective
Girlfriend Collective is all about body positive, eco-friendly clothing that's comfortable. Girlfriend Collective ensures ethical production with their SA8000 certification.
When it comes to underwear Girlfriend sports a selection of brans and panties in sizes up to 6XL. These intimates are made from recycled materials and are recyclable too!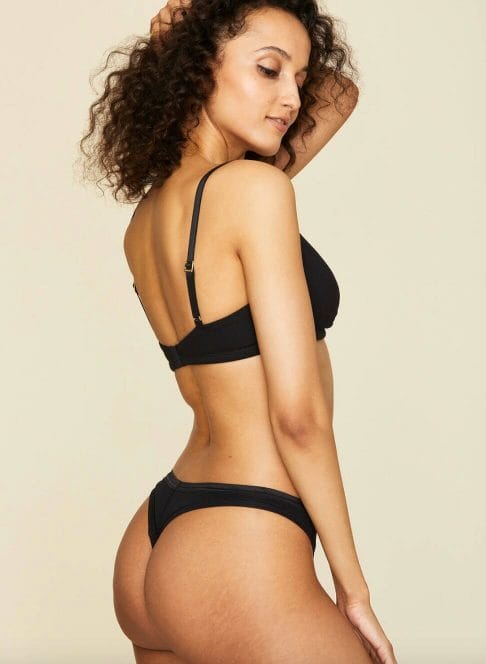 Knickey
Knickey is your one stop shop to refresh your undies and recycle your old ones. They offer women's underwear that is Fair Trade certified and made with non-toxic natural fibers.
When it comes to underwear Knickey offers a variety of options including briefs, bikinis, hipsters, thongs, and bralettes in many different colors. The prices are competitive and don't forget to send in your old undies for you're recycling—you'll even get a free pair!
Kotn
Kotn is like farm to table for your clothes, and now for your (women's) underwear too! They achieve this with transparency and direct trade to ensure fair prices across their supply chain.
Kotn's underwear includes bra, thong, bikini, and bralette options.
Ethical Men's Underwear Brands (Just for Him)
Colorful Standard
Colorful Standard offers basics, socks, and underwear in 48 different colors! They also plant one tree for every order placed.
When it comes to Colorful Standard's underwear they offer boxer briefs and socks in… you guessed it—48 colors.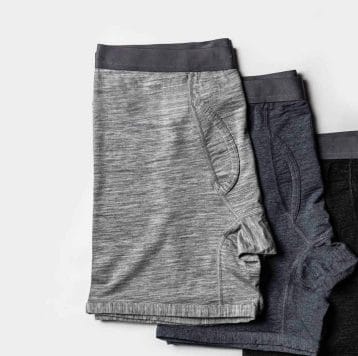 Taylor Stitch
Taylor Stitch designs high quality menswear built for the long haul. They offer transparency into where their gear is made and use predominately more sustainable materials.
Taylor Stitch has a small selection of men's underwear but don't sleep on their boxer briefs. They're soft, light, and made with breathable merino wool.
Ministry of Supply
Ministry of Supply has a host of certifications to help ensure more ethical and sustainable clothing production. They are also Climate Neutral certified and have a circular line called Aero Infinity which they are able to take back, recycle, and turn into new shirts. Something unique about their underwear, and really all of their clothes, is that they're engineered with performance in mind.
When it comes to Ministry of Supply's underwear they offer boxer briefs and socks in a variety of mostly cool or neutral colors. The underwear is made from tencel and merino wool, and designed to be super breathable.
Looking for more ethical brands?
Refreshing your undergarments is all too often forgotten. With the above Eco-Stylist certified brands, shoppers get all the rewarding benefits of sustainability meets comfort.
To shop Eco-Stylist for more wardrobe refreshening pieces that match your values, use our Sustainable Brands Directory. For more underwear brands just filter our directory by clothing—>underwear 🙂
For more sustainable underwear
Check out our curated shop:
*Article updated 5/6/23.
Eco-Stylist is reader-supported. If you make a purchase using our links, we may earn a commission. We only feature fashion brands that pass our sustainable brand criteria. Learn more here.
Emma is a writer at Eco-Stylist. She studies journalism and mass communications at the University of Iowa. Emma's love for sustainable fashion was sparked by thrifting with her mom throughout her childhood.