A living wage is essentially a subsistence wage: enough to provide the bare necessities of life. The living wage varies by country and even by state as it largely depends on the standards of living within a geographic area.
It is important to note that the minimum wage is not the same as the living wage; while the two may be comparable in some countries, in most countries the minimum wage is below a living wage, including in the US.
The living wage issue was first recognized in America, when it was noticed that some people living below the poverty line were actually employed in full-time, minimum wage paying jobs, but still could not fulfill basic needs.
So what does a living wage have to do with the clothes in your closet? The fashion industry employs millions of people but only around 2% of those people earn a living wage.
Eco-Stylist emphasizes living wages because many fast fashion brands are guilty of not providing it for their people, making it nearly impossible for makers to support themselves and their families.
What is 'Fast Fashion'?
Fast fashion is like fast food: cheap goods produced quickly for mass market. Some common fast fashion brands are Fashion Nova, Shein, Victoria's Secret, and Nasty Gal, and Zara (just to name a few).
The way fast fashion works is by utilizing large amounts of workers in factories all over the world, in order to meet the demands of their customers. The problem with their methodology is that these workers are often paid much less than the living wage and sometimes barely the minimum wage.
This is not because it is too costly or difficult for fast fashion brands to provide fair wages. For example, the profit margins for a typical apparel store are around 7%, however the profit margins for fast fashion brands are almost 16%. This means fast fashion brands are making more than double the amount of a typical store.
The Problem With Fast Fashion
Many people (myself included) are guilty of buying from these fast fashion brands at some point in their lives because they are widely accessible, and typically affordable. However, while the majority of the population buying from these brands do not reside below the poverty line, many of the employees for these brands do.
The devastating takeaway here is that while fast fashion brands are making double the profit, they are choosing to underpay employees, allowing people to be employed, while simultaneously still living under the poverty line.
For example, a woman working in a fast fashion factory in California, claimed she made merely $270 in a week or $4.66 an hour. This is why sustainability in fashion is a conversation of human rights for employees (literally sustaining a person's life), as well as the sustainability of the manufacturing and materials used.
What is Sustainable Fashion?
Sustainable fashion is a movement within the fashion industry that is working towards bringing brands to a higher level of integrity. This movement, led by consumers and sustainable brands, is asking brands to be more ecologically friendly and to work towards social justice within the workplace.
Many of these brands have created their own organizations in order to bring attention to the problems that are happening within the fashion industry. Activism and advocacy are just as much a part of these brand's mission as fashion is.
Let's explore some sustainable brands that are leading the conversation on living wages.
Brands That Pay Living Wages
Adelante was "born out of a realization that capitalism can be both the cause of and the solution to our greatest social challenges." They not only pay their makers above a living wage, but they also developed the Living Well Line.
The Living Well Line is a methodology that allows for the living wage to be calculated for any city in any part of the world. This method combines World Bank data with individual interviews with the craftsman in order to define living well within the local context.
To support their mission check out their beautifully crafted handmade shoes.
Patagonia is a leader within the sustainable fashion world. They are a certified B corporation, member of the 1% For the Planet, and a founding member of Sustainable Apparel Coalition.
Patagonia promotes fair wages by ensuring their factories are in compliance with Fair Labor Association policies. Two-thirds of Patagonia's manufacturers are Fair Trade certified and if a supplier's wages don't meet the needs of the workers, they must work with Patagonia to create a fair wage.
Check out their latest activism to learn how you can get involved.
Known Supply focuses on sustainability in fashion by working towards dignifying the people who make our clothes. Besides using Fair Trade factories, Known Supply has each piece of their clothing signed by the maker.
You can then learn more about the person who made your clothes from their website. Check out their collection to support their work.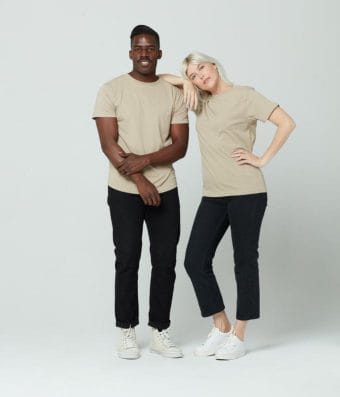 Get Involved
The living wage not only dignifies employees, but also brings a humanizing factor into the fashion industry. Many sustainable brands are leading on this front.
After Baltimore implemented the living wage, it was determined that the costs to the city were trivial whereas the benefits were notable. Some people felt the effects strongly, stating "I feel self-worth more. I feel good about [my job]. I can pay my bills. I can get things extra, more than I could get before. It's also enabled me to stop my second job."
While shopping, it is important to remember that not only does the quality of the product matter, but the people who are making and producing the clothes behind the scenes. Instead of feeling guilty about your purchases, start making better decisions.
3 Ways to Take Action
Check out Remake's free Made in America short film, which highlights the importance of paying employees a living wage in the US and beyond
Looking for more brands that are paying their employees fair wages? Eco-stylist's brands page is a great place to find brands that are both working to save our planet and paying employees fair wages, all while creating great fashion!

Catherine McCourt is a content writer at Eco-Stylist. She studies English, Creative Writing, and Philosophy at the University of Iowa. When she's not writing about sustainability in fashion, Catherine enjoys painting, journaling, and much needed downtime.