It's no secret: money matters.
You might not think "finance" when you think about sustainability, but the banks we support, the companies we invest in, and the day-to-day ways we spend our money all have a bigger impact than you may realize. Money matters … and so does the way you manage it.
We're here to help you understand why.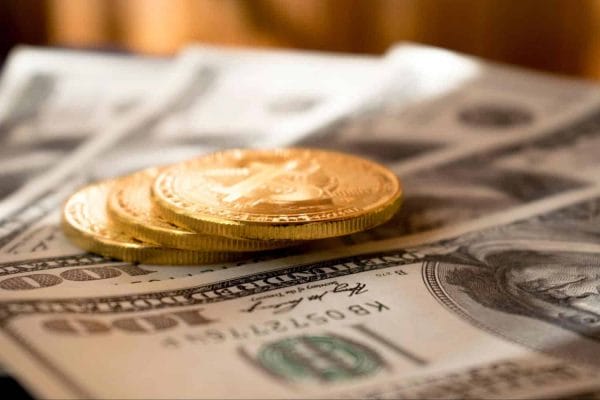 Let's start by talking about banks.
You might wonder why it makes a difference which bank you choose. After all, the money you deposit sits in your account, doing no harm and no good until you take it out and spend it. Right?
Not quite.
To understand why you should choose your bank carefully, you first need to understand how banks make a profit. Here's one way, as simply as possible:
After we deposit our savings into a bank, the bank invests that money into companies through loans. As companies pay off their loans to the bank, they also pay interest. That's where the profit lies—the interest. It benefits banks to invest in companies often … and they don't always make the most ethical choices about where they're loaning your money.
When banks loan money to factory farms or fast fashion companies, they're helping these businesses survive. Over the past five years alone, $2.7 trillion has been invested into fossil fuel industries by big banks. In other words, they're using the money you put into your savings to actively support climate change. To solve the climate crisis, it's crucial this flow of money is cut off.
Thankfully, some banks are starting to do things differently. While the goal of traditional banking is "profit at all costs," the goal of sustainable banking is different. Yes, profit is still a concern (banks are businesses and need to make money to survive, after all!), but sustainable banking also aims to meet important objectives like investing in clean energy and providing financial inclusivity to disadvantaged areas.
These are some green banks:
Now you can't say you don't have options. Consider pulling your savings from Wells Fargo or Bank of America, and putting it in a bank that is truly working to make a difference.
For more on banks check out our guide to green banking.
Next, let's talk about green investing.
Now that you know how banks invest your money … what about how you invest your own money?
If you don't have much experience in investing, it can seem overwhelming—but investing is a relatively simple way to contribute to positive change in the world while growing your own wealth. Sounds like a win-win situation to us!
Because you're providing the companies you invest in with financial support, it's in their best interest to keep their shareholders (that's you!) happy. By only investing in companies who align with your values and pulling your money out of companies who aren't, you're sending an important message about what's important to you. When large numbers of people start to make this switch, it really makes a difference.
This is where ESG comes in. Short for "environmental, social, and governance," ESG is a measure of the sustainability and ethical impact of any given company. Companies who comply with ESG standards are committed to conducting sustainable business. We won't tell you where, exactly, to invest your money, but we'll point you to some socially responsible investing tools and platforms for guidance.
Resources for investing sustainably:
Finally, let's talk about how you spend your money day-to-day.
We're generally taught to be mindful of how we spend our dollars—don't spend more than you make, put a certain amount into savings each month, etc.—but we also need to be mindful of where we spend our dollars. As a consumer, you hold more power than you probably realize.
In her book Buy the Change You Want to See: Use Your Purchasing Power to Make the World a Better Place, Jane Mosbacher Morris writes, "We can all improve people's lives simply by changing where we buy our cup of morning coffee … We can pay attention to where our products come from, who made them, and how." Each dollar you spend supports something … so support sustainable practices. Support the environment. Support the people around you.
Here at Eco-Stylist, we make it easy to shop your values when it comes to fashion. Our sustainable brand directory connects you to brands who really care—make a purchase from any of our approved brands, and you're supporting fair labor, transparency, and sustainably made clothing.
Beyond spending your money on goods and services, also consider adding donation money into your budget. Think through the issues you care about most, whether that's climate change, poverty, racial justice, LGBTQ+ rights, or anything else, and try donating a set amount of money toward that cause. Even if you only have $15 to spare each month, it adds up and makes a difference. You'll feel good about the way you're spending your dollars!
So there you have it.
The way you manage your finances matters. Put your savings in sustainable banks, invest in sustainable companies, and make sustainable purchases. The way you spend your money sends a message, and—we promise—the corporations around you are listening.
Want to learn more?
Investing more sustainably is a big topic. If you'd like to learn more, check out this episode of the How to Save a Planet podcast:
This post contains affiliate links, which means if you make a purchase, Eco-Stylist receives a small percentage of the sale. We only recommend brands we truly believe in. Support our work by supporting them!
Celia Wiseman studied Communication and Creative Writing at the University of Iowa, and her growing interest in sustainable living led her to Eco-Stylist. In her free time she enjoys reading, writing, and making videos, as well as any other activity that allows her to get creative.