Eco-Stylist is reader-supported. If you make a purchase using our links, we may earn a commission. We only feature fashion brands that pass our sustainable brand criteria. Learn more here.
Footwear can make or break an outfit. That being said, there is certainly such a thing as "too many shoes." After all, we're trying to make sustainable fashion decisions. Consider this: instead of mindlessly buying each new trend that hits the market, invest in a few versatile pairs of shoes that will withstand the test of time.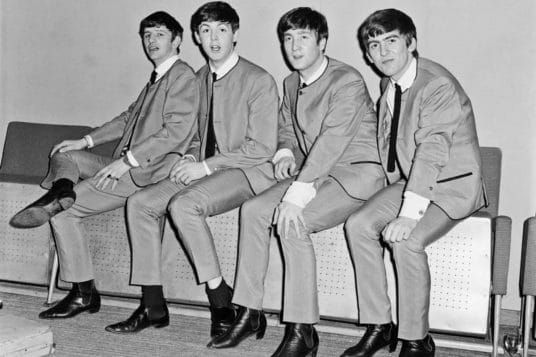 A Brief History of the Chelsea Boot
Enter the Chelsea Boot. According to Startup Fashion, this style was first created in the Victorian era by Queen Victoria's personal boot maker. The queen herself wore the boots daily, and they secured their place as a prominent fashion trend from the 1840s to the beginning of World War I.
After a bit of a hiatus, Chelsea boots re-entered the limelight in the 50s, and over the next couple of decades, they were sported by the Beatles and Stormtroopers alike.
Now, in 2020, men and women are still wearing Chelsea Boots, and there's no question as to why. Not only are they comfortable and durable enough for all kinds of weather, but they're also stylish and easy to pair with a wide variety of outfits. Talk about timeless versatility!
Nisolo All-Weather Chelsea Boot Review
That being said, ethical Chelsea Boots aren't necessarily cheap, and you might be hesitant to make the jump if they're not already one of your tried-and-true wardrobe staples. This is where Nisolo comes in. As a writer here at Eco-Stylist, I've been given the chance to review Nisolo's Chelsea Boots.
They're high quality, easy to put on, and they look great with many different types of outfits. For these reasons I think that they're a great option for people who are interested in Chelsea Boots and looking to purchase their first pair.
One of the best things about Nisolo is that they offer a "try at home" option for people who prefer to try on a pair of shoes before committing to them. If you're concerned about the way the Chelsea Boots will fit, or if you just want to make sure that you're able to match them to enough outfits (to ensure they're worth the investment), Nisolo gives you seven days to try them on at home before making your decision.
If you decide to send them back, no worries. You won't be charged. Nisolo authorizes your card when you order the shoes, but they don't charge you until the seven day trial period is over.
How Can Nisolo's Chelsea Boots Be Styled?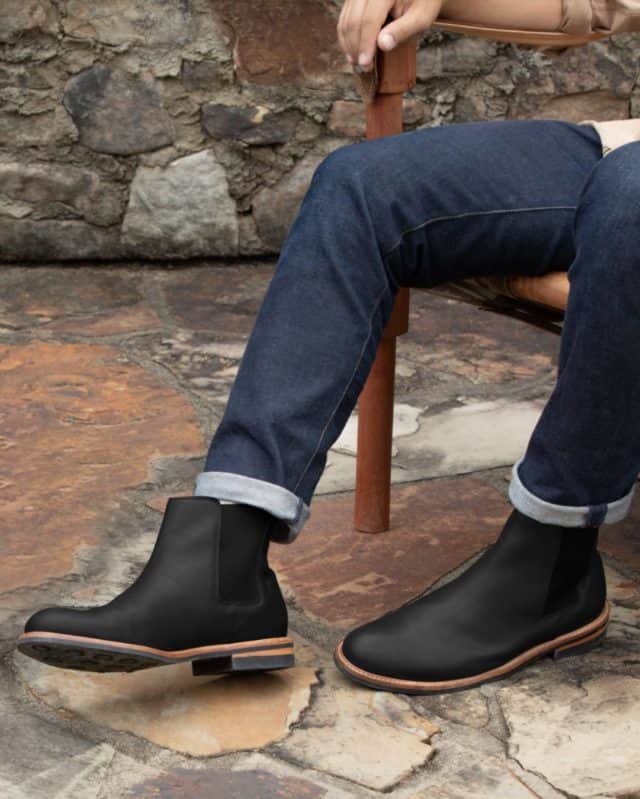 Chelsea Boots are notoriously easy to style, which is at least part of the reason they've stuck around for so long. There are many variations on this type of boot, but they're all ankle-high and feature an elastic side panel. Unique to this variation of Chelsea Boots, however, is the fact that Nisolo's are sleek, water-resistant, and feature a thin sole.
They come in three neutral colors–black, brown, and brandy–making them easy to coordinate with clothing you already own. These Chelsea Boots are stylish, but they're not a major statement piece, meaning that rather than designing your outfit around them, they work to pull an outfit together.
Think of them as "the cherry on top"; if you have an outfit that's already working well, these boots can be used to create a clean finish. Pair them with nearly any pair of jeans, pants, or chinos, and you'll likely have a cohesive look. Throw on a blazer to dress them up, or stick to a graphic t-shirt to dress them down.
Nisolo Chelsea Boot Review: Video and Try-On
Check out Eco-Stylist founder, Garik's video review for some visual examples of how these boots can be worn:
Chelsea Boots should be easy to integrate into your wardrobe no matter your personal style.
What Makes Nisolo Sustainable?
Here at Eco-Stylist, all of the brands we partner with have passed our sustainability test, and Nisolo is no exception. Of course, "sustainability" is a broad term that encompasses a number of different categories, from maker well-being to leadership in the ethical fashion sphere, and each of our brands practices sustainability in different ways. So what is Nisolo doing to make a difference?
First, they're committed to paying living wages to their employees at each point in their supply chain. They helped start the Lowest Wage Challenge, which aims to hold brands accountable for paying living wages to all of their employees; if you care about sustainable fashion, you probably already know that the fashion industry is notorious for taking advantage of its workers. As a part of this challenge, Nisolo practices transparency by publicizing their lowest wage, and they're asking other brands to do the same.
Nisolo is also concerned with the amount of landfill waste that has been exacerbated by fast fashion, which is why they've collaborated with Soles4Souls as part of their Shoe Reclamation Program. As they state on their website, "85% of our clothing and shoes can be recycled or reused, yet 99% ends up in landfills." If you have any used or worn shoes that you no longer need, you can send them to Nisolo to extend their life and prevent them from being dumped in a landfill.
When it comes to the materials that they use, Nisolo has some room for improvement. Most of their shoes are made with leather, including the Chelsea Boots, which doesn't have the smallest environmental footprint.
On the other hand, leather is an extremely durable material, and Nisolo's leather is deforestation free, so you know it's not connected to deforestation in the Amazon. It's also LWG certified (better tanning practices) and Nisolo as a brand is Carbon Neutral certified.
Overall, we applaud Nisolo for the steps they've taken to make a positive impact on the fashion industry in particular and the world in general.
Final Thoughts: Nisolo All-Weather Chelsea Boots Review
Beyond the fact that they're sleek and stylish, Nisolo's Chelsea Boots are comfortable, easy to wear, and could effortlessly fit into any type of wardrobe. They're made by a company that cares about their employees and the environment, so you can feel good about any decision you make to buy from them.
If you're looking for an easy-to-style pair of boots that you'll be able to wear for years to come, these Chelsea Boots are well worth your consideration. After all, if history repeats itself, people may be wearing Chelsea Boots well into the next century.
Editor's Note: Javier Chelsea Boot Vs. All Weather Chelsea Boot
Nisolo originally rolled out this style of men's chelsea boots in 2021 as the Javier chelsea boot. The style was then later updated to the all-weather chelsea boot by Nisolo, which is the version you can purchase today.
Nisolo Chelsea Boots for Women
Looking For More Ethical and Sustainable Shoes?
Check out our other resources:
Celia Wiseman studied Communication and Creative Writing at the University of Iowa, and her growing interest in sustainable living led her to Eco-Stylist. In her free time she enjoys reading, writing, and making videos, as well as any other activity that allows her to get creative.