Eco-Stylist is reader-supported. If you make a purchase using our links, we may earn a commission. We only feature fashion brands that pass our sustainable brand criteria. Learn more here.
Shoes are one of the most important parts of a man's wardrobe. Not just because they protect our feet or because it's literally the last thing you put on.
They are the finishing touch that can make or break your whole outfit.
Done right, it looks dapper.
Done wrong, it can look… well, pretty strange. I'll show you what I mean.
Some Do's and Don'ts of Men's Footwear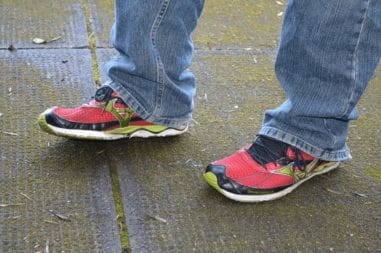 First off, running shoes with jeans isn't a great look. In fact, please wear your running shoes for running, and no other time.
Switch instead to boots, chukkas, or monotone sneakers and you'll upgrade your look by 100%. You might even receive some compliments.
Then there's the importance of matching your kicks to your socks and your pants. Done right this looks suave, but done wrong it just looks off.
Notice these are brown dress shoes with black socks and grey shorts. Not exactly matching.
If you insist on wearing dress shoes with shorts, lose the socks or go with no-show socks.
If you switch to pants (smart move) then the secret is to match the socks to the shoes or to the pants. In this case, grey or brown socks would look a whole lot better than black.
The next question I hear a lot is do I need a closet full of shoes? You absolutely don't need shoes in every color of the rainbow.
Now if you struggle with any of this I have great news for you. Shoes are pretty simple and we're about to break it down into some easy to follow tips so you can look dapper and move on with your day.
Let's start with the shoes you do need.
Your Essential Ethical Shoe Collection
Truth be told, you only really need 5 pairs of shoes to crush your wardrobe day in and day out. Spoken like a true minimalist.
We'll explore which 5 shoes are optimal, in which colors, and how to wear them. You'll also get shopping suggestions from high quality ethical shoe brands that put social practices and sustainability first.
You'll look great and be making a positive impact. Sounds like the consummate gentleman to me.
Let's dive in to the five shoes you need in your wardrobe, and how you can wear them.
1. Ethical Monotone Sneakers for Men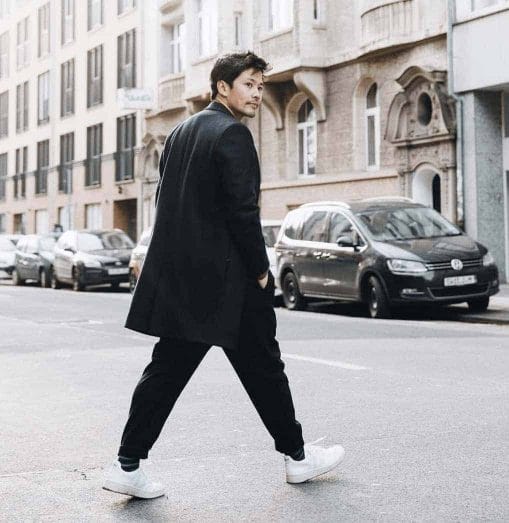 Sneakers are a staple on any man's shoe rack. They're comfortable, good for casual outfits, and great for city walks.
They can also be a whole lot more. With a good pair of monotone kicks, you can look like an adult and dress them up or down for a cool look that's comfortable as hell.
Let's dive into a couple examples of outfits with sneakers. First there's the dressed down look.
How to dress down those slick kicks.
Sneakers look great with a casual outfit like a pair of jeans and matching socks. You can also wear them with shorts and no socks or no-show socks for a look that's equally golden.
How to dress up those slick kicks.
The great thing about single color sneakers is you can actually dress them up too. Here you see some khakis with a long sleeve shirt and some sneakers, and it looks fantastic.
You could also wear this with a button up shirt, or even jeans, a button up, and a blazer. Bet you didn't know your sneaks had so much potential.
Now where are you going to find ethical and sustainable sneakers that look this good? I'm glad you asked.
Here's 2 options you'll absolutely love: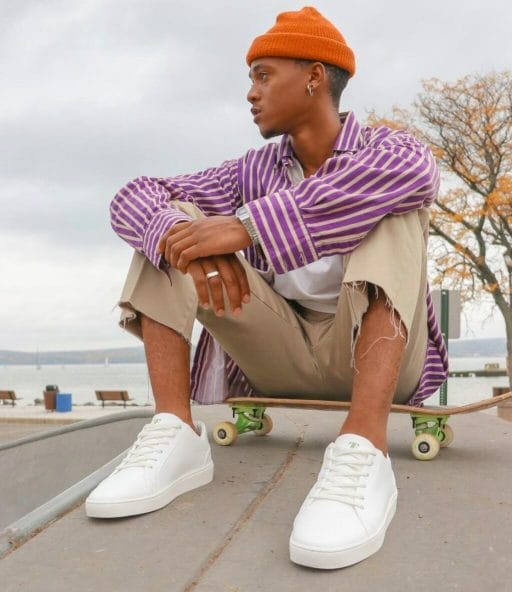 White Thousand Fell sneakers go great with black pants, jeans, white pants, or shorts. Heck, white shoes look good with most colors.
Why trust Thousand Fell?
Thousand Fell is Eco-Stylist Certified and one of the only shoe brands with a circular business model that encourages you to send back your old worn out sneakers for recycling. See our brand rating to learn more.
These kicks come in this nice tobacco color and look great with jeans, shorts, or khakis. They look especially slick with white, blue, or grey pants.
Why trust Nisolo?
Nisolo is committed to paying workers a living wage and is a certified B Corporation (a certification given to social good companies). See our brand rating to learn more.
2. Classy Sustainable Loafers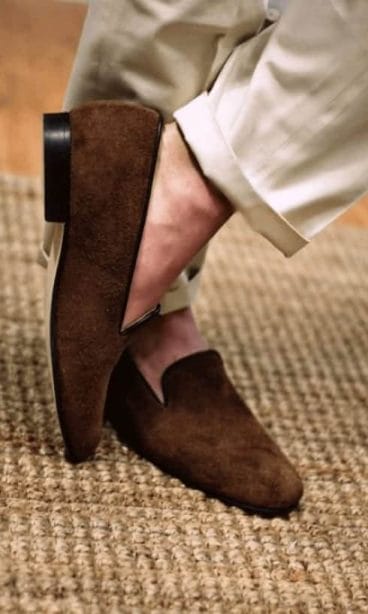 Loafers are comfortable, stylish, and classy. Perfect for going out on the weekends, the more relaxed business meeting, or the ambitious entrepreneur.
They look great with khakis and can be suitable for anything from business casual to full professional. Slide into a pair and give off the air of a true gentleman.
How to dress up your loafers.
Look how nice loafers look with dress pants and a dress shirt. Wear them with socks for a more professional look, or without socks for a more stylish and slightly more casual look.
How to dress down your loafers.
And speaking of versatility, look how the loafers dressed up this semi-casual look of jeans with a button up. With the loafers he looks ready for a date, and if you switched to sneakers he'd look ready for a nice walk by the lake.
Here's two ethical loafers you'll love:
These high quality handmade shoes have a more contemporary look to the loafer. The Luca's come in 5 different colors, so pick the color to suit your wardrobe.
Why trust Adelante?
Not only do these shoes look fantastic, they're handmade in Guatemala by craftsman who are paid an actual living wage, measured based on the country where the manufacturing is done. Adelante shoe company is an industry leader when it comes to living wages. See our brand rating to learn more.
These relaxed yet elevated slip on shoes come in 7 different colors and textures. Pick the color that matches what you'll wear them with most.
If you're a fan of black or grey dress pants, black is a safe bet. If khaki, blue, and white are more your thing, pick a shade of brown instead.
3. Sustainable Dress Shoes Men's Oxfords
It goes without saying that every man needs a great pair of dress shoes, and that means oxfords. Versatile for weddings, fancy dates, or board meetings, this staple tells your peers that you're dapper and you know how to dress for the occasion.
While these are mostly for dressing it up, you can dress these down too, almost exactly like the loafers.
How to dress down your oxfords.
Oxfords can give a classier look to an outfit that otherwise teeters on business casual or even casual. Khakis or jeans with a button up becomes a whole lot more sophisticated when finished with the oxfords.
How to dress up your oxfords.
Dressing up oxfords needs no explanation. It's the go to scenario for these classy kicks.
They look great with suits or tuxedos, just make sure they match!
We recommend getting these in brown or black, depending on your suit color. This is the one shoe where you may need both colors if you have a variety of suits that you wear often.
The safer bet is of course black, which goes great with black suits, grey suits, white suits, and matches many occasions. Brown oxfords look fantastic with blue suits, and also work great with grey or white suits.
Pro tip: your socks should match either your shoes or your pants. If they match neither you are in trouble.
Here's 3 ethical dress shoes for you to ponder…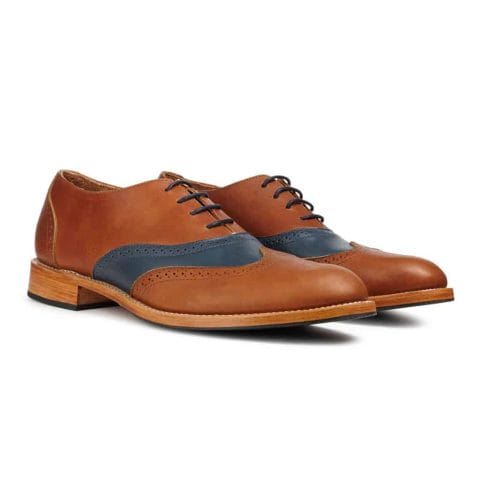 The Clasico comes in 6 colors, two of which are two-toned. You're sure to look sharp as the wing tip design gives it a classy edge.
These shoes are ethically handmade in Guatemala by Adelante.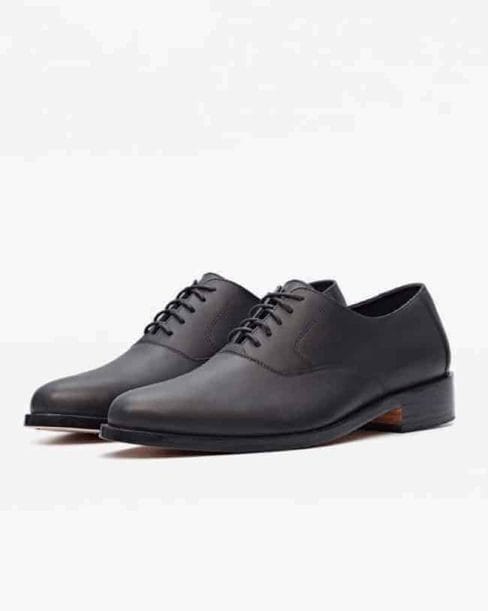 This simple classic design is perfect for the black on black look and minimalist aesthetic. Comes in 4 neutral tones.
These kicks are ethically handmade in Peru by Nisolo.
The Marco comes in 6 different colors, including a two-toned option. If that's not enough, you can even custom design your own color!
4. Ethical Men's Chukkas for the Change Maker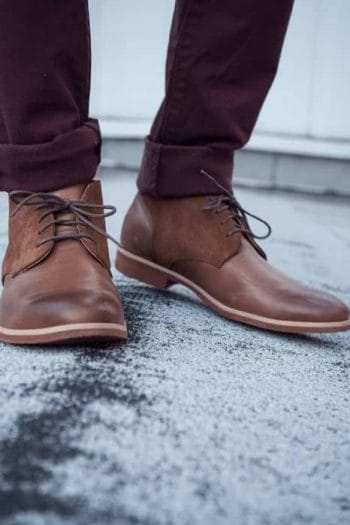 Chukkas are a must have for those in between outfits. You can wear them out on weekends and look dapper, or impress all your coworkers when the dress code is business casual. Great for preppy and hip looks, these will show people you mean business.
Clean, youthful, and elegant, these will polish the right outfit. Not good with shorts, but these kicks look awesome with jeans or khakis.
Here's 3 ethical chukkas for your consideration…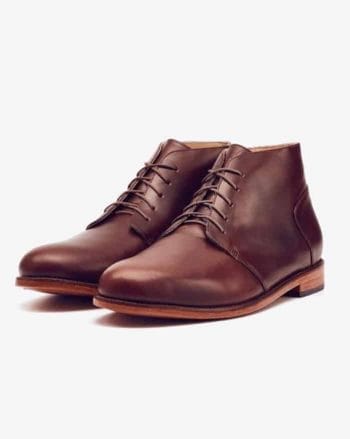 These stylish chukkas come in five neutral colors and will compliment your jeans perfectly.
Handmade in an ethical factory in Peru by Nisolo.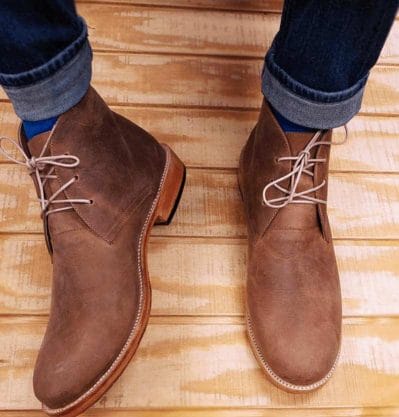 The Santiago comes in 3 neutral tones and looks classy as hell. You'll be sure to get compliments with these kicks.
Ethically handmade in Guatemala by Adelante.
The only weatherproof pair in this lot, they're made of waterproof suede. Comes in just one color but looks really sharp with jeans and khakis alike.
Why trust Taylor Stitch?
Taylor stitch makes quality men's staples that look great and are built to last. These particular shoes are handmade in Leon, Mexico. See our brand rating to learn more.
5. Sustainable Boots for the Man Who Gives a Damn
Boots are fantastic for the casual grown up look. Show your peers that you know better than to wear running shoes with everything.
You'll look sharp, taller, and ready for whatever comes your way. Amazing with jeans, these look tough, quality, and worthy of a statement.
In fall and winter months, these could be your go-to shoes.
Here's 2 ethical boots that look awesome and stand the test of time:
These ethically handmade boots are made to order in Guatemala. Look great with boots that are true to your size.
The quality of construction ensures they will last for years and you can resole them when the time comes so they last even longer!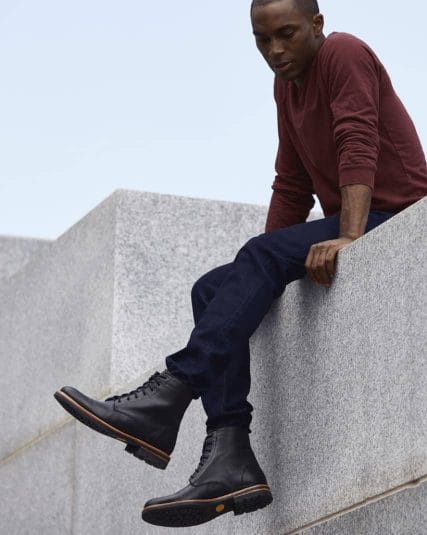 Ethically handmade in Leon, Mexico, these boots are water resistant and have a Vibram sole. You can look great and be ready for any occasion.
Journey Revisited
Thanks for joining me on this exploration of stylish and ethical men's shoes. Here's a quick recap of our journey.
You only need 5 pairs of shoes to look great all the time and match a wide variety of outfits.
Neutral colors like brown, black, white, and grey are safer and more versatile than bright colors like red and blue. They also look better in virtually every scenario, unless you're a real fashionista.
You've also found ethical and sustainable options for these shoes from top notch quality brands that put people and planet first. By purchasing from these brands you are supporting fair wages for the people who make your shoes as well as companies that take sustainability, equity, and social good seriously.
Did You Like Our Guide to Sustainable Men's Shoes?
Know a man who could benefit from some better style? Please share this article with 3 guys you know and you'll be helping make the world a more stylish and ethical place.
As always, if you have questions about style, matching, or any of it, leave a comment.
*Article updated 5/6/2023.
**Featured Image from @hisootd.

Garik Himebaugh is the founder of Eco-Stylist, the go-to resource for ethical clothing. He's also an international speaker on all things sustainable fashion. Garik loves coffee, climbing, and clothes.