Eco-Stylist is reader-supported. If you make a purchase using our links, we may earn a commission. We only feature fashion brands that pass our sustainable brand criteria. Learn more here.
As you adjust your outfits for spring and warmer weather, you often find you're missing a few pieces in your wardrobe. Tees, button-ups, jeans, and chinos are all men's staples this time of year.
This isn't just any year though. Time are changing and with the conscious consumer movement in full effect, you now have the opportunity to vote with your dollars when you buy spring attire.
Rather than voting for brands like H&M that pay workers in Bangladesh minimum wages, and let's be honest, don't make the highest quality gear, you can vote for brands that are virtually the opposite. You can vote for brands making shirts that last, paying workers living wages, and sourcing materials that are better for the environment.
In other words, you can dress like you give a damn!
Here are 10 brands that are changing the game and bringing you ethically and sustainably made men's clothes for spring.
1. For denim, jeans, trousers and shorts: Outerknown
LA based Outerknown may have been founded by surfers but when it comes to spring fashion they've got your number. From shorts and slacks to tees, swim trunks, and athleisure they got it.
Outerknown stays true to their moto: "For People and Planet". Their swim trunks are made from 10 recycled plastic bottles and their jeans are among the most sustainable in the game.
That's because their jeans are made with organic cotton and manufactured at Saitex, the leading sustainable denim factory in the world. At Saitex nearly all the water used in production is recycled and filtered, eliminating the toxic wastewater that many denim factories dump into rivers. To top it all off Outerknown offers a lifetime warranty on their jeans, which includes taking back and upcycling your old denim if it wears out.
2. For men's shirts: Vustra
Vustra brings you stylish and colorful button up shirts that are both affordable and sustainably made. Whether you're looking to spruce up your work look, dress up your casual attire, or look sharp on a date Vustra has you covered.
All Vustra shirts are 100% certified organic cotton and made in Fair Trade factories. They hand selects facilities dedicated to community growth, women's empowerment, and using low impact dyes.
Vustra is based in San Jose, California.
3. For circular tops and sweaters: For Days
When it comes to spring attire For Days caries everything from tees, polos, and button-ups, to sweatshirts, hoodies, sweatpants, and joggers. These high quality essentials aren't just made right, they're made to be circular so they can be recycled into something new.
As one of the only fully circular fashion brands, For Days incentivizes you with closet cash to send back your old For Days clothes so they can be turned into something new. If you're looking to recycle old clothes from other brands they can help you with that too.
Now that we've got your attention, check out For Days' sustainable spring styles for men.
4. For leather shoes: Adelante Made-to-Order
If you're looking to up your shoe game this spring you came to the right place. Adelante Made-to-Order brings you sophisticated oxfords, dapper loafers, sleek chukkas, and minimalist boots.
Adelante pays living wages to all their shoe makers in Guatemala and is a leader in the industry. You can check out their impact reports to learn how living wages impact the lives on their workers, and how they are stacking up against the UN Sustainable Development Goals.
Adelante "envisions a future in which business is used to reduce poverty and promote inclusive development worldwide."
5. For hemp sneakers: 8000Kicks
Spring weather means you'll probably want to spend more time outdoors. And for that you'll need some good sneakers.
8000Kicks has stylish hemp sneakers in a water resistant and waterproof model. They're your new comfortable sustainable go-to shoe, available in monotone and clean colors.
8000Kicks also pays their makers living wages and is transparent about their supply chain. Check out their hemp backpacks too!
6. For basics and a v-neck t-shirt: Pact
Pact has your back with its organic cotton tees and organic cotton basics for spring. They carry everything from henleys to hoodies, polos, sweats and boxers.
The products are 100% GOTS certified organic cotton, made in Fair Trade factories, and vegan. Pact Apparel is based in Boulder, Colorado.
7. For oversized sweat suits and more: Colorful Standard
Speaking of basics, let's not forget Colorful Standard. They offer socks, underwear, tees, hoodies, sweatpants, sweatshirts, and more in 48 different colors.
They use only sustainable fabrics (certified organic cotton or recycled merino wool) and pay living wages to their clothing makers in Portugal. Colorful Standard clothes are also OEKO-TEX certified to ensure no harmful chemicals in the supply chain.
Something cool about Colorful Standard is that they plant a tree for every order shipped!
8. For all menswear: Taylor Stitch
If rugged, rustic, or lumberjack are words you use to describe your style then you're going to love this brand. Taylor Stitch has a great selection of men's staples responsibly built for the long haul.
They offer dress shirts, casual shirts, shorts, blazers, and even shoes. Taylor Stitch is based in San Francisco, CA and since each item is crowd funded, they avoid over producing, eliminating the problem of wasteful excess inventory.
Taylor Stitch embraces ethical practices, ensuring fair wages and benefits for workers. They have also made good effort to improve the sustainability of their manufacturing over the last few years, incorporating organic cotton and other sustainable materials into their clothes.
9. For spring shoes: Nisolo
When it comes to spring footwear Nashville based Nisolo comes in clutch. From sandals and slip-ons to boots, sneakers and oxfords they'll put some pep in your step.
Nisolo is a certified B Corporation that pays producers on average 27% above Fair Trade requirements. Most of their shoes are handmade in Mexico and Peru, with a small percentage of their products made in Kenya.
Trying to be more eco-friendly this year? In order to offset carbon emissions, Nisolo makes a contribution to the Amazon Basin for every sale. In 2018, their goal was to protect 60,000 trees in the Amazon, helping offset CO2 and protect wild forests.
10. For jackets and adventures: Patagonia
While their aesthetic tends to suit the avid hiker and outdoorsman, Patagonia offers quite a few items that are great for both casual and athletic wear. From tees and sweaters to shorts and flannels they offer some solid options for spring time.
Patagonia has been a longtime leader in sustainability. From their "don't buy this jacket" campaign to being a founding member of the Sustainable Apparel Coalition, they continue to do what's right for the planet as well as their workers.
Patagonia isn't shy about speaking out to protect America's National Parks and we love them for that. They are a certified B Corporation & member of 1% For The Planet.
Looking for outfit ideas for the spring season?
We've got a spring look for you that we put together with pieces from 4 of our favorite brands. This look is perfect for a walk in the city, weekend adventures, or a spring date.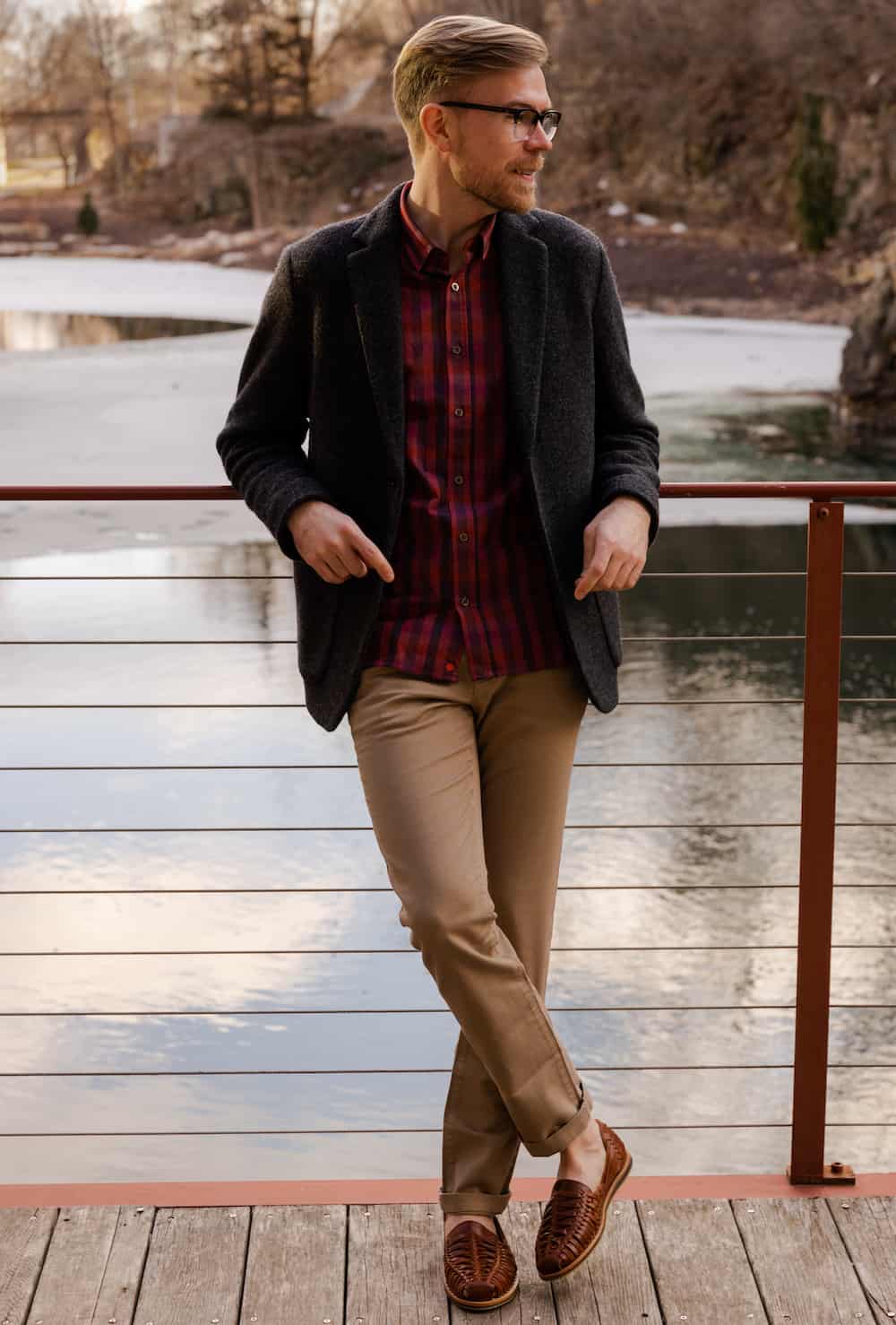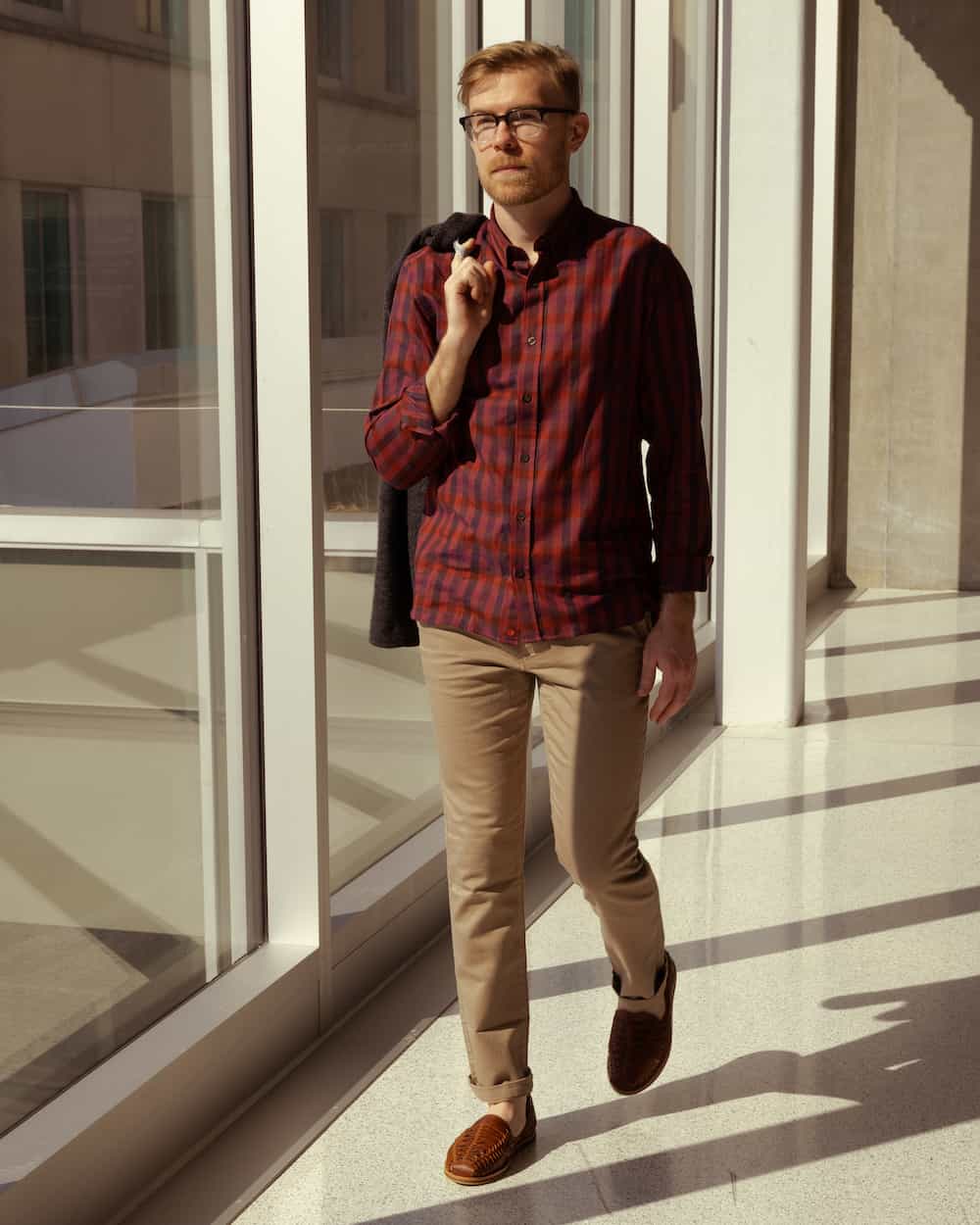 The blazer helps you quickly dress things up or stay warm as temperatures gradually shift upwards. Meanwhile, the sandals will surely get you a few compliments.
This look was created with the jewel shirt by Vustra, huarache sandals by Nisolo, the blazer by Outerknown, and chino pants. It's a sharp outfit with a big positive impact.
Where to find more sustainable men's fashion brands
Looking for more ethical clothing brands for men? Check out:
Have you had trouble finding ethical and sustainable alternatives for spring? Let us know in the comments and we'd love to help you find whatever you're looking for.
More sharing = more impact
If you liked this article, help the planet and us by sharing it with a friend. The more people who shop sustainable, the better.
*The spring outfit photography was captured by Madland Studios.
**Article updated 2/22/23

Garik Himebaugh is the founder of Eco-Stylist, the go-to resource for ethical clothing. He's also an international speaker on all things sustainable fashion. Garik loves coffee, climbing, and clothes.