Vustra is an up-and-coming sustainable fashion brand based out of San Francisco who focuses on producing men's fashion, particularly button down shirts. I, Catherine, a writer at Eco-Stylist, sat down (well, Zoomed) with Vustra's co-founder, Parth Desai, to talk fashion, sustainability, and what the future holds for the brand.
The Story
As I talked with Parth about the beginnings of Vustra, he explained to me that the idea for the brand started about 6 years ago in 2014. At the time, Parth and his co-founders were graduate students from India who were surprised and fascinated by the American fashion industry. "People would shop here [in America] weekend to weekend and I was surprised by the excessive amount of funds, as well as the cheap prices," he told me.
Vustra's mission began after watching the True Cost documentary, which focuses on fast fashion and the way that it impacts the environment. After watching, the three co-founders decided to try and live a minimalist lifestyle but they soon realized that this would not be enough. Thus, they started Vustra in 2017.
The co-founders of Vustra wanted to look specifically into the method of dying products because Parth had seen firsthand the negative impacts that improper practices can have: "a lot of production for the fabric that I have seen back home, the water they use in the process and the waste in that water goes back into the rivers and spreads across the community." Looking into dyes that were better for the environment and did not cause pollution in the community was one of the most important aspects of Vustra.
Helping the Community
Parth told me that when he visited their production sites in 2017 his "most important factor was not to just make a sustainable product, but what kind of message you want to give to your consumers, and the kind of impact that we wanted to make on society."
They wanted to have production sites that were doing something other than simply producing their product, such as helping the environment and the community around them. They created a few stipulations on which production sites they wanted to be involved with, including providing adequately for their workers and becoming Fair Trade Certified. The most important thing to them, however, was that these production sites were giving something back to their communities. Three sites were chosen, one in Turkey and two in India.
"The first two in India had to be a part of some kind of social initiative in order to work with us," Parth said. One of the production plants in India actually paid for their workers' childrens' education costs through high school – while education in India is not astronomically expensive, it isn't cheap. This enabled these employees to not worry about their child's education and where or if they were going to be able to go to school.
The other production site in India built washrooms and toilets for women because a major problem at the time was that there were not enough bathrooms for women to use, meaning that women would have to get up early in the mornings just to have some privacy while they practiced basic hygiene. Finally, the third plant in Turkey is owned and operated by women, which reinforces Vustra's commitment to women's empowerment. The co-founders wanted to see how they could make an impact, and they felt it was their duty to create an equal opportunity for everyone.
Community Work: Why Is It Important?
Parth explained that he, along with the other co-founders felt that helping the community based around their brand was something that they needed to be doing. "That was the basic idea that we wanted to make sure that they weren't just making a product and profiting off it, that is something that you should be doing regardless of any situation. You have to have an understanding of how you are going to help the community."
2020 Perspective on Diversity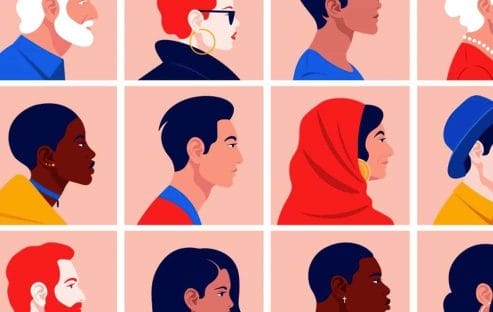 While Vustra is already on track to create a very diverse and inclusive brand for themselves, I felt I needed to ask what the plans were in the future for even more implementation of diversity within Vustra. "I am not worried about it as a company, on the headquarter level," Parth assured me. "I am in an industry where I will typically find more women than men, so we will always be able to manage the balance in the office. The balance was off on the production side of things, so that is what we wanted to tackle first." Parth continued to explain that he thinks that on every level of the company there should be equality and that this influence really came from India, a country where the main religion has just as many goddesses as it does gods.
They wanted to create a brand that was both sustainable and fashionable, which is where Vustra comes into play. In the past, most 100% organic cotton shirts were monochromatic and did not come in a variety of colors, let alone patterns. Vustra decided that they wanted to create patterned shirts that were still sustainably made, ones that would satisfy customers who find their way into Hugo Boss or H&M. Parth explained that the perfect customer would be someone who keeps fashion in mind, who enjoys fashion and dressing up, but is also aware of fashion's impact on the environment.
The Sustainability Side of Things
To speak more on the sustainability side of this brand, they already use sustainable packaging. If you order a shirt, for example, it will be sent to you in a completely recyclable cardboard box. Inside that box, your shirt will be tucked into a 100% recycled fabric bag that can be used by the consumer in the future, whether it be as a travel bag or as a tote bag for office supplies.
While Vustra is doing its best to be sustainable, they do have a few sustainability goals that they want to meet within the next 5 to 10 years. Parth explained that they wanted to optimize the supply chain and make it a more local production process in order to keep the production as close to the selling point as possible. By optimizing the supply chain, this will also allow them to reduce their carbon footprint. However, their biggest goal is to create a community at the production level, "where the garment makers can be as much as part of the project as the people at the business level are."
In order to make coming to work easier for their employees, they want to create a community that is close to schools, healthcare, gyms, and the homes of their employees. On the community level, Parth explained that Vustra already donates and is involved with 4 to 5 local charities a year. The charities they work with are usually based on what the co-founders see as a current and immediate need for the community they are based out of.
When it comes to the consumer side of sustainability, Parth said that they try to be as transparent as possible when it comes to their brand. They want to make sure that their customers understand what the process is from production all to the way to the CEO's office. They do their best to answer any questions that come their way and are always active on social media for their customers. Again, Parth mentioned that creating a community was extremely important to Vustra and he feels that by being transparent with their customers that creating a community will happen naturally.
All In All
While Vustra is only a few years old, they have come a long way in the fashion world and the world of sustainability. As with any business, starting up is probably the most difficult part, and that was no different for Vustra.
Parth explained that the first obstacle they faced was the question of, "'why sustainable'? This comes from all sides, people have been buying from brands like H&M and Banana Republic, so why do they need to buy our shirt?" Trying to answer that question in a way that consumers would understand and respect was a big obstacle for Vustra. Sustainable products are more expensive because of the labor and processes that are used to make them. But if you ask me, Vustra is totally worth it.
To learn more about Vustra, check out their Sustainable Brand Rating.
Looking for More Ethical Mens Shirts 2023?
Got a question for Vustra? Let us know.
Eco-Stylist is reader-supported. If you make a purchase using our links, we may earn a commission. We only feature fashion brands that pass our sustainable brand criteria. Learn more here.

Catherine McCourt is a content writer at Eco-Stylist. She studies English, Creative Writing, and Philosophy at the University of Iowa. When she's not writing about sustainability in fashion, Catherine enjoys painting, journaling, and much needed downtime.