Why is the internet losing its mind over a sweater? The now infamous fisherman's sweater was worn by Chris Evans in the new film Knives Out – and we must admit, we're crazy about it too.
The sweater has been trending on social media, featured in publications like the New Yorker and the NY Post, and some retailers are even reporting sales up 150% since all the buzz. Guys and Baby Yoda's far and wide have donned the sweater.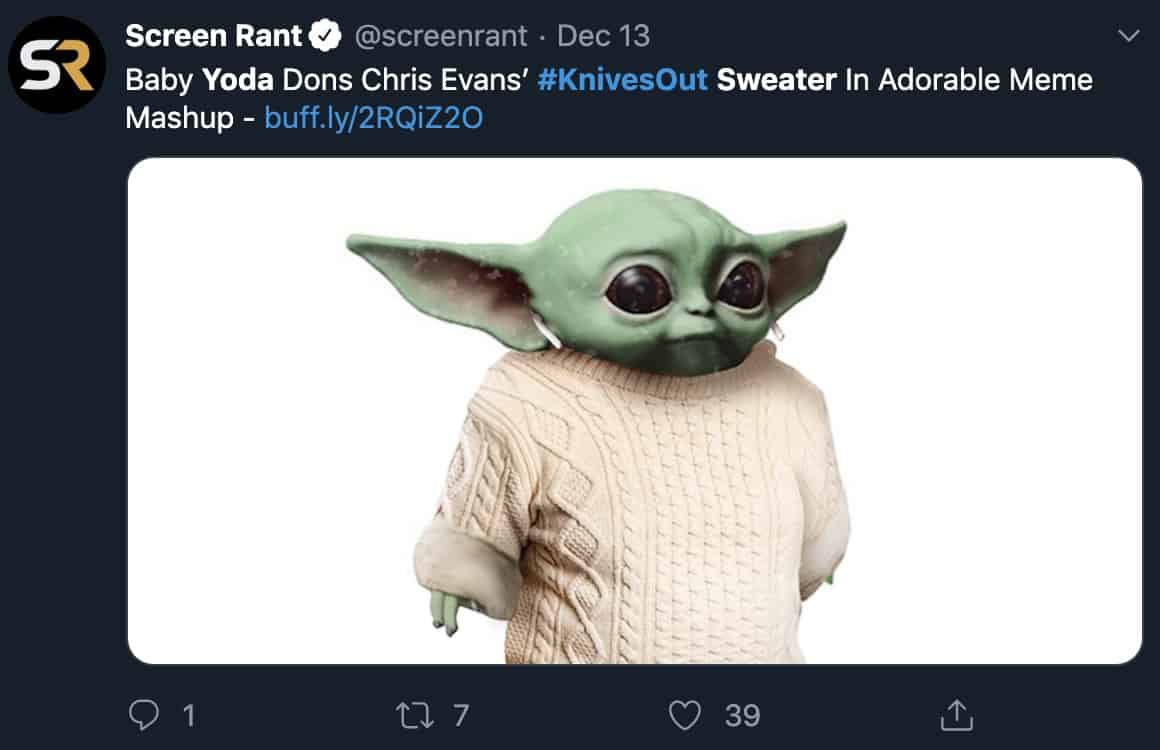 Just a Trend?
While the fisherman's sweater may be trending right now, it's no trend. In fact, the Aran sweater, as it's also known, is a timeless staple piece dating back to 19th century Ireland, where it was indeed knit for fishermen.
The versatility and timelessness of this piece is exactly why we love it. It's not a one and done kind of style.
So, if you want to hop on this trend, you can do so guilt-free – this is a sweater you'll wear for years to come.
But how do you choose which guilt-free sweater look-a-like to buy? First, let's make sure it's a sustainable option that's also fair for people.
The Unsustainable Choices
Before you rush to Express, Kohl's, Forever 21, or LL Bean to grab one, consider that all 4 retailers rank in the bottom 10% of all brands for transparency. This means we have very little insight about their factories, and therefore the treatment of their workers.
Transparency matters because the fashion industry is ripe with child labor, slave labor, and workers making well below a livable wage. The 2018 Global Slavery Index's report found $127.7 billion worth of clothing at risk of being made with slave labor. If brands aren't transparent, they likely have these issues in their supply chain.
Then there's the sustainability of the sweater to consider. For example, Abercrombie and Fitch's fisherman sweater is made with a blend of 30% Nylon, 25% Wool, 25% Acrylic, and 20% Cotton.
Where to even begin… virgin nylon comes from oil. Conventional cotton is one of the most pesticide intensive crops in the world and it takes 713 gallons of water to grow enough of the stuff for a single t-shirt.
And acrylic? Acrylic fabrics contain dimethylformamide, which according to the CDC "can cause liver damage and other adverse health effects" through interacting with the skin. It can be harmful to the people making our clothes and probably not the kind of thing you want touching your body.
No need to feel overwhelmed. Instead, try one of these 4 Eco-Stylist approved options, all without sacrificing your wallet.
Your Ethical & Sustainable Options
1. Outerknown
Outerknown's fisherman sweater is made with a blend of organic cotton and merino wool. Organic cotton is great because it doesn't use harmful pesticides, while also requiring less water than conventional cotton to grow. Wool is naturally antimicrobial and compostable.
Outerknown stands behind their brand with a publicly available code of conduct and factories abiding by strict guidelines including FLA, bluesign, or Fair Trade. They share a transparent factory list and use a variety of sustainable fabrics across their collection, including GOTS certified organic cotton, recycled polyester, recycled nylon, Tencel, and more.
Shop | $158
2. Tentree
At $88, the highline cable knit crew sweater by Tentree is the most affordable fisherman sweater dupe. Made from 100% organic cotton, this won't cost you any more than a comparable high quality sweater, but it's made more ethically and sustainably.
Like the name suggests, Tentree plants 10 trees for every purchase. Tentree earns an excellent Fair Labor score and our highest overall rating, Gold.
Shop | $88
3. Taylor Stitch
While not a perfect match for the cable knit style Chris Evans sweater, this waffle style knit poses a good alternative option. It's responsibly built to last and comes with a warranty to back up that claim.
We love Taylor Stitch because of their Restitch initiative, which is a take back, repair, and re-sell program that helps reduce clothing waste and keep your clothes "in the loop". They also have responsible, ethical manufacturing, and a commitment to increasing sustainable fabrics like organic cotton and hemp.
Shop | $228
4. Patagonia
Patagonia's option is another waffle knit style that only comes in darker colors. One thing to love is that it's made from recycled fabrics, specifically 70% recycled wool, 26% recycled nylon, and 4% other fibers.
Patagonia is a certified B Corporation, member of 1% for the Planet, sustainable fashion leader, and a brand committed to ethical manufacturing. They also started Worn Wear, one of the first take back, repair, and re-sell programs in the fashion industry.
Shop | $149
Which slow-fashion sweater will transform you into Chris Evans this winter? Let us know!
*Article updated 12/3/2022.
Eco-Stylist is reader-supported. If you make a purchase using our links, we may earn a commission. We only feature fashion brands that pass our sustainable brand criteria. Learn more here.

Garik Himebaugh is the founder of Eco-Stylist, the go-to resource for ethical clothing. He's also an international speaker on all things sustainable fashion. Garik loves coffee, climbing, and clothes.