With the start of summer comes nicer weather, better mindsets, and more time spent outside. During this season, it may be time to adjust your daily routine. As you enjoy all that summer has to offer, you might also consider adjusting your day-to-day to reflect how summer makes you feel.
For many, it makes them feel happier, more energetic, and appreciative of nature. Therefore, in order to maximize those feelings, why not adjust your lifestyle to benefit you and the environment?
So, where do you begin? Here are a few simple changes you can make to be a healthier version of yourself, while also becoming more environmentally conscious.
1. Ditch Disposable Water Bottles
One of the most common suggestions when it comes to going green is to stop using disposable water bottles, even recycled ones. Not only are one-time use water bottles a big contributor to landfills, but they are also expensive when added up over time.
On top of the environmental factors, some studies have proven that one-time use water bottles carry higher amounts of bacteria, especially if refilled after the initial use. This is because the plastic bottles are broken down and thinned out in the manufacturing process, which makes it easy for bacteria to grow in subtle cracks. Even if you rinse the bottles in between uses, you still may not prevent bacteria growth and you may be creating a bigger problem. 
When rinsing bottles in between uses, most people may think using hot water will kill bacteria, however, hot water increases the leakage risk of Bisphenol A (BPA), a chemical used to manufacture polycarbonate plastics. Scientists link BPA consumption to a wide range of health issues, including endocrine disorders and certain types of cancers.
Instead of spending money on disposable water bottles, invest in BPA-free reusable water bottles and a water filter (for more options try Package Free Shop or Brita) to purify the water before drinking. By making this small change, you will be saving money, protecting yourself from harmful bacteria and chemicals, and contributing less plastic to landfills (that's called a win-win-win).
If you're looking to do even more in your routine, try swapping out one-time use coffee cups with a nice reusable travel mug.
2. Switch to More Eco-Friendly Contacts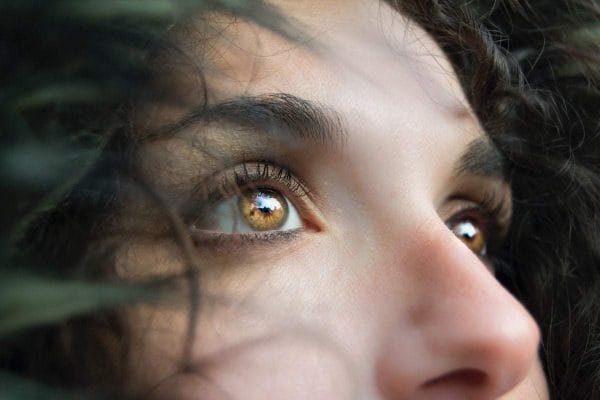 Nowadays, it has become more popular for people to wear contact lenses rather than their traditional glasses, whether it be for fashion or comfort. Contacts are a great alternative to glasses as they can help you avoid the inconvenience of your glasses slipping or fogging up while working out, hydrate your eyes to help you avoid irritation or redness, and simply give you some variety.
Unfortunately, there is a lot of waste when it comes to contacts, especially for those who wear dailies. Changing your contact lenses every day means you are throwing away roughly 30 pairs per month, including their packaging.
While the easy suggestion to being more sustainable is to simply wear your eyeglasses, only wearing eyeglasses may not be a realistic lifestyle choice. Daily contact lenses spiked in popularity because they are more hygienic than the reusable contacts that require you to store and touch them multiple times in between uses.
The good news for contact lovers everywhere is that some brands are working to become much more environmentally conscious. In an effort to make their prescription contact lenses more sustainable and hygienic, these brands are using 80% less packaging than in the past and are shipping contacts in boxes made from recycled materials, making ordering contacts online more environmentally friendly.
Contact creators have also started presenting the outer surface of the lens facing up which reduces the need for customers to touch the inner surface of the lens—the part that touches the consumer's eye. Lastly, there are now contact recycling programs available to help you become a more sustainable shopper.
3. Wear More Sustainable Clothing
The clothing industry is currently responsible for 10% of the planet's carbon emissions each year. Many fast-fashion brands are running their businesses unethically as they pay workers un-livable wages, produce clothes at an excessive rate, and don't consider their environmental impact. That's some BS.
Fast-fashion has largely increased over the past few years due to the consistent creation of original and unique trends (think weekly drops), and consumers trying to keep up with said trends. One positive result of the fast-fashion has been the birth of its antithesis: the slow-fashion industry. Slow-fashion is all about brands that create clothing with eco-friendly fabrics, focus on timeless styles, pay their workers fairly, and work to make their environmental footprint smaller. Sounds pretty good, huh?
Sustainable clothing uses sustainable fabrics like hemp, organic cotton, Tencel, and recycled fabrics, all of which have less of a negative impact on the planet. Sustainable clothing brands create eco-friendly clothing that is fashionable, comfortable, long-lasting, transparent, and ethically made. 
Sustainable clothing not only reduces the world's water pollution, carbon emissions, and large amounts of waste, but it's also better in quality and better for your health. Eco-friendly clothing is made to last in order to cut down on production and consumerism. It's also made without the harsh chemicals and dyes most brands have in their clothing, which can cause allergic reactions and rashes.
The higher quality your clothes, the better off your skin and overall health will be. After all, you live every day in your clothing, you should choose it wisely. The clothing you put on your body can be just as important as the things you put into your body.
Let's Grow Together
Going green doesn't have to be a drastic change to your current lifestyle. With a few simple adjustments to the things you already do, you will be helping to support a greener tomorrow, while also bettering yourself.
Let's combat the notion of eco-perfectionism: the idea that to have a more sustainable lifestyle you have to do everything perfectly. A more sustainable lifestyle is about taking small steps, making adjustments to your routine as you learn more, and of course, there will be mistakes along the way.
Perhaps a sustainable brand you used to support was accused of greenwashing: it happens. The journey to a more sustainable lifestyle isn't supposed to be mistake-free, it's about learning as you go, doing better incrementally, and inviting friends and family to join you on the journey.
Got a favorite sustainable lifestyle change you've made? Share it in the comments and let's all learn, together.
Eco-Stylist is reader supported. When you shop through links on our site, we may earn a commission. Learn more here.

Garik Himebaugh is the founder of Eco-Stylist, the go-to resource for ethical clothing. He's also an international speaker on all things sustainable fashion. Garik loves coffee, climbing, and clothes.