UPDATE: We re-evaluate brands regularly, and we re-evaluated Everlane on 2/17/22. You can see the updated rating here. If you'd like to see their original sustainability rating keep reading…
Call it Sustainable or Call it Greenwashing
The sustainable clothing space is large and full of new brands popping up every single month. While the trend towards sustainability is overwhelmingly positive, how are you supposed to look at hundreds of brands and be able tell a sustainable one from one that's greenwashing?
Greenwashing refers to the act of brands claiming to be sustainable so you'll buy from them, when in reality they're doing little to nothing to be more sustainable. The perfect example is H&M, who recently got called out by the Norwegian Consumer Authority, asking what's actually conscious about their Conscious line?
When it comes to finding sustainable brands, most people start with Google. There you'll quickly find 800 blog articles featuring brands you know are sustainable, like Patagonia, and brands you're not quite sure about, like Matt & Nat, DSTLD, and yes, Everlane.
Many of these articles are surely written with the best of intentions, but also with no clear basis on which to determine if a brand is sustainable. That's why we're going to share our findings on some of the brands that are being called sustainable when the evidence tells a different story.
Let's start with a brand you've likely heard of: Everlane.
What is Everlane?
Everlane is a San Francisco based clothing brand founded in 2010.
You might know them because like Allbirds, they took silicon valley fashion by storm. It's impossible to visit Apple, Facebook, or Google's offices without seeing people clad in Everlane gear.
In addition to their slick minimalist aesthetic, they quickly grew in part because of their call for radical transparency. But are they a sustainable brand?
Everlane Ethical Rating: How They Stacked Up
Using our sustainable brand criteria, Everlane scored 30 points out of a possible 100, and that is failing!
In order for a brand to pass this criteria they need to score 50 or above. Let's dig in to Everlane's results.
Everlane's Transparency Rating
On transparency/traceability Everlane scored a 10 out of 15 possible points. Not bad.
This means that from their website you can find some information on their manufacturing facilities such as the locations and the number of workers employed. However, there's also some key information missing such as transparency on wages paid to workers, as well as information on their raw material sources.
Everlane claims radical transparency, and compared to many fashion brands the fact that they share pictures, locations, number of workers, and more is a step in the right direction. Plus the price transparency helps you know you're paying fair prices for your clothes.
Additionally, they have a decent code of conduct and they share that too. This helps to ensure no slave labor, child labor, and fair working conditions.
Is Everlane Ethical? Maker Well-Being Rating
On Maker Well-Being Everlane scored a 15 out of 33 points.
To break this down, they have their own code of conduct that is comparable to FLA standards. Ok, well that's good and they also invest in maker well-being programs.
However, where they are lacking is any certification or other evidence that they pay living wages. They have no Fair Trade certification, no GOTS, no SA8000, etc.
Living wages matter because many countries lack sufficient minimum wages or the labor unions to protect workers interests.
Everlane's Environmental Sustainability Rating
On environmental sustainability Everlane scored a 5 out of 33 possible points.
They clearly do some things right on this front. For example, look at how they make their jeans at one of the most sustainable denim factories in the world, Saitex.
However, this category is about more than one product. Everlane has a large and diverse product range, so scoring well on sustainability means doing well overall, not just on their jeans, and overall they are lacking.
Most of their products offer no explanation for how or why they're more sustainable than any other clothing product on the market.
Everlane's Sustainable Fabrics Rating
On sustainable fabrics Everlane scored a 0 out of 14 points.
While most of the brands that pass our criteria use organic cotton as a bare minimum, many go above and beyond with recycled fabrics, upcycled fabrics, hemp, linen, and Tencel. Everlane on the other hand makes virtually no effort on sustainable fabrics across their large and diverse product range.
Everlane's Leadership Rating
On leadership Everlane scored 0 out of 5.
Compared to the competition, brands we approve such as Nudie Jeans are pushing the envelope with free repairs for life, and Adelante Made-to-Order is paving the way on living wages.
With Everlane there's unfortunately nothing that stands out. Their slogan about radical transparency ultimately falls a bit flat.
Overall Rating – How Ethical is Everlane?
Add up all the points from Transparency, Maker Well-being, Environmental Sustainability, Raw Materials, and Leadership and you get 30 out of 100 points.
Everlane fails our sustainable brand test, for now.
These rankings aren't permanent, and while Eco-Stylist doesn't currently recommend Everlane as a sustainable brand, we hope to see the day when that changes.
The Ethical Brand Criteria
Our sustainable brand criteria takes a holistic and comprehensive approach to sustainability. It answers questions like does the brand pay living wages, do workers have safe conditions free from modern slavery or sexual harassment, is the brand using sustainable fabrics, and how green is their manufacturing?
As mentioned, the criteria works on a point system where brands need at least 50 out of 100 to pass.
Looking for Sustainable Brands?
Check out our list of 90+ brands that are doing things like using Fair Trade certified factories, expanding their use of sustainable fabrics, incorporating upcycling, starting circular initiatives, and paying living wages.
A Path for a More Sustainable Future
If you want brands to be more sustainable it is important to hold them to a high standard. As the saying goes, if you don't stand for something, you'll fall for anything.
There are already a number of brands leading in the ethical fashion space. Outerknown, Colorful Standard, and Outland Denim are a few examples of brands that are proving sustainability can mean great style, long-lasting clothes, fair wages, worker well-being, and practices that are better for the environment.
Everlane is still putting forth some good efforts and notably transparent information. Their clean aesthetic, transparent pricing, that they purchase carbon offsets for their Tread sneakers, and that they make their jeans in a factory that recycles all of the water used in production, all bode well for them as a brand.
With some stronger commitments to living wages, worker well-being, and sustainable fabrics they could hit the 50 points needed to pass our sustainable brand criteria. That's a day worth looking forward to!
Ethical Alternatives to Everlane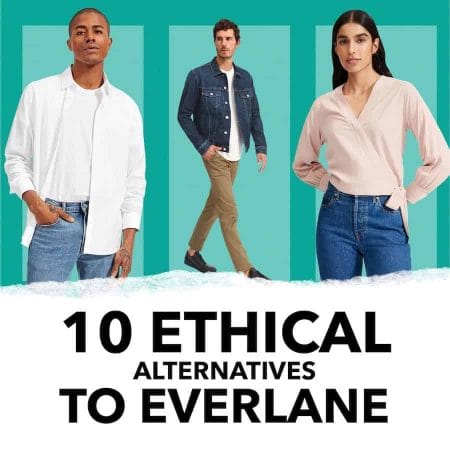 Like Everlane's style? Check out 10 Ethical Alternatives to Everlane.
Looking for more Brands to Avoid?
Check out our deep dive brand ratings of other popular brands including H&M, Zara, SHEIN, Allbirds, and more.
Are you surprised by these findings? What values matter the most to you when looking for sustainable brands?
*Article updated 7/15/21

Garik Himebaugh is the founder of Eco-Stylist, the go-to resource for ethical clothing. He's also an international speaker on all things sustainable fashion. Garik loves coffee, climbing, and clothes.